Elite Forward | Elite Auto Works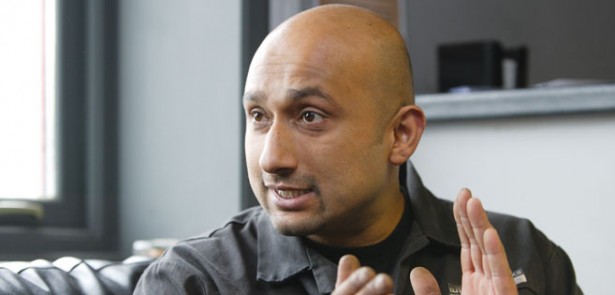 Garages are strange and mysterious places yet they're incredibly important to any car owner. We spend a day with one of Peterborough's leading independent garages – Elite Auto Works – to find what goes on behind the doors
When the lady with the silver Volkswagen Beetle delivered her car to Elite Auto Works she – like most people – had no idea what would happen next. We're so removed from the actual repairs themselves that our cars might be fixed by pixies using fairy dust for all we know.
So in order to find out what really goes on behind those large double doors, we spent a day with Elite Auto Works, a specialist in repairing German cars, and watched the process of diagnosing and then repairing a faulty car.
The car was taken delivery of by Elite's owner, Sanjay Odedra, who after a short test drive knew exactly what the problem was.
'The owner had complained about a growling noise and was worried it was the gearbox. However, I reckon it's more like a worn wheel bearing'.
That's a big leap from something as major as the transmission to a smaller problem such as a worn bearing but then Sanjay does have over 20 years of experience fixing cars in the city of Peterborough. After working in main dealers, independent specialists and even Perkins development centre, he and his wife Manisha opened Elite three years ago when he began to realise the car repairing industry wasn't keeping pace with the car manufacturing industry.
'Fixing any modern car needs a computer' he told us. 'If you replace the headlamp in some vehicles then you need one to tell the car's electronic control it has a new headlamp before it will work. But there aren't many garage owners in the city who are my age (36) and can see the future is an even larger reliance on technology.'
'When I started at Mercedes dealership in 1995/96 the S-Class was the only one with today's technology. But if you buy a cheaper car today some of that stuff you paid £100,000 for in 1996 is now standard.'
And with cars becoming physically stronger, his industry is changing. 'Manufacturers have made the old fashioned technology so well – such as ball joints, track rod ends and springs – it rarely breaks and so that traditional work has gone.'
Instead his work often involves computer software rather than mechanical hardware. 'In the old days if there was a problem with a gear crunching in an automatic gearbox you'd strip it down, clean it out and put in a new part. Today, though, in some cases we simply plug in the computer and turn down the electrical current to the solenoid of that gear so the gearbox doesn't crunch it into place.'
Even the simplest jobs now require dedicated diagnostic equipment to complete repairs.
Proof of Sanjay's dedication to the future is Elite's workshop. Littered with so much high tech equipment, Captain Kirk would feel at home here. 'Some people have new cars or go on holiday' says Sanjay 'Manisha and I buy tools and equipment.'
By now the little Beetle has been driven inside and has been stripped down by one of Sanjay's employees, Steve, perfectly complements his boss' skills. 'I love the electronics and diagnosing faults' says Sanjay, however Steve excels in the traditional side such as complicated repair' of mechanical units.
He was still correct about the Beetle, though, since it was the wheel-bearing that had worn out. Sanjay is rightly proud of his diagnostic skills and is annoyed when other garages – especially main agents – get it wrong.
'We had an immaculate1989 BMW 7-Series in not long ago that had no power yet the engine management warning light wasn't illuminated. The owner took it to a main BMW dealer who quoted £2000 to replace the throttle bodies that control the amount of air flowing into the engine. Next, he takes it to a BMW specialist who said it was the same problem and would charge him £1500. So he brought it here. From the very start I didn't think it was the throttle and so set about investigating.' Sanjay eventually discovered it was a much simpler problem. 'When you start the engine it does a self-check making sure everything is ok. Because the engine management light didn't come on it couldn't complete its check and so put the car in the emergency, get you home mode. And so £192 for the LED and an afternoon of workshop time taking apart a complex instrument cluster and circuit board repair, it was finished.'
Sanjay says that's the kind of specialist, intricate work he tries to do so his customers will come back for more old-fashioned work, such as replacing brake discs.
Or the Beetle's wheel bearing hub that Sanjay is currently teasing out using a hammer and grinder. With it stuck firmly in place, it would be easier to replace a new bearing but Sanjay is always keen not to replace new parts just for the sake of it. 'Many mechanics and main dealers will just slap new parts in without really looking at it.' After ten minutes hard work, the hub is out. With replacement parts only a phone call and an hour away the VW is soon back on four wheels, ready for the owner to collect.
It may have been a simple job yet Sanjay approached it with the same methodical and sensitive manner as if it was a much larger, more complicated task. But Sanjay is trying hard to distance himself from the few garages that give his trade a bad name.
'As a result of some garages over charging or doing a bad job, when some people walk through that door they immediately think they're going to get ripped off. However, once they see the bill and that their car works their opinion of us and the trade changes.'
This transparent approach seems to be working as his long and loyal client list proves. 'Clients ring me up now and have a chat like we're old friends.'
The Beetle was collected later that day. The owner had no idea whether it was a simple or a hard job – all she cared about was that it was fixed easily and simply. So we may not know what goes on behind those big doors, but in some cases when they're in as hands as good as these, we don't need to.
Sanjay & Manisha Odedra
Elite AutoWorks
Unit I, Peartree Business Park, Enterprise Way, Peterborough, PE3 8YQ
Telephone: 01733 265812
Email:
www.eliteautoworks.co.uk
Leave a Reply