A Bike for all Seasons | Triumph Tiger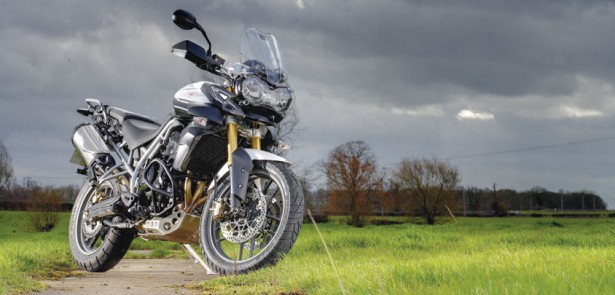 Triumph has been riding the crest of a wave over the last couple of years but will their new offering into the popular adventure bike market be a road too far?
These are exciting times for Triumph.
They've just celebrated 20 years of production since builder and entrepreneur John Bloor revitalised the brand and 2010 saw them sell more bikes over 500cc than any other manufacturer in the UK.
What's more they've also now got a range of motorcycles which is really starting to approach the 'Big Four' Japanese in terms of strength and depth. They have sportsbikes which out-perform those from the Japanese and Italian manufacturers and cruisers which do the same with their American rivals.
Now it's time to take on the Germans.
BMW has done exceptionally well from the adventure bike section of motorcycling. OK, so last year's figures for the genre took a 12% dive compared to 2009, but compared to supersport figures (down almost 25%) they are still wearing better in a market which was overall 14% down.
But, pluck any month's sales figures and the GS-range of motorcycles will be strong sellers. Many will say that this comes from the 'Long Way Round' effect. Sure, Ewan McGregor and Charley Boorman's travels around the globe on a brace of GS machines has done the Munich firm no end of good, but in all honesty the GS was always a badly kept secret. We bikers always knew it was good, but TV coverage finally let the cat out of the bag.
Adventure bikes should also be a good bet for the UK. They're physically large, therefore they can keep the elements off the rider and intimidate the myopic, they also generally have softish, long-travel suspension which soaks up the pot-holed pathetic excuses we have for roads in Britain. Now, while they may be styled to resemble the dune-hopping machines of the classic desert rally-raids like the Dakar, the chances of them going off road are as likely as your average Chelsea Tractor, hence Triumph's original big-bore Tiger which has been around since 1992, has been much more road-oriented.
But, with a nod towards the passionate off-roaders among us, there are two versions of this middleweight Tiger. The base 800 and the more off-road biased Tiger 800XC, which features a bigger front wheel, wider bars and longer-travel suspension. If you want to know at a glance which is which, then just see which one has a 'beak' mudguard. The GS family of machines has always had this and the shrewd Brits have produced the more off-road inspired Tiger with a beak-fender so you can tell the difference and get a clue as to the machine's capabilities.
We picked up our Tiger from Peterborough Triumph, in Eye. First impressions are of some flying insect stripped of its wing cases: there are exposed frame tubes and rear subframe tubes wherever you look. The seat is in the lowest of the two positions when I thumb the starter and that evocative triple cacophony comes to life.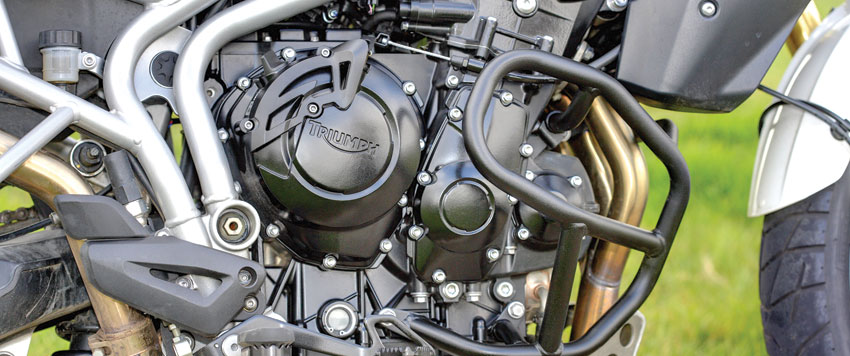 It may look like an unfinished symphony, but the Tiger hits all the key notes.
The motor in the new Tiger is based on the fantastic Daytona 675/Street Triple mill. Throttle response is crisp and precise, but with the motor stroked to 799cc from the original 675cc, you've got what Triumph claim to be even more low to mid-range thump coming from the back wheel.
You've got the soundtrack to match, too. While the Japanese seem to build whispering powerplants the Europeans seem to take the lead in making bikes that stir the soul and the Tiger is probably among the best. That large exhaust seems to amplify the aural notes of the triple. It's magical, although perhaps not as manic as the 675 and the motor doesn't feel quite as 'peppy' as its donor, but then this isn't the sort of machine where you'd be chasing the needle into the redline and I would guess that gearing is very different too. Gear changes are smooth though, as is the clutch action. Even with star snapper Hippo on the back for some on-board shots you can be so smooth with the throttle and clutch, that you're not constantly being pecked in the back of the head as your pillion catches up with your hand and foot movements. He said it was pretty comfortable too and so was I.
B-road sweepers or urban sprawl, the Tiger takes it all in its stride.
The seat is generously padded and with my few hours in the saddle gave me the impression that you could probably match the estimated tank range of around 160-170 miles. Stopping for pictures revealed that the seat was on its lowest setting (810mm) and by removing pillion and rider's seats you just pull the bungee adjusters, re-adjust and re-fit the seat. It takes seconds and you can adjust front and back to suit. With the seat at the highest setting (830mm) my 32-inch inside leg meant I was more on my toes than before and the screen wasn't as adept at keeping the wind off me. What is good is that those shorter of leg can reduce the seat below 810mm with a new seat, or alternatively a gel seat if you want more comfort.
How comfy you are often helps the bike handle and the Tiger does a superb job here, too. With you dominating the bike, the wide bars give you plenty of leverage to move around in the urban sprawl, while faster road work is similarly taken care of. It's no laser-fast turner, it's stable, but everything works together well, meaning that confidence comes in just hours in the saddle; from feet-up U-turns to 60mph B-road bends. Doubtless the excellent Pirelli Scorpion tyres help too. In some ways it's a shame the wheel sizes mean that you couldn't get some stickier tyre options, but the Scorpions do a great job.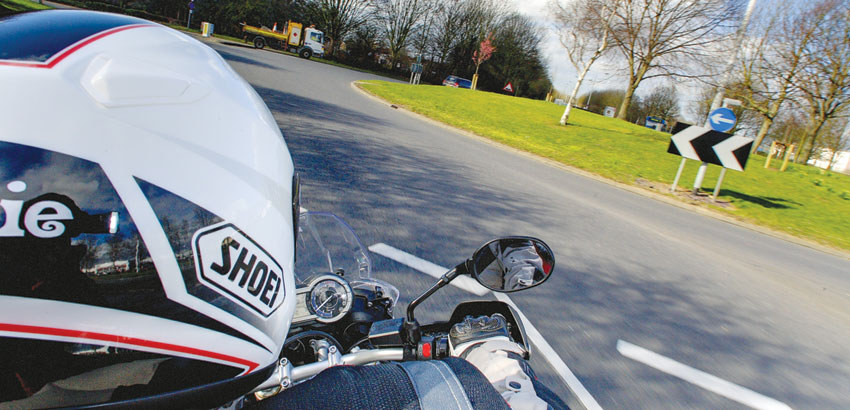 This is matched by the suspension, which is good as standard – despite the forks being unadjustable and the rear shock having only pre-load adjustment. This tells me that Triumph knows how to sort suspension for UK roads and hints towards a higher-spec premium road Tiger at a later date.
Being mightily impressed by the Tiger, I had to find issues somewhere and for me they were hard to find. The overall looks are a matter of taste and while I like them, other people commented that the exposed 'tubular' look makes the bike look unfinished. The tacho spoiled an otherwise excellent dash, which provides you with all the information you need. It's dead simple to change things too, such as MPH into KM/hr but my eyes were always drawn to the tacho, which looked like it was designed for a children's book. I don't know why I didn't like it, maybe it's just me?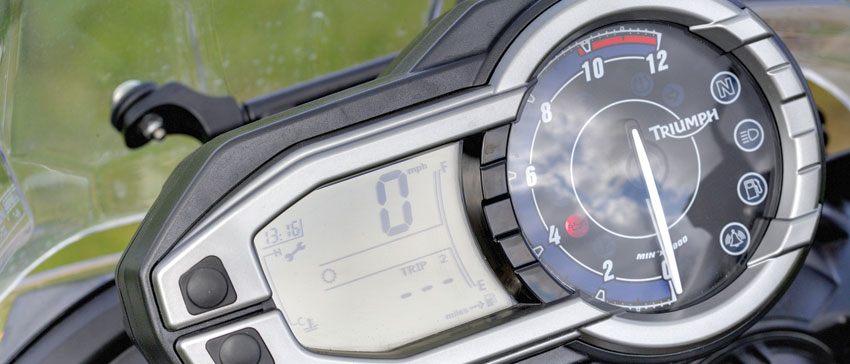 Clocks tell you all you need to know, but we don't like the tacho so much.
The only other niggle are the brakes. Now, Triumph produce some of the finest anchors seen on motorcycles and have for the last two decades or so, but the brakes that equip the Tiger are good, but not incredible. Perhaps anchors that have more power and initial bite would overwhelm the geometry of the bike and lead to squealing front tyres, so perhaps they're perfect for the job in hand.
Like BMW, the Triumph comes with a whole host of options and accessories. The great thing is that you can select these on the superb 'Create My Triumph' section of Triumph's UK webpage, where you can get anything from luggage to heated grips, to auxiliary lights, the lot.
Our bike came with a selection of extras, such as hand-guards (£80) engine bars (£170) a centre stand (£155), headlight protector (£42) and a sump skid plate (£140). You can even retro-fit the BMW-esque 'beak' for £75 that the off-road oriented XC has.
All in all I was mightily impressed with the Tiger and Triumph should do well with it. In fact they already have, with around 400 sold since November. In our time with the bike it handled every road condition and weather (rain and sunshine) that we and Peterborough could throw at it.
A bike for all seasons then? Yes, perhaps, but more to the point, a bike for all reasons. Try a Tiger and you may find it so much easier to justify than many other kinds of bikes, but you'll enjoy it just as much.
Triumph Tiger
www.triumph.co.uk
Price: £7149 OTR/RRP (£7749 with ABS)
Performance
Power: 94bhp (95PS) @ 9300rpm
Torque: 58lb.ft (79Nm) @ 7850rpm
Fuel economy: 47mpg (est)
Top speed: 120mph (190kph) (est)
Engine: 799cc inline three cylinder, 4 valves per cylinder DOHC, liquid-cooled, fuel-injected. Six gears, wet-clutch and chain final drive
Frame: Twin spar double steel tube
Suspension: Front – 43mm Showa inverted forks, no adjustment.
Rear – Showa monoshock, pre-load adjustable.
Brakes: Front – 2 x 308mm discs with Nissin two-piston floating calipers. Rear – 1 x 255mm disc with Nissin single-piston caliper
Tyres: Front – 100/90 x 19. Rear – 150/70 x 17
Weight: 210 kilos dry (462lb)
Wheelbase: 1555mm (61.2in)
Seat height: 810mm (31.9in) adjustable +20mm
Rake/trail: 23.7-degrees / 86.2mm (3.39in)
Fuel capacity: 19litres (5 US gallons)
Local dealers
Peterborough Triumph – 01733 223444
Pure Triumph, Wellingborough – 0844 824 2130
THANKS TO: Peterborough Triumph for the loan of the Tiger.
Leave a Reply