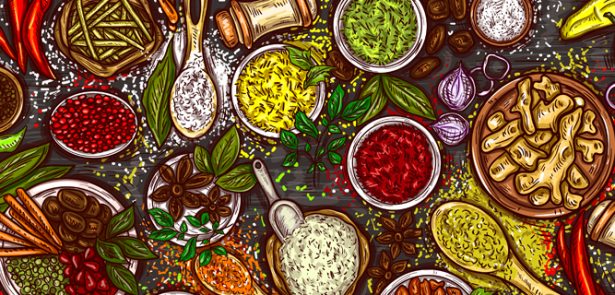 Too much turkey? Give your leftovers a twist with this tasty curry recipe...
Turkey and chickpea coconut curry
SERVES 8 This spiced turkey curry uses up leftover turkey and vegetables. Any green vegetables like broccoli, French beans and peas can be added at the end with the turkey.
Ingredients
● 3 tbsp sunflower oil
● 2 onions, peeled and finely chopped
● 1.35kg mixed root vegetables, peeled and cut into small chunks
● 2 cloves garlic, peeled and finely chopped
● 1 1/2 tbsp garam masala
● 1/2 tbsp dried chilli flakes or chilli powder
● 200ml turkey or chicken stock
● 1 x 400g can chopped tomatoes
● 200g tin chickpeas, drained
● 75g dried apricots, halved
● 500g cooked turkey meat
● 4 tbsp yoghurt
● 2 handfuls fresh coriander leaves
● 2 x 400ml cans coconut milk
Method
1. Heat a large saucepan then add the oil and onions. Cook, stirring until just browned (about 10 minutes). Add the other vegetables and cook over the heat until lightly coloured (around five minutes).
2. Add the garlic, garam masala, chilli flakes and cook for a further minute.
3. Pour in the stock, coconut milk, chopped tomatoes, chickpeas and apricots. Bring up to the boil then turn the heat down, cover and simmer until the vegetables are almost cooked (about 40 minutes).
4. Add the cooked turkey meat and cook for a further five minutes or until the turkey is piping hot.
5. Turn the heat off and just before serving add the yoghurt and coriander. Serve with boiled basmati rice plus accompaniments such as chutney.
Chef's tip
To freeze ahead, complete the recipe to the end of step three then cool and freeze for up to three months. When you want to use it, thaw overnight in the fridge, put into a large saucepan, add the turkey then bring back to the boil. Continue from step four.
More recipe ideas For more recipe ideas that use up festive leftovers visit www.lovefoodhatewaste.com/recipes
Images: www.freepik.com/free-vector/vector-illustration-of-a-variety-of-spices-and-herbs-on-a-wooden-background_1265737
Leave a Reply