Food to get excited about!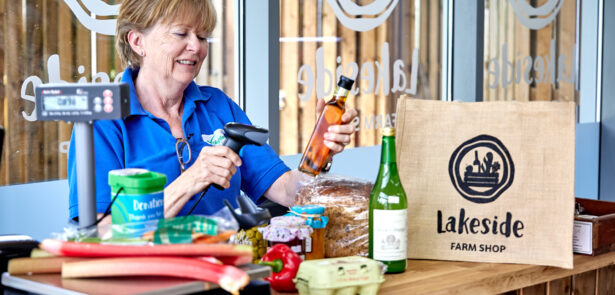 The new Lakeside Farm Shop, located next to Nene Outdoors in Ferry Meadows, is now open, stocking the freshest local, seasonal produce. Simon Gardner, Nene Park's Visitor Operations Manager, offers us a taste of what to expect.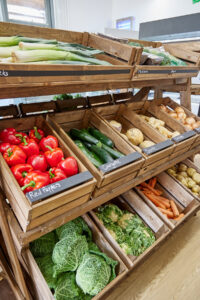 The brand-new Lakeside Farm Shop opened in May and is already a resounding hit with visitors and locals alike. 'We've had an amazing response,' says Visitor Operations Manager Simon Gardner. 'It's proved very popular with campsite visitors and other holidaymakers, as well as local people coming in for fresh bread, milk and fantastic seasonal produce.'
Local is the emphasis and shoppers can expect food of exceptional quality from trusted suppliers, such as fresh bread from Kings Cliffe Bakery, seasonal fruits from Lutton Farm, pork pies and Scotch eggs from Robinsons of Glatton, and milk from Peterborough Dairies. Most of the vegetables sold are grown in The Fens, supplemented with seasonal delicacies such  as Jersey Royals.
In fact, the majority of the food on offer is sourced from within a 20-mile radius of Nene Park, with some coming from the Park itself. 'We are about to receive our first delivery of meat from the Baxter Brothers, our shared farming partners who work on Nene Park's Rural Estate. Their grass-fed sheep and native-breed cattle will be available as burgers, koftas and steaks – perfect for summer barbecuing.'
There's a tempting range of deli options on display too, courtesy of the deli counter. Sample a range of meats and cheeses, smoked salmon, olives and more. 'In fact, there's everything you need to make your salads or picnic magnificent, including a great range of local cheeses such as Lincolnshire Poacher, and Rutland Red from the Long Clawson Dairy,' adds Simon. Shoppers can also pick up ready-to-go picnic packs, as well as biodegradable plates, bowls, cups, and cutlery made from sugar cane and bamboo – perfect for an impromptu picnic in the Park.
From September the Farm Shop hopes to begin supplying both fruit and vegetable boxes and meat boxes of lamb from the Baxter Brothers. The boxes will be available to order from the online shop for either home delivery or to click and collect.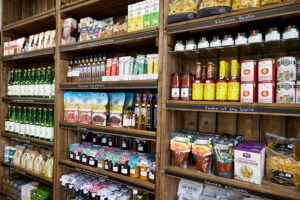 With any farm shop comes the opportunity to connect local people with local producers. Simon is especially looking forward to the shop's first farmers' market on 4 September, when food stalls will set up in the courtyard to the front of the shop. New producers will feature alongside current suppliers, with everything from chocolates and alcohol to cheeses and apple juice for sale.
Meat from the Rural Estate will be served up on the barbecue, and shoppers will have the chance to meet the farmers and producers behind some of the region's finest produce.
The Farm Shop has also helped to expand volunteering opportunities at Nene Park. Shop volunteers have been trained on food hygiene and customer service, with Nene Park funding all necessary training to invest in its hardworking team.
The Farm Shop is open from 10am to 5pm daily, making it easy to combine a spot of food shopping with a visit to the Park. All profits are reinvested back into the Park, so every pound you spend helps maintain and nurture Peterborough's much-loved green spaces.
NENE PARK
For more information, including opening times, details of suppliers and to shop online visit the shop webpages.
For general enquiries please visit nenepark.org.uk or phone 01733 234193.
Leave a Reply