It's all going on at Harvest Barn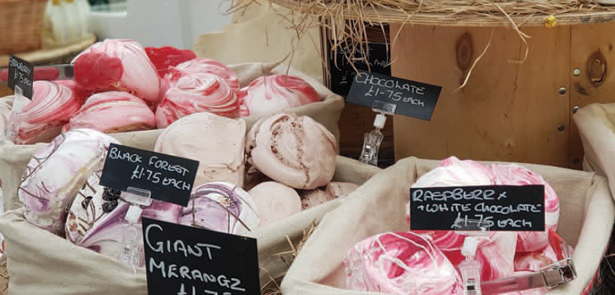 As the popular café and farm shop approaches its second summer season, assistant manager Ashley Holland describes what's happening down on the farm...
As the summer months draw closer, it's all change here at Harvest Barn. Our farmers are busy working hard tending to the crop with the hope of another bumper harvest and we in the shop are busy working on our upcoming menu changes and events! Summer is such an exciting time for our farm shop, with beautiful English produce in full supply.
Gorgeously sweet British strawberries and raspberries, locally grown asparagus, earthy beetroot and sweet and juicy tomatoes are just a few of the amazing local produce available in store this summer. Why not buy an expertly made giant meringue? It's the perfect accompaniment to the beautiful British strawberries and Jersey cream available this time of year! Of course, the warmweather brings the return of our ever popular BBQ packs. Handmade beef or lamb burgers, Bramblebee sausages, Lincolnshire chipolatas and a variety of BBQ meats such as marinated chicken, lamb or pork, make up these quick, easy and excellent value for money BBQ packs.
In the coffee shop we have delicious new additions to our popular menu including a new range of baguettes and the moreish new warm salads, including chicken caesar and roasted vegetable and cous cous. Using only locally sourced vegetables – which are available in store to buy too – these new salads are all freshly made to order and finished off with crisp homemade croutons. If you fancy something more substantial, why not treat yourself to one of our everpopular Sunday lunches: locally sourced, freerange roast of the day, cooked to perfection, served with seasonal vegetable, roast potatoes, proper gravy and our homemade Yorkshire puddings! Our meat changes every week and our vegetables are completely seasonal so you'll never have two Sunday lunches the same.
Wash down your lunch with a glass of our own apple juice – perfect served over ice – or grab one of our new and improved coolers: fresh espresso shots poured over vanilla ice cream and blended with fresh milk, all topped with whipped cream. If you fancy a lighter drink, why not try our flavoured ice lattes, all made to order by our trained baristas? Muddy Boot's Farmyard is now open for summer (and so much better).
Our brand new large play area is now ready to go, complete with wall climbing, slides and large rope swings, perfect to keep even the biggest of kid's entertained! After a play in Pandora's play pen, walk around our large animal paddocks and meet all of our friendly animals, including babies, Monty and Bo or our five resident spring lambs. Search the whole farm to complete our Harvest Barn Nature Trail, keeping an eye our for all sorts of farmyard animals and crops. Complete the nature trail and win a sweet prize! On Sunday 9 June we will also be hosting our first ever Open Farm Sunday. Speak to local farmers and learn all about our farm, while taking a closer look at all the amazing farm machinery the we use at Harvest Barn.
● Keep an eye on the Facebook page (Harvest Barn) or visit the website for exciting news of upcoming events throughout the summer holidays, including after hours BBQ's, family fun days and much more.
Harvest Barn Farmshop
Whitehall Farm, Farcet, PE7 3DR
01733 219888
www.harvestbarn.co.uk
Leave a Reply