Dobbies comes to Peterborough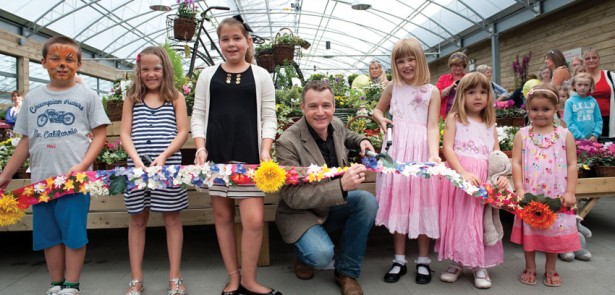 Keen gardeners in the Peterborough area now have another garden centre from which to seek inspiration and stock up on gardening goodies. Dobbies Garden Centres new Garden World opened at Serpentine Green, Peterborough in August, marking the retailer's first store in the Cambridgeshire area.
The Garden World opened under a flurry of floral-shaped men's loos – unusual urinals handcrafted in the shape of wildflowers! The opening also celebrated the arrival of egg-laying hens, on sale at Dobbies for customers looking to lead a greener lifestyle.
Sisters Olivia and Isabelle Ames, aged five and seven, from Newborough cut the floral ribbon to officially open the centre with the help of celebrity gardener Chris Beardshaw. The green-fingered duo won a competition to design an eco-garden, winning £500 of gardening equipment to create the garden at their school, Newborough Primary, with help from the plant experts at Dobbies.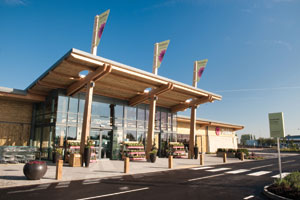 The garden centre is designed to work in harmony with the environment, being constructed using natural materials and featuring energy and water-saving systems such as grey water recycling. But it's not just the building that's state-of-the-art. Peterborough Garden World houses a Farm Foodhall offering locally-grown produce and the UK's first large-scale eco department where shoppers can reduce their carbon footprint through simple changes to their home, garden or lifestyle.
The Eco-Living Centre features an area in partnership with EDF Energy to advise customers of longer-term solutions, such as solar panels and insulation. The garden centre also features a solar panelled carport generating electricity for Dobbies' customers to recharge their electric vehicles for free.
Other highlights include a specialist pets and aquatics department, plus plenty of outdoor living and gifts. And when all that shopping's worn you out, there's an on-site restaurant serving up freshly-prepared meals and home baking.
The new garden centre has launched a £5000 bursary called 'Here We Grow', offering free equipment and expertise to help local groups to get growing. Dobbies wants to hear from community groups, projects, schools and charities in the Peterborough area that need help to plant and grow their gardens. If you would like your group to be considered for support, email Dobbies community champion, Mandy Wright at Mandy also manages the Dobbies Little Seedlings Club, which encourages children to take an interest in gardening.
Go and see Dobbies Garden World for yourself at
Phorpres Way,
Cygnet Park (opposite Serpentine Green),
Hampton,
Peterborough, PE7 8NY.
For store opening times or other enquiries visit www.dobbies.com or telephone 01733 898640.
Leave a Reply