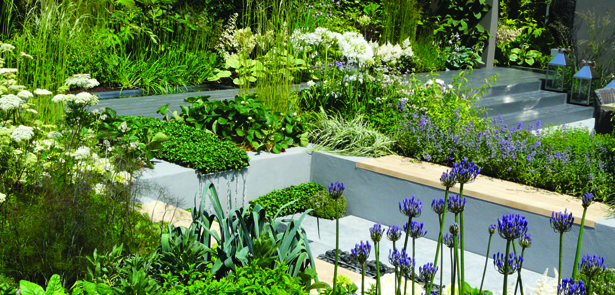 Escape to your own sun-drenched paradise without leaving the comfort of your own garden. BENEDICT VANHEEMS explores how to create a slice of the Mediterranean at home with a little help from Olive Grove Nurseries
As summer rapidly approaches our minds invariably turn to thoughts of blue skies and warm evenings spent sipping cool drinks in the garden. The great British summer is anything but predictable, yet there's no better place to be when the weather plays ball. Soaking up the energy-boosting rays of a sunny day is invigorating – all the better if you've a garden that looks the part, too.
While it would be reckless to forecast a hot summer, there's no harm in getting your garden ready for when a warm spell does arrive. Recreating the intimate gardens of Mediterranean climes is a great way of doing this, ensuring you have a slice of holiday paradise to escape to right on your doorstep whenever the sun peeks out from behind the clouds. If well designed and planted your Mediterranean-style garden will provide a year-round bolthole that's more than capable of putting up with whatever the weather has to throw at it.
Get the look
The secret to getting the Mediterranean look lies in a combination of bold, architectural planting, plenty of seating and a colour palette that mimics the soothing tones found within such gardens. Seating in different corners of the garden will allow you to track the sun (or avoid it!) as is it moves across the sky. Compact patio table and chairs sets can be accessorised with terracotta pots of aromatic herbs, sunny staples such as pelargoniums or fleshy leaved succulents like the aeoniums. Strongly coloured ceramic pots will add a splash of colour within a garden dominated by lush shades of green and leaf textures.
Tim Thackeray of Mediterranean plant specialists Olive Grove Nurseries near Oundle offers his expert advice on suitable containers: "While glazed ceramic and terracotta pots are Mediterranean classics, contemporary containers work well too; high gloss black or white pots are becoming really popular and look superb in such a garden. A trachycarpus palm in a highly glazed pot would make a fantastic specimen and get you well on the way to achieving the look."
Colour goes a long way in helping to recreate the ambiance of warmer destinations. Whitewashing walls and tables will evoke the bright villages of Greece; terracotta tones will create cosy warmth; while sheds, fences and bare walls can be painted pale blue to turn the mind to blue skies and wide, inviting seas.
No Mediterranean garden is complete without the hypnotising sound and movement of a water feature or two. Not only will a babbling fountain or cooling trickle provide visual… [cont]
Leave a Reply