Training Evenings for Great Eastern Run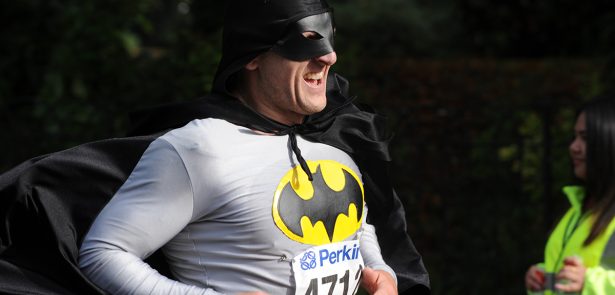 Runners can get advice from experienced racers and coaches at a series of free training sessions in the build up to the return of the Great Eastern Run later this year.
The Get Fit for Great Eastern training sessions take place fortnightly on Wednesday evenings at Bushfield Sports Centre. With the events held up until October 5th, each session starts with a warm-up at 7pm and will last around an hour.
Runners can meet seasoned competitors who will be acting as pacers to help entrants achieve personal best times in the race which takes place on Sunday, October 16th. Director of Good Running Events, Aaron Murrell, said: "We wanted to re-establish the Get Fit for Great Eastern training evenings as early as possible since taking over the event – they've been incredibly
well supported in the past, and the evenings are a fantastic way to meet new runners, and build your training and confidence, especially if you are unsure of taking on the Half Marathon.
"We've worked with Advance Performance, Tim Cook from Werrington Joggers, as well as Keith Gerrard, to tailor the training plan to incorporate the training evenings, and these are available for participants to download now from the race website."
Councillor Steve Allen, Peterborough City Council's Deputy Leader and Cabinet Member for Communication, Culture and Communities, said: "Running is becoming more and more popular in Peterborough and these sessions are a great way to get in shape for the Great Eastern Run and get advice on how to prepare for the big day. They are led by some of the best coaches in the region and are suitable for people of all levels of fitness and experience with runners split into groups to reflect their ability."
Runners do not have to be signed up to the Great Eastern Run to take part in the sessions, you could be considering taking part or just want some running advice. Target times for pacers will range from finishing the race in just under 90 minutes, to up to three hours.
Representatives from the charity Anna's Hope will be on hand also for anyone who wants to find out about the 5K Fun Run event, running either distance in aid of Anna's Hope. Representatives from Sue Ryder will also be on hand with information on joining Team Sue Ryder.
Visit www.greateasternrun.co.uk for more information about pacers, target times and the free training sessions, as well as to enter the half marathon and Fun Run.
Follow the latest Great Eastern Run developments on Facebook at www.facebook.com/greateasternrun, Instagram @greateasternrun and Twitter @greateasternrun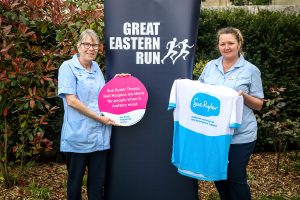 Sue Ryder announced as charity partner of Great Easter Run
Sue Ryder will return as charity partner under new organisers of Great Eastern Run, Good Running Events
Good Running Events are delighted to announce that they are working with Sue Ryder Thorpe Hall Hospice, for the return of the Great Eastern Run on 16th October 2022. A popular fixture in the race calendar in 2022 in its 40th anniversary year, the popular Great Eastern Run will return this Autumn and see leading club athletes and charity fun runners tackle a fast, flat route through the streets of Peterborough.
And Good Running Events and Sue Ryder will be working together to offer charity runners the chance to run the Half Marathon at the Great Eastern Run, and raise funds for this fantastic charity in the process.
Director of Good Running Events Aaron Murrell commented: "This is fantastic news – that we are announcing Sue Ryder as the latest Event Charity Partner that we are working with.
We have met the hospice team several times since taking over the event earlier this year, and are really looking forward to having a large team of runners participating with us in October, in aid of this brilliant charity and supporting their vital work at Sue Ryder Thorpe Hall Hospice in Peterborough, and beyond.
"I'm personally really looking forward to seeing hundreds of the blue 'Team Sue Ryder' vests on the closed roads of Peterborough City Centre on October 16th."
Senior Community Fundraiser at Sue Ryder Thorpe Hall Hospice, Nilesh Patel, said, "Everyone at
Sue Ryder is absolutely thrilled that we are partnering with Good Running Event's Great Eastern Run for 2022. As the local hospice to the route, Sue Ryder Thorpe Hall Hospice really hopes we can turn Peterborough's streets a sea of blue on Sunday 16th October where we hope hundreds of runners will chose to pull on the famous 'Team Sue Ryder' running vest and run to raise vital funds so our care teams can fill people's final days with love."
Leave a Reply