The Perkins Great Eastern Run | 13 October 2013
Dick Hughes: Race Commentator
WHAT MAKES PGER UNIQUE?
There are three things basically. I travel to other events that I'm involved with – Reading, Brighton,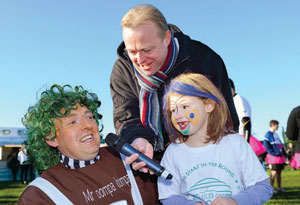 Nottingham, Bath, Bristol and so forth – and all have very good strong half marathons. But the things that we have got that others haven't include a city centre start and finish. Very few other events do that. It starts in the city, runs up through the new dual carriageway, but then turns back and comes down into Cathedral Square, it then takes in quite a lot of the old town of Peterborough on the west side, going up into Walton and Werrington, then turns back through Dogsthorpe and finishes on the Embankment. Second, we always get huge support from people, not only at the start and finish, but out along the course. In Werrington, for example, the village turns out in force, and the people bring out their hosepipes to give the runners a shower if it's a really hot day. So, community-wise, it's really good. The third thing is that it's a very fast course. It's very flat. Two years ago, it was the second fastest half marathon in the UK, the fastest being the Great North Run. Last year we were fifth fastest, because the others like Nottingham and Bristol saw what we were doing and upped their prize money and attracted faster runners! But there's very little in it in terms of time.
WHAT SORT OF TIMES ARE WE TALKING ABOUT?
The fastest we've had in Peterborough is 62:25. But even if you go back to 1995, before we had the Kenyans coming, Steve Brace – the Welsh international Olympian – did 63:50. And we had a young
man from Peterborough who four years running won the event, and his fastest time was 63:49. The women as well – Liz Yelling did 72:14, which ranks about fifth fastest ever among British women. So, it's always been a fast course which has attracted top-of-the-range runners – Ian Thompson, Steve Brace, Gary Spring – all, at the time, among the top five in the country. To give a comparison, last
year's winning times were Great North Run 59:06, Robin Hood in Nottingham 61:39, Bath 62:10, Cardiff 62:21 and then Peterborough with 62:25. So, in terms of quality we're at the top end.
DO THE PRIZES HELP ATTRACT THOSE TOP RUNNERS?
We do put up pretty good prizes, and it has attracted some superb overseas runners, particularly the Kenyans. But it's not just that which is attracting them. If you go down the field to the 100th runner, the 500th runner, the 1000th runner, they too are faster than most of the other big events that are attracting 10,000-15,000 competitors. So it's a course that presents a great opportunity for someone to set their fastest time.
THERE WAS A LOCAL BRITISH WINNER, NEIL ADDISON IN 2009. CAN WE WIN IT AGAIN?
I think we can! I do think we have the runners, I think the problem is largely in our minds, expecting that the Kenyans and Ethopians are always going to win. But that's partly why we introduced a
special prize for the first British runner to cross the line, in the hope that we'll also attract the top UK runners. Last year we had several British runners – Paul Martelletti, Michael Skinner, Martin Williams – immediately behind the Kenyans who came in first and second. There's also a special prize for first Peterborian across the line!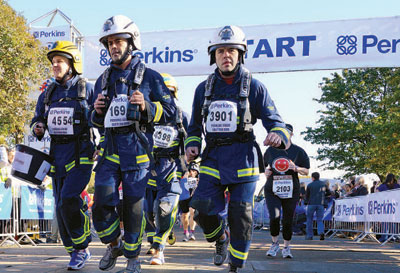 IS IT TRUE THAT THERE'S BEEN A DRAMATIC INCREASE IN THE NUMBER OF WOMEN RUNNERS?
In 2006 the percentage of woman was 26 per cent. Last year, 40 per cent were women. These days, when I'm out, I more often see women running along the roadside than men. I'm sure the Race For Life events, organised by Cancer Research since 1994, have a lot to do with it, because they're women-only events. They have got huge support.
YOU'VE BEEN WITH PGER FROM THE START – HOW DID IT BEGIN?
I was a runner myself. When I moved up from London, in the 60s, I was captain of Peterborough Athletic Club. There weren't really running events then as we have them now – not on road. It wasn't until the London Marathon developed in the early 80s that we put our first event on in Peterborough, in '82. That was started by a group of charities, who got in touch with the club to ask if there was someone who could coordinate things with them. Perkins was one of our sponsors in the early days. Then we had British Sugar as the big sponsor, but they moved out of Peterborough to Bury St Edmunds and the event folded, and we had a gap of a number of years from '95. There were a couple of attempts to put it on again in the early 2000s, based at the showground, but they weren't very successful. Then the City Council came on board in 2006, and it has since then become a real community event.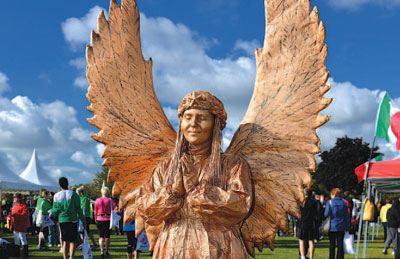 WHAT DO YOU PERSONALLY MOST LOOK FORWARD TO?
Mostly that everybody goes away and says they've enjoyed it. And if they've run another event, that they feel this is the best. Runner's World did a review last year, and asked "Would you do it again?" The "yes" responses were 100 per cent. That's very rare. It obviously means we're doing the right thing.
Leave a Reply