The Perkins Great Eastern Run | 13 October 2013
Sam Hale: Commercial Director
I want to make a real difference to the city that I live in, and help to put on an event that Peterborough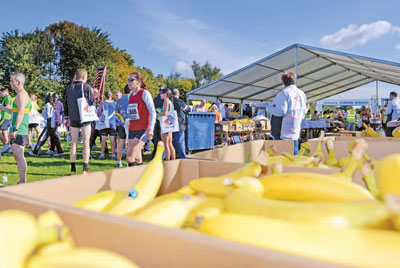 can be proud of. An event which motivates people to get fit; to achieve something that has the ability to change someone's life for the the better; to give people a sense of achievement. To have a positive impact in businesses, clubs and schools whether that means inspiring people to take up exercise or to challenge them to be competitive. I'm personally inspired by seeing people cross the finish
line having done something they didn't think they could do or to see the sense of achievement of raising money for charity or supporting a fellow competitor.
I enjoy being part of a small and passionate team who drive the event forward, making it bigger and better each year. The amazing support from Peterborough residents setting up impromptu water stations, having a street party or even handing out Jelly Babies to competitors as they run through their neighbourhoods brings out the best in the community and really brings the city together. I enjoy building relationships with sponsors such as Marriott Hotels, Sainsburys, Barclays, Smith Motors, Ron Hill, Mizuno and ChromaSport Schoolwear and Trophies as well as through my own company, Advance Performance, so that they get good value and so that the race is sustainable; all of which, as a volunteer, takes many hours of work.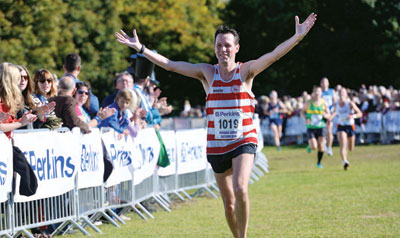 Tony King: Course Director
Tony selects the best possible route. He also personally measures the course, at 3am with a police escort. He has to go around and make sure that certain bollards are removed, and on Saturday night and early Sunday morning he has to go around again and ensure everything is correct. So he has a pretty long day on Saturday/Sunday. Hugh Jones, course measurer for the London Marathon actually paints a blue line along the whole course the night before, and one year got arrested and ended up in a cell because the police wouldn't believe what he said he was doing! So that year the blue line only went to the 14 mile mark. Maybe Tony had heard about the Hugh Jones incident and that's why he
has the escort… – Dick Hughes.
Perkins: key sponsor
Back in 2006 Peterborough City Council and Perkins came together to help reinstate this prestigious event in the city's sporting calendar. We both knew the run would go from strength to strength but we could little have anticipated that in just eight years it would have captivated the enthusiasm and commitment of elite, professional and amateur runners alike, as well as the much valued financial support of many local businesses. We are very proud to be the principal sponsor of the Perkins Great Eastern Run which continues to grow in stature every year. It really is a fantastic event for both the runners in terms of the course and race organisation, and for the Peterborough community who every year turn out and support the race – Nigel Baseley, Marketing Director, Perkins Engines Company Limited
Leave a Reply