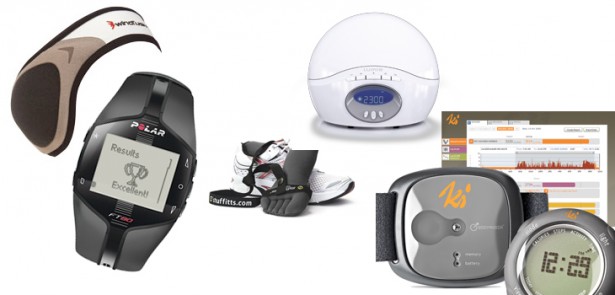 Polar FT80 £239.50

We think that Polar has really come up trumps with its brand new FT80 heart-rate monitor and optional G1 GPS unit. Polar has been the leader in heart-rate monitoring for more than 20 years, and is renowned for the accuracy of its heart-rate measurement and feedback.  Not only that, its monitors all feature the soft 'wearlink' chest strap making it incredibly comfortable to wear, especially for women. The FT80 heart rate monitor comes with a sleek black watch, the 'wearlink' chest strap and the 'flow link' data transfer unit so you can download your training data to your PC or Apple Mac for analysis. You can just buy the FT80 heart-rate monitor on its own, or combine it with the G1 GPS armband that is available separately for an additional £124. Other nifty features include a clever strength training programme, while the watch even provides weekly updates and shows the amount of time in each training zone. A great product – in fact, we struggled to find anything to dislike!
Stuffitts £25.99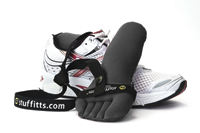 It's a perennial problem for any sports person: how do you dry your training shoes if they get wet? Newspaper has been the traditional staple for many runners, but it's messy and unpleasant, as anyone who's tried to fish a wet, muddy ball that used to be The Times out of their trail shoes can testify. And then there's the smell, a mixture of ripened Brie and cow dung, the kind of eye-watering olfactory abuse that no one should have to suffer.
Stuffitts can remove 98% of moisture from a shoe in 24 hours!
Help could be at hand, though, in the (foot) shape of Stuffitts, a nifty little innovation from the US. These soft, foot-shaped forms are inserted into each shoe after wearing. The Stuffitts system uses 100% natural aromatic Eastern red cedar inserts that absorb moisture upon contact. In fact, the manufacturers claim Stuffitts can remove more than 98% of moisture from a shoe in 24 hours – and leave them smelling nice!
Keeping moisture out of shoes means protecting them from deterioration and odour – and means shoes will last longer and smell better (and that's a bonus in my book!) Also, eliminating moisture means eliminating bacteria responsible for causing foot discomfort and disease. Stuffitts are currently available in the UK in two different colours: pink and black.
Lumie Bodyclock Active £99.95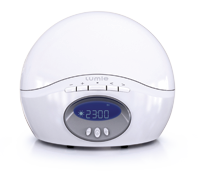 When your alarm clock goes off, is your first reaction to snuggle down deeper under the duvet rather than rush to work feeling like you're half asleep and in a bad mood? Light therapy expert Lumie might just have the answer. Seasonal Affective Disorder (or SAD) is a growing problem: one of the solutions is to use light therapy to stimulate a change in the levels of chemicals and hormones that affect our mood. Rather than the intrusive sound of an alarm, the Bodyclock Active is designed to gradually start to brighten up over your chosen sunrise length – to provide you with your own personal sunrise! Scientific research has also shown that waking up to light every day keeps your circadian rhythm (otherwise known as your internal body clock) in check so you feel refreshed, energised and ready for your day ahead – at the time that suits your lifestyle. With a choice of six sunrise and sunset lengths, and an FM radio with digital tuning, you'll never need a conventional alarm clock again!
Ki Fit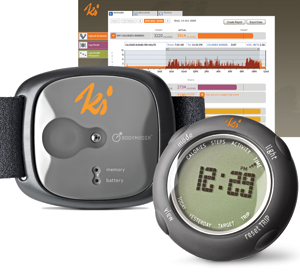 Wouldn't it be nice to find out exactly how many calories you burn during the day, when you're asleep or when working out? Well now you can. Strap on the ever-so-clever Ki Fit armband monitor and prepare to be surprised.
Prices start at £99.99 for the armband and display
Windrush Headbands £24.99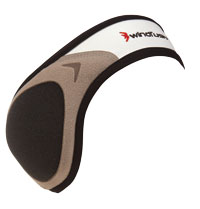 Product designer Paul Goodwin got so fed up being near-missed by cars he hadn't heard when cycling, he went out and designed a product that cuts out wind noise and cold – but lets other sounds in. The result is Windrush Headbands, which are designed to reduce mind noise by up to 25 decibels – or more than four times quieter. Windrush Headbands feature a special type of foam – dubbed Air Still – which can be moulded into the headband. Interconnecting cells allow the passage of other sounds to the air, while cutting out wind noise. A 15mph wind, for example, can create around 95db of noise in the ears – 10db more than the figure at which Health & Safety at Work laws insist that people wear hearing protection. They take a bit of getting used to, but it does give you a whole different perspective: you can actually hear things around you! Of course, the headbands can also be used to muffle wind noise to improve sound quality of music from MP3 headphones (something of a paradox), but for anyone cycling or running in busy areas, these are an excellent addition to your training kit.
Leave a Reply