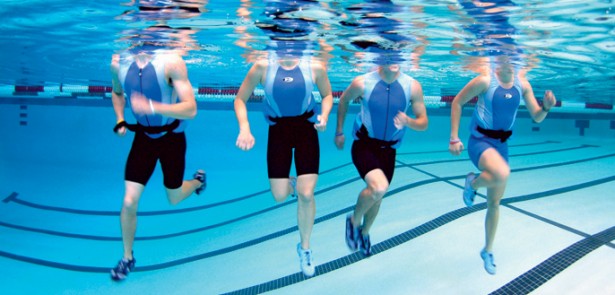 "I've used Aqua jogging a lot in my career,"
Double Olympic Champion, Dame Kelly Holmes
What is it?
Aqua running – also known as aqua jogging or deep-water running – is a totally impact-free workout. You fasten a flotation belt around your waist to help keep your head above water (it's always good to avoid drowning during exercise) and jump in the deep end of the pool. You then 'run' laps in the deep end and slow lane of the pool, without your feet touching the floor, turning back when the water gets too shallow. There are various kit additions to add variety: shoes or dumbbells to add resistance, or a tether to keep you in one place.
What are the benefits?
It gives you the same cardiovascular workout as a conventional run, with the associated fitness and weight loss benefits. However, there is no risk of stress injuries, as your body is totally supported by the water. It will also improve your balance and agility as you engage your abdominal and lower back muscles to keep yourself upright.
What do you need?
Aqua jogging shoes and flotation belt. The foam belt comes in a range of colours and varieties but essentially has one purpose – to support and strengthens the core area. It can take a little while to get used to and you may feel as if your chest is being compressed, but stick with it. You can also increase the resistance of your workout by using special shoes: AQx aquatic training shoes have "strategically placed drain ports for superior drainage", otherwise known as holes in the soles. AQx's research shows the shoes provide up to 30% more resistance at a medium pace than running in deep water barefoot.
How hard is it?
It is quite difficult to get the hang of in the beginning. For starters, it can be quite embarrassing (even more so if you opt for shoes) and you'll probably get looks of sympathy from other swimmers. The belts can also be problematic: they can ride up and support you in all the wrong places if you don't have it very tight. And while users say you'll get a comparable workout to running, it's difficult to get your heart-rate as high.
Does it work?
As part of a cross-training programme, absolutely. If you're suffering from an injury that prevents you from running, then combining aqua running with cycling and other low-impact cardiovascular exercise will not only boost your aerobic fitness, but it's pretty close to a conventional running workout. However, it can be extremely dull, even if you do try to replicate the kinds of interval sessions you'd do when running outside. One solution is a water-resistant MP3 player, such as the one made by Speedo.
What do users say?
"I've used Aqua jogging a lot in my career' explains Double Olympic Champion, Dame Kelly Holmes "back in 2000, before the Sydney Games, I had an Achilles injury and couldn't train on the track.  I aqua jogged every single day for six months, and went on to win an 800m bronze medal at the Games. It's a great form of training for injured athletes and it can be really effective at maintaining your fitness if you can't run."
How much does it cost?
The shoes cost around £50 and the belt £35; then you just pay for a swim at your local pool.
Leave a Reply