The gym transformed my life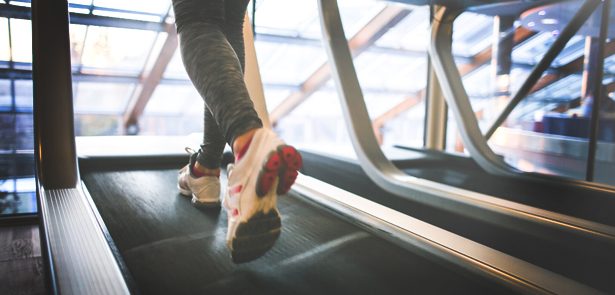 When Amy Mortell wanted to get fit and lose weight she turned to Vivacity's gyms. The decision changed her life with her transformation nothing short of remarkable. Today Amy is happier, healthier and enjoys more energy than ever
Amy, you've lost an incredible amount of weight over the past few years. It must have taken a lot of dedication and hard work. Can you tell us a bit about how you gained the weight in the first place?
It started when I went to university. Lots of students end up putting on weight because of all the drinking or as a result of eating less healthily. My weight steadily rose while I was at uni. Then after I graduated I became a teacher and for the first year was living on my own, which only allowed those bad habits to continue.
So when did you take the decision to do something about it?
When I returned from a period of teaching in Egypt I simply wasn't happy with the way I was. I didn't feel healthy or confident in my own body. My brother encouraged me to take action – he was like 'well, let's go to the gym, let's get you sorted out!' So I went and joined the Bushfield Gym.
Were you nervous when you joined?
Absolutely. It was a big step because I've never been particularly sporty. I never enjoyed PE at school – it just wasn't my thing – and I was very self-conscious about going into a gym on my own. I was worried that everybody was going to be looking at me but it wasn't like that at all. No one batted an eyelid and I relaxed into it pretty quickly. People aren't looking at you because they are too busy doing their own thing. And because it's quite a small gym there's a really friendly feel to it.
Being a new gym member must be a bit bewildering at first. How did you get started?
Every new gym member gets a full induction. Being shown what to do and receiving workout suggestions tailored to my needs was really helpful. I was taken to the exercise machines and had a little go on each. Then I received an informal assessment and was given some suggestions on lengths of time, speed for running, and with the weights, some examples of the types of exercises I could do based on what I wanted to achieve. I obviously wanted to lose weight and tone up so was given relevant exercises appropriate to my level of fitness at the time.
Was there any ongoing advice once you'd mastered your workout routine?
I received a follow-up consultation a few months later when I checked back in with them. We reviewed my progress and my exercise routine was tweaked a bit to reflect my new level of fitness.
It must have been incredibly hard work to start with. But did you begin to enjoy the exercise?
Yes, definitely, especially once I began to see the results of all that hard work. Those regular trips to the gym really began to pay off, which was a big boost. I could see, first hand, the reason for doing it. You get a rush of endorphins after a good workout too. I had heard people talking about this and it was great to find it was real!
Losing weight is also about the mental journey that accompanies it. How did you manage this side of things?
I set myself smaller targets as I went along – and I'm still working on my weight even now. I hit my initial target within about four months. The secret to minimising the low points is to set lots of fairly small targets, to break it up a bit. I knew that losing all my weight was going to take time and I didn't want it to be like some sort of fad, yo-yo type diet. This was going to be a change in the way I was. Having those smaller targets really helped because it meant I could achieve results fairly quickly and start feeling like I was making real progress.
Will you carry on going to the gym when you reach your final goal?
Absolutely. I'll carry on going to maintain good health and to keep myself on track. Going to the gym is now part of my routine and I enjoy it because it's a release. If I've had a long day at work or whatever, the gym is a great way to get a bit of me time and clear my mind.
What sort of exercises are you currently concentrating on?
I tend to stick with cardio exercises these days as I have weights at home. I use almost all of the machines: the treadmill, rowing machine, cross-trainer, bikes and other cardio exercise machines.
And how do you find the staff at the gym?
Really friendly and approachable; they're always on hand to offer advice or answer any questions. The professional way they work really sets you at ease and I think the gym is a friendly place because of that. One of the great advantages of my Vivacity membership is that I can use it across all the different sites. This has been really useful, as I've moved about a bit. The same membership gets you into every Vivacity gym, so it's been really convenient. I'd say this is a major advantage of Vivacity gym membership over others.
How does it feel to be so close to your final weight goal?
I'm a lot happier and more comfortable in my own body. I'm just a lot healthier generally and have lots more energy. I can honestly say that going regularly to the gym has given me a new lease of life.
Tailored to you
Get fit across Vivacity's gyms and enjoy
● State-ofthe- art gym equipment
● Over 100 fitness classes per week
● Luxury sauna and steam room
● Fantastic pool programme
● Personalised fitness plan
● No annual contract
Vivacity has six gyms across Peterborough, each one suited to your fitness needs.
● Vivacity Premier Fitness, Hadfield Road, Hampton, Peterborough PE7 8BT
● Regional Fitness and Swimming Centre, Bishops Road, Peterborough PE1 5BW
● Hampton Leisure Centre, Clayburn Road, Hampton, Peterborough PE7 8GL
● Werrington Leisure Centre, Staniland Way, Werrington, Peterborough PE4 6JT
● Bushfield Leisure Centre, Orton Centre, Peterborough PE2 5RQ
● Jack Hunt Pool and Gym, Ledbury Road, Netherton, Peterborough PE3 9PN
For more information on how to join, visit www.vivacity-peterborough.com/gyms or call 01733 864000.
Leave a Reply