Green and pleasant Burghley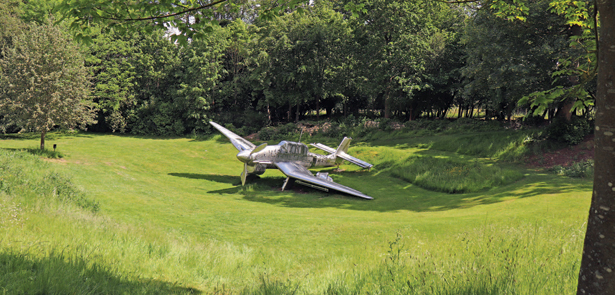 Tranquil walks, horticultural discoveries, modern sculpture and family fun await visitors to Burghley's stunning gardens and parkland
The sweeping vistas of Burghley's parkland and gardens were designed by visionary landscape and buildings architect Lancelot 'Capability' Brown in the mid-18th Century. Today this scenic space is home to Burghley's Sculpture Garden and Garden of Surprises, where art and nature combine in inspirational ways, just waiting to be discovered. The Sculpture Garden welcomed its first sculptures back in 1994 when the land was reclaimed from Brown's long-lost Lower Gardens. It has proved popular with people of all ages ever since, as visitors explore the winding pathways to make new artistic (and horticultural) discoveries.
Each year the garden's 20 or so permanent exhibits are joined by new pieces of contemporary sculpture for Burghley's seasonal exhibition, this year entitled 'Form and Function'. More exciting works of art are now on show, featuring a range of materials and techniques.
One particularly compelling addition is the Garland Necklace by Owen Bullett – a vibrant string of painted wooden beads that captures both the eye and the views beyond. Another exhibit that's due to arrive is Down Two Earth by sculptor Hex – the masterpiece of stainless steel is a life-size depiction of a German WWII Junker 87 airplane, striking a bold new form within the garden setting.
Close by is the Garden of Surprises, a project initiated by Lady Victoria Leatham shortly before she retired as Director of Burghley House. Completed in 2007, the garden takes its inspiration from the first Lord Burghley's Elizabethan 'tricks' garden at his Hertfordshire home. This aptly-named playful space has its own captivating collection of sculptures and statues, including swivelling replica busts of Caesar, a longitude sundial of sandstone and marble, obelisks and various artistic water features. Jets, fountains and basins also make this garden a modern oasis of flowing water and a popular day out for children, attracting more than 100,000 visitors each year. Head Gardener Joe Whitehead tends Burghley's magnificent gardens.
Joe and his team have recently installed new borders and planted more than 2,000 new plants. Exciting new projects include restoration of lost features, such as the stream that used to flow through the valley of the Sculpture Garden, a cut flower garden, and the introduction of hundreds of new plant varieties. The gardens at Burghley make an ideal family day out, full of exploration and discovery. They are open daily, 11am-5pm (last admission 4:30pm) until 3 November. The house is also open daily (except Fridays).
Burghley House and Gardens
● For more information and to purchase tickets visit www.burghley.co.uk or call 01780 752451.
Leave a Reply