Getting weight down during lockdown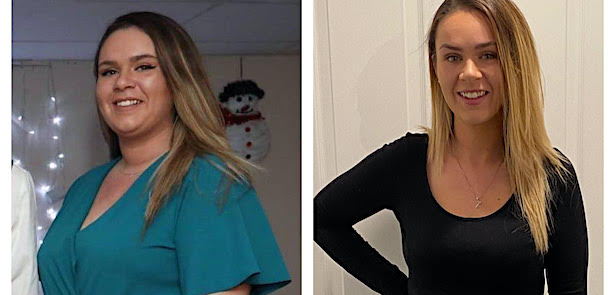 A recent online survey revealed that under lockdown 16% of respondents were drinking more alcohol, and one in three were eating more sugary foods. But it doesn't have to be that way. Zoe Briggs joined Slimming World in March 2020 – just before lockdown began – and has now lost 4st 3lbs, from a starting weight of 15st 9lbs. We talked to her about the experience…
What made you decide to join Slimming World?
I think the final straw for me was coming to the realisation that my size 16/18 clothes were getting a bit too tight and I didn't want to let myself go up yet another dress size at the age of 23. I still had time to change. I was discussing weight loss with my colleagues at work one morning who had both tried Slimming World. After them talking me through the very basic idea of it all, we decided to try it all together. I made a promise to myself, to make sure that I stick with it and not let myself quit.
How did Slimming World's healthy eating plan, Food Optimising, help?
I had it drummed into me with previous diets that I would need to eat flavourless meals and exercise every day, but Slimming World taught me that you don't need to cut everything good out of your diet. The different meals were a bit daunting at first as I've never been one to cook from scratch – however, the recipes are very easy to put together and don't take long at all. After getting to grips with the staple meals and ingredients I was impressed with the amount of flavour I was tasting. My boyfriend even agreed to eat the same main meals as me without becoming a member due to the quality and ease of the recipes. I'd say that my favourite recipes are the quick and easy basics such as a carbonara or beef chilli. I also enjoy the different options of 'fakeaway' dishes which taste just as good as the real thing.
What has been the biggest challenge?
The biggest challenge for me, like many others, was the first national lockdown. Luckily, I joined a couple of weeks before, which gave me a feel of the in-group atmosphere, and I was nervous to continue over online Zoom sessions. Not only was I worried that I would lose motivation as I was working from home being alone for the majority of the day, I was worried about the temptations of just being metres away from the kitchen and not being able to just eat what I packed for lunch that day. As the weekly Zoom sessions went on and the more I got to know the group, the easier the lockdown was becoming for me. Even though it wasn't face to face, it was the ongoing support from the group that was the main contributor to my weight loss. Although we couldn't see each other in person, it was comforting to know that we all still had the contact and especially with our consultant Scott who made it his utmost priority to make this change worthwhile. It was a tough time for everyone but the Zoom sessions were still something to look forward to on a weekly basis.
What can you do now that you couldn't do before you lost your weight?
I am a lot healthier and happier within myself. Even the little things like walking up a couple of flights of stairs doesn't make me sweat or breathless. When the weather was nicer I started walking to contribute to my weight loss – nothing too strenuous. Now I can tell a difference in my stamina and find it a lot easier to walk a lengthy distance.
What are you most proud of?
I am most proud of the amount of inspiration I have been to my group, which was backed up by my Woman Of The Year award. I never thought I would be the person that would influence others to carry on with their journey, let alone win an award like this! I, like many other members, am not perfect but it is comforting to know that it's not just you that has their struggles everybody does, it's just how you choose to overcome them! This journey hasn't been an easy one but has been made a lot easier by everyone involved.
"Zoe is a shining example of what can be achieved with the right kind of support and healthy eating. She is such an inspiration to others who may be struggling with their weight and health during these challenging times." – Lorraine Killen, District Manager, Slimming World
To find your nearest group, please call 0344 897 8000 or visit www.slimmingworld.co.uk
Leave a Reply