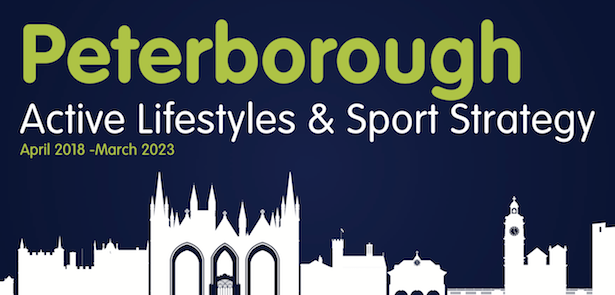 Together, as a city we wish to send out a message in Peterborough that puts activity at the heart of everything we do.
Being more active is good for us all, whatever our age. Whether it's charging around the playground at school, cycling around Peterborough instead of using the car, playing sport or even taking a walk through our parks, it all helps us feel better about ourselves as well as helping us to feel healthier and happier.
Peterborough City Council (PCC) and its partners has identified the need to refresh the current sports strategy. Now is the optimum time to have a fresh look at the city's needs and to develop a strategy that will assist in guiding the future provision of health and sport facilities in the city. The need for a clear framework for future investment is particularly critical given the projected population growth within Peterborough and the surrounding area.
The vision for this strategy aims to get more people, more active, more often
More people
By inspiring more people to participate in regular physical activity and sport – PCC to act as a supporting role with partners engaging and delivering the results within the communities.
More active
By helping people to understand and enjoy the health benefits that can be achieved from increased and sustained activity — adapting to meet the physical activity needs of the city and making sure they are accessible for all users. 
More often
By encouraging people to set their own personal participation goals, irrespective of ability, and helping them succeed in leading more active and healthy lifestyles. Promotion, marketing and constant communication is key to delivering the messages across the city to meet our action plans, vision, mission and legacy.
Why is physical activity important?
Improving current levels of participation in sport and physical activity locally will bring a range of benefits:
Physical well-being
Being active can reduce the risk of developing type 2 diabetes by 30-40% and can reduce the risk of a range of medical conditions, including cancer, dementia, strokes, heart disease and depression.
Mental well-being
Physical activity contributes to enjoyment and happiness, and more broadly to life satisfaction, with the element of social interaction often cited as central to this.
Individual development
Evidence shows a positive association between sport and physical activity and self-efficacy (for examplemotivation, goal setting and commitment) for groups including elderly people and disaffected young people. Other evidence includes an increased willingness to volunteer and the development of soft skills, such as integrity, responsibility and leadership.
Economic development
The direct impact of the sport sector on the economy (largely in terms of gross value added or job creation) has been evidenced as has the indirect impact of participation in sport and physical activity on the economy (reduced healthcare costs due to a healthier population, reduced crime, and improved employability).
Social and community development
There is compelling evidence around the role of sport and the integration of migrants that is particularly relevant for a city such as Peterborough, which has a diverse population. Sport is widely seen as a way for people of different backgrounds to interact and integrate by participating, volunteering and spectating.
Source: PHE Health matters: Getting every adult active every day
Find out more at: www.peterborough.gov.uk
Leave a Reply