How to make: trote ripiene al forno (Filled baked trout)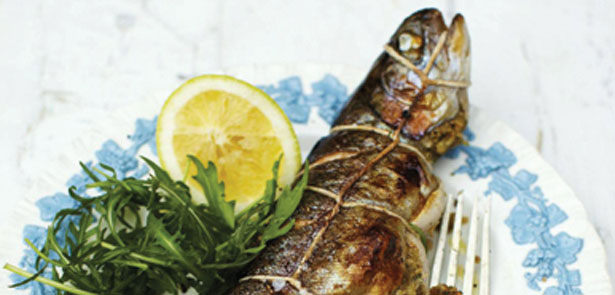 Serves 4
Ingredients
4 whole trout, about 450g each, gutted, cleaned and scaled
50g hazelnuts
50g almonds
40g pine nuts
8 anchovy fillets
3 garlic cloves
2 tbsp capers
2 eggs, beaten
50g grissini (breadsticks), crushed
A handful of parsley, finely chopped
40g Parmesan, freshly grated
Grated zest of 1 lemon
Salt and freshly ground black pepper
Extra virgin olive oil, for greasing and drizzling
Lemon juice, for drizzling
Method
Preheat the oven to 180°C/Gas Mark 6.
Rinse the fish inside and out. Set aside. Place the nuts, anchovies, garlic and capers in a food processor and whiz together. Place in a bowl and stir in the eggs, grissini, parsley, Parmesan, lemon zest, salt and pepper until you obtain a paste-like consistency. If it appears too wet, add some more crushed grissini.
Fill the cavities of the trout with this mixture. Tie the fish in 3 places with string or raffia. Place the filled trout on a greased ovenproof dish and drizzle a little oil over the top. Make small incisions in the fish skin between the string and bake in the oven for 15–20 minutes, until the fish is cooked through. Remove, drizzle with a little more oil and lemon juice and serve.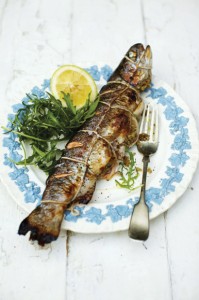 Leave a Reply