How to make: butternut squash ravioli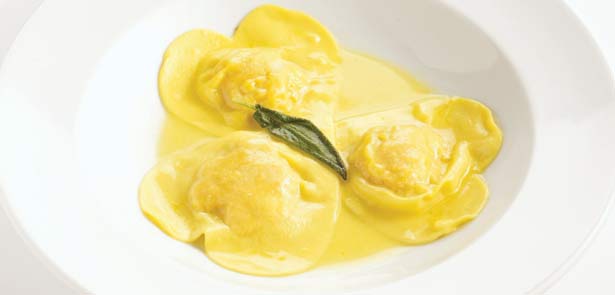 Try this Butternut Squash Ravioli recipe from Carluccio's Restaurant (who can also supply heart-shaped pasta cutters for the occasion!)
THE FILLING / MAKES AROUND 700G
1 large Butternut Squash – Skin peeled, seeds removed, cut
into 5cm pieces
120g Ricotta
60g Grated Parmigiano Reggiano
Extra Virgin Olive Oil
Place the Butternut Squash on a baking tray, drizzle with Olive Oil and season
Bake at 180*C for around 25 mins until lightly golden and tender
Crush the squash to a rough puree and allow to cool
Mix with the ricotta & parmigiano and season
THE RAVIOLI
25g of Butternut Squash Filling per Ravioli
20g Basic Pasta Dough per Ravioli
Roll the pasta out on a pasta machine to the required thickness, or use a rolling pin
***You should just be able to see the filling through the ravioli when made***
Divide the sheet into 2 equal pieces
On one sheet, pipe the filling into neat mounds, with ample space between them
Brush a little water around the fillings
Layer the second sheet carefully over the first, neatly covering the filling, pressing out
any air pockets gently with your fingers, and seal the edges tightly
Cut with the heart cutter
Blanch for 1 min in gently simmering salted water
Melt butter and sage in a pan with a splash of the cooking water, and boil until thickened a little
Add the ravioli, season and serve
PASTA DOUGH
200g Flour
2 large fresh Eggs
Make a well in the centre of the flour and break the eggs into it. Stir the eggs into the flour, with a fork at first, and then with your hands, until it forms a coarse paste. Add a little flour if too moist.
Knead the pasta dough by hand until it is smooth & workable. This should take about 15 minutes.
Cover the dough with a cloth and let it rest for 30 minutes.
Carluccio's
52-53 Cumbergate,
Peterborough,
PE1 1YR
01733890752
www.carluccios.com
Leave a Reply