Shooting The Cook | The Bull Hotel, Peterborough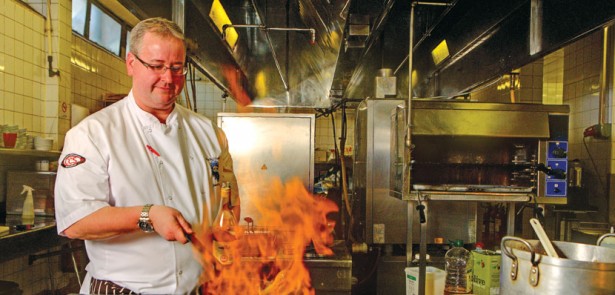 Creativity is at the heart of all good cooking. Without it, both the chef and his customers will soon get bored. Thankfully, culinary inspiration can come from many sources, even from a photo shoot, as we discovered in the kitchens of The Bull Hotel in Peterborough where a whole new menu has just been created.
'Can we just try that again Jason?
The light from the flame is too intense.'
Jason Ingram pours some more brandy into his skillet and deftly raises another three foot high flame as he flambés a bulb of fennel for the benefit of our photographer. He does it with all the practised ease of a circus performer. Most people would have at least singed their eyebrows off by now.
'That's better. Just one more time please.' Click. Click.
Another whoosh of after-burner flame and this time the photographer is happy. He's got his shot. Minutes later and the new head chef of The Bull Hotel, Jason Ingram, has produced a pan-fried fillet of sea bass stacked on top of a bed of braised fennel bulbs, roast tomato coulis, olive tapenade and spinach which, after it's been photographed, I'm invited to taste, though the dish comes with a warning. 'I'd be careful with that fennel if you're driving' chef says, only half joking. 'They usually only get one soaking of brandy but those pieces have been done about five times now. Probably won't taste too good either.'
He's wrong there. They do taste good. Because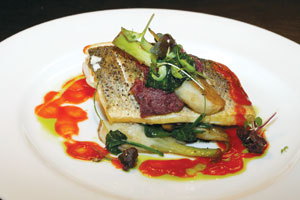 the fennel was braised and re-braised for the benefit of the camera, it now has a taste it's not supposed to have, but it works surprisingly well. Even chef agrees when persuaded to taste it. But then, that's how cooking works. That's how new dishes are created. Largely by accident. The brandy-loaded fennel will not be appearing on the A la carte menu at The Bull any time soon but the incident proved just how fluid the art of cooking is; there are no rights and wrongs, just food that tastes good and food that doesn't. And Jason Ingram has spent most of his life making sure that his food tastes good.
'I started off straight from school – I always wanted to be a chef' he says, taking a break from the heat of the kitchen. 'I've always had a passion for cooking even when I was just a young kid. My dad was a chef in the navy so I guess it must have rubbed off on me. I was always cooking meals and bits and bobs at home when I got in from school, even if it was just making sandwiches for everyone.'
Upon leaving school, Ingram, now 39, channelled his passion by signing up to a YTS scheme to learn how to cook professionally. He soon won a trainee of the year award and was in the top 20 in the country for his age group before starting work in a pub on the Cambridgeshire/Bedfordshire border. After two years he moved to The Lion Hotel in Buckden where he became head chef, despite only being 21. In total Ingram spent ten years at The Lion, a residence he now feels may have been too long. 'Ten years was perhaps a little bit long to stay in one place because there's only so much you can do in any one establishment before it all gets a bit too institutional.'
For institutional, read staid. Creativity is such an integral part of cooking that, without it, you're merely head of a production line, churning out bland, repetitive, unimaginitive dishes. 'I'm attracted to an establishment by the kind of cooking I'll be able to do there. I look and think "Right, can Jason Ingram make a difference here?" So you pick the places where you think you really can make a difference. Before starting at The Bull I turned down a job at a hotel up in Norwich because I thought there wasn't enough room for me to be me and to be able to express myself with the sort of food I cook. I'd have been lost under the umbrella of the big chain that owned the hotel. As a chef, you have to be given a certain amount of freedom to express yourself.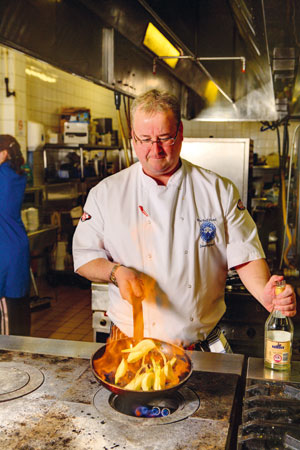 That's why I love it at The Bull so much.'
Ingram took over as head chef at The Bull in August 2010 and immediately set to work revamping the menu. 'The Bull has always had a reputation for good, solid food but that may not be as exciting as modern palates require' he says. 'So I decided to use the same ingredients – whether that was pork fillets or loin of lamb, or nice steaks, but use them a bit more imaginatively and a bit more creatively. And that way your own flair and personality comes through in the food. For example, the previous chef used to do lamb chops with a potato mash so I decided to take out the eye of the lamb which gives you a nice loin of lamb which is a much nicer cut. And we do that with a herb crust and a celeriac puree and a little minted pea croquet. So it's still just lamb, vegetables, potatoes and peas but it's a little bit more imaginatively done.'
Every new dish is then put to the taste test before being approved for the menu. 'We initially try them in the kitchen with a tasting session for all the restaurant and kitchen staff' Ingram says. 'When we came up with the new menu we cooked one of everything and set it all out on a table, took photos of it all – because presentation is obviously important too – and allowed everyone to try each dish to see what they liked and what they didn't like. If everybody likes a dish, it goes on the menu. Simple as that.'
But where does the inspiration come from?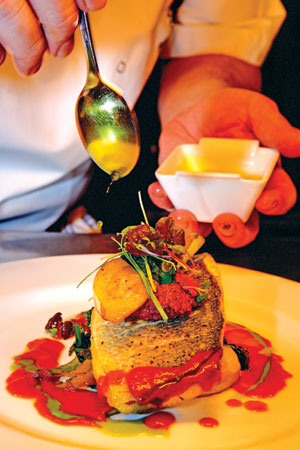 How does a chef find a way to etch his own unique signature into every dish on the menu? 'I watch cookery programmes on the TV, I read books, and I just use ideas that I've developed throughout my career. And you bounce ideas off each other in the kitchen too so it all just comes together.'
There's certainly been no shortage of cookery programmes on our television screens to provide inspiration in recent years, though Ingram has certain reservations about the whole celebrity chef culture. 'Celebrity chefs are okay' he says somewhat grudgingly, 'but I'd worry about going to a Gordon Ramsay restaurant, paying £50 a head, and wondering who's actually doing the cooking. If Gordon Ramsay's not cooking then you're just enhancing his brand. So it's not really a lot different to going into another chain restaurant. He's created his own brand just like they have. The ones that are worth going to are the ones where the celebrity chefs are actually at the stove. I know Heston Blumenthal is still on the stove a few nights a week, and Raymond Blanc is the same. But there are too many who have jumped on the bandwagon and they're more TV celebrities rather than chefs, and if you're a TV celebrity then you haven't got time to be a chef.'
Despite these reservations, Ingram does applaud the fact that the multitude of cookery programmes available to us now have helped to educate the general public about food and inspired them to do more cooking for themselves. 'There are cookery programmes on every night of the week these days so people do show more interest in food and they probably cook more often too. There's certainly a lot more ingredients available now for people to choose from. It wasn't so long ago when it was a struggle just to find something like fresh basil in a supermarket but now you can even buy different varieties of it, like purple basil or lemon basil, quite easily.'
Ordering and managing those ingredients is a large part of the job description of a head chef in any establishment and it provides one of the biggest challenges in the day-to-day running of The Bull's kitchens as Ingram explains. 'It's a big balancing act between getting the produce in, getting it prepared, and getting it served. You've got to manage the things coming into the kitchen as well as the things that are going out. There's no point in having an excess of something and you don't want to run out of ingredients either so it's always a fine balancing act.'
Ingram also strives to accomplish a balancing act between his staff and his customers. 'The biggest challenge of the job is organisation. That, and keeping people interested – making people want to come to work. As head chef, you are the mediator who has to keep both the staff and the customers happy. If you can come up with a good menu that people want to eat and a menu that's interesting enough that chefs actually want to cook it, then you're half way there. You soon get bored and staid if you're cooking dull dishes – you don't want to be cooking the same thing day-in, day-out.'
Ingram clearly manages this balancing act supremely well. The kitchens at The Bull are surprisingly harmonious and calm for such a busy establishment. There are no 'F' words being bandied about here. But then, maybe that image that we all seem to have of a hectic, chaotic, working kitchen is a myth, perpetuated by so many TV shows just to make them more exciting for viewers? 'It very much comes down to your attitude and your outlook on life. I'm a very laid-back type of person. I've always been like that and some people say it's a good thing while others think it's a bad thing. But it's got me where I am today. We can be doing 300 or 400 meals in a night but that's no problem if you're organised. There's no Gordon Ramsay-style shouting and swearing in my kitchen! That's far too old school.'
So what does a head chef eat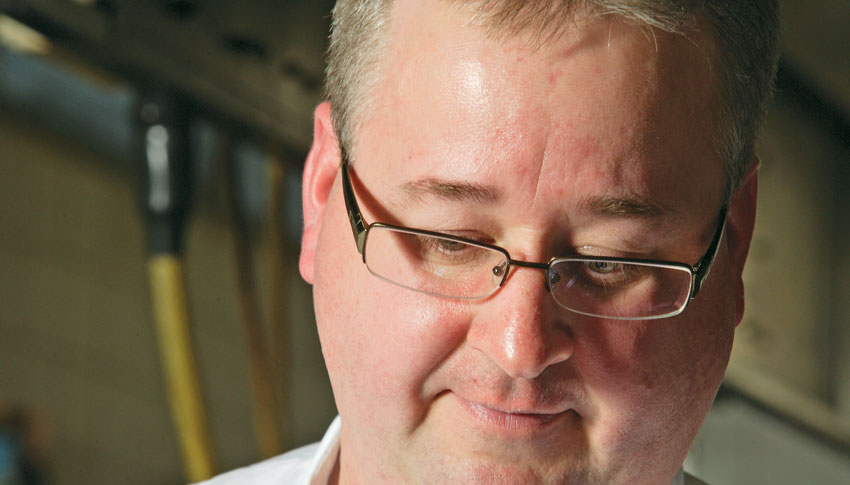 when he goes home at night after cooking so many mouth-watering dishes for other people? A nice roast loin of monkfish? A warm crottin of goat's cheese? 'Usually just rubbish to be honest with you – as most chefs do!' Ingram laughs. I might snack on a burger or a packet of crisps or a chocolate bar or something like that. But we normally do split shifts so you've got time in the afternoon to have a decent meal and that sets you up for the evening shift. The last thing you want to do after finishing a shift at 10pm is to go home and start cooking again. You just want to have a beer and relax and watch a bit of TV. My wife's a really good cook so she does most of the cooking at home anyway.'
Cooking for a head chef may sound like an intimidating prospect but Ingram insists it's not. 'No, not at all. We've been together for 20-odd years so she has no problem with cooking for me.' And does he ever find himself being over-critical of his wife's cooking? 'No way. It would be more than my life's worth!'
'The only difference between a professional chef and a good home cook is the salt and pepper.'
The encouraging message for those who love to cook at home is that there's no great difference between a good home cook and a professional chef according to Ingram – no 'us' and 'them' snobbery that can be found in many other professions when amateurs try to have a go against the pros. 'It's been said that the only main difference between a professional chef and a good home cook is the salt and pepper. By that they mean knowing when to put that last little bit of seasoning in or to leave it out. That final little ingredient that might make the difference.'
Like too much brandy. Oh well, he did warn me. And it was the photographer's fault.
Meet the Management
Alan Price has been general manager of The Bull Hotel for eight years and he expects big things from his new head chef.
'We had already interviewed 22 people for the job by the time we spoke to Jason but when we saw his CV and portfolio we knew immediately that he was the right man for the job. He's got a lovely temperament, good training, and great cooking skills.
In 2009 we were recognised by the AA as a four star hotel so the natural progression from that is to win some food awards. We need to gain an AA rosette award for our food and I think that Jason can achieve that for us. As far as I'm concerned we're one of the very few hotels in the area that sources local ingredients and produces our food from scratch – it doesn't come out of a bag, and it doesn't get microwaved, it's all fresh stuff.
Locally, we're held in very high regard but the problem is that we're perceived as being very expensive. While we don't want to become ultra-expensive, we don't want to go down-market either so we're aiming for two AA rosettes (the AA present up to three rosettes for excellence). Food is hugely important in the hotel industry, it accounts for about 40% of our takings, so it makes sense to get it right. And we're confident we can offer a quality of food that is unrivalled in this area.'
A Bit About the Bull
The Bull Hotel is the only AA four star hotel in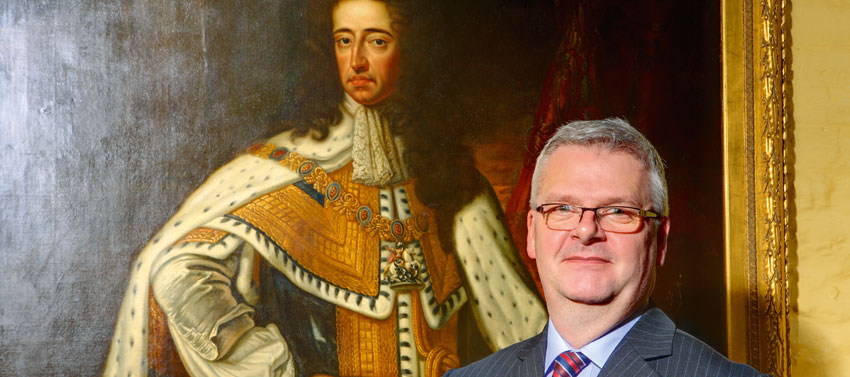 the centre of Peterborough. Situated in Westgate, directly opposite the Queensgate Shopping Centre and just a few hundred yards from the cathedral, it's a grade two listed building dating back to the 17th century. Until 1901 it was a small coaching in with just eight rooms but it now boasts a total of 118 rooms as well as 14 meeting and conference rooms, the largest of which can accommodate 250 people. In 1998, the hotel was acquired by Robert Peel, the former chief executive of Mount Charlotte and Thistle Hotels, and is now part of a chain of nine hotels owned and run by Peel Hotels PLC. Non-residents are welcome to dine in the Brasserie or the Pastroudis Bar and Cafe which is open throughout the day.
The Bull Hotel
For further details or to make a reservation call 01733-561364 or visit www.peelhotels.co.uk
Leave a Reply