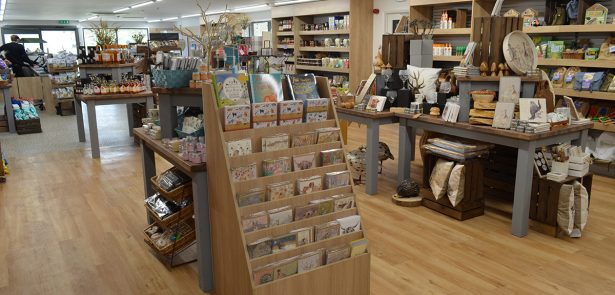 The recently refurbished Visitor Centre, Gift and Farm Shop in Ferry Meadows is now open and most definitely worth a visit.
The Visitor Centre and Shop reopened in April following a brief closure. The new look Centre brings the Lakeside Farm Shop, previously located near Nene Outdoors, into the same space, so shoppers can now pick up delicious, locally sourced produce alongside all the great gifts, garden and homeware items also for sale.
Nene Park Trust worked with rural retail experts Appetite Me to update the range of produce available within the centre, sourcing the very best food and drink items while continuing to support local and regional suppliers. Among other produce, you'll find freshly baked bread from Kings Cliffe Bakery, fresh meat and pies from The Peterborough Game Company and chilli sauces and scorching seasonings from Badgers Artisan Foods.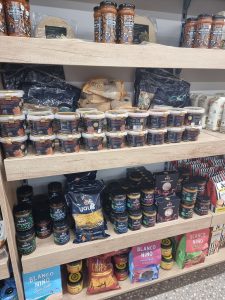 'My favourites include the beers from Oakham Ales,' says Centre Manager Ben Gwinnett. 'The brewery is just three miles down the road and they brew some truly fantastic ales. Some even come with a story connected to the local area, such as Bishop's Farewell. And then there is Nene Valley Spirits, located over at Sacrewell Farm – they produce some really wonderful gins that are well worth tasting.'
Also stocked are oriental sauces and noodles from Yau's Foods, award-winning natural fruit ciders handcrafted in Cambridgeshire by Cranes Drinks, and handmade fudge from ethical supplier Fudged Up in Grantham. The range will change with the seasons, introducing locally grown fresh fruit and vegetables alongside a selection of premium quality fresh lamb, born and reared on the Nene Park Rural Estate. Visitors will have the opportunity to try before they buy with regular tasting sessions running throughout the year.
'Thanks to our merchandising we've been able to get even more great suppliers in. For our furry friends, for example, we have the Barking Bakery who do a line of dog treats, and Lily's Kitchen natural dog foods. Then there's Ombar Chocolate who source cacao from farmer-owned cooperatives and support those farmers by paying them higher than fair trade prices.'
In addition to the Farm Shop, visitors will find unique gifts in store. New suppliers have been introduced alongside old favourites, with exciting additions including den kits from The Den Kit Co, natural and vegan soaps and bath salts from Isle Soap Co, and eco-friendly greeting cards designed by pointillist artist Fay Martin.
'Other new suppliers include Dock and Bay with their superb range of designed homeware, who sit alongside existing suppliers such as Gisela Graham and Richard Lang,' adds Ben.
All the proceeds made from any purchase are reinvested back into Nene Park, helping to maintain and nurture its much-loved greenspaces for everyone to enjoy.
Open seven days a week, with newly extended opening hours from 9am to 6pm, the Visitor Centre, Gift & Farm Shop continues to provide useful information on the Park and things to do in the local area, as well as operating a mobility scooter and trike loan service and stocking the ever-popular duck food!
The bright, spacious refurbishment of the Visitor Centre is part of Nene Park Trust's ambitious redevelopment plans for this area of the Park, which also includes the refurbishment of the Ferry Meadows Café and the toilet facilities, creating a completely refreshed visitor hub for Ferry Meadows.
Plan your visit at nenepark.org.uk/visitor-centre-gift-farm-shop
Leave a Reply