Eating out this Christmas | The Red Lion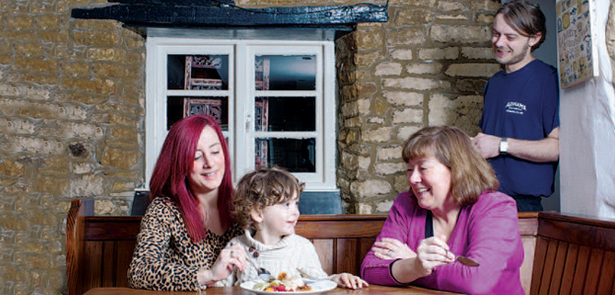 Tuck into The Moment magazine's guide to the best restaurants and eateries in Peterborough this season, this time featuring The Red Lion, West Deeping
We talked to: Gino Gioia, landlord and chef
What style(s) of food do you offer?
Modern British pub classics, cooked to order using fresh and locally sourced (where available) ingredients.
How would you sum up the experience of eating in your restaurant?
The beautiful brickwork and exposed beams in the pub make for a relaxing and enjoyable time. In the winter it gets even cosier with an open log fire. As one customer said: 'Real, good honest food'. The food looks amazing and most importantly tastes delicious!
Choice from the menu?
I would start with the homemade smoked haddock risotto cake on garlic and herb wilted spinach, topped with a soft poached egg and served with our own hollandaise sauce. This would be followed by the Red Lion beef burger with battered chorizo rings, dill pickled cucumber, rocket, homemade chutney and our own chips – I would choose the hand-cut fat chips. To finish it all off, I would most definitely choose the warm chocolate fondant served with vanilla ice cream.
What's special for Christmas?
Twinkling fairy lights on the Christmas tree, garlands all around, cinnamon-scented candles, mulled wine, slow cooked blade of beef, brandy custard and hand rolled pigs in blankets – and don't forget the handmade chocolate truffles.
What will you be asking Father Christmas for this year?
A tablet, so we can keep an eye on bookings and update our website frequently with our fabulous events and delicious daily specials. Also high on the list is an ice-cream maker!
48 King Street, West Deeping, PE6 9HP
01778 347190
www.redlionwestdeeping.co.uk
Leave a Reply