Eating out this Christmas | The Brasserie at The Bull Hotel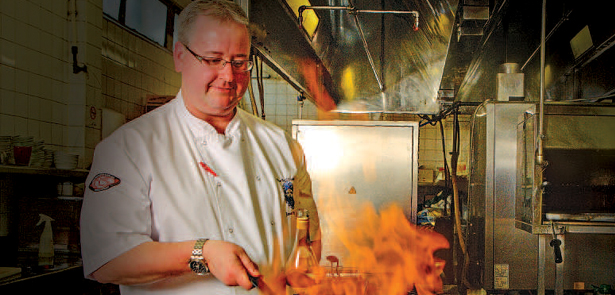 Tuck into The Moment magazine's guide to the best restaurants and eateries in Peterborough this season, this time featuring The Brasserie at The Bull Hotel, Westgate
We talked to: Jason Ingram, head chef
What style(s) of food do you offer?
Classic modern British using quality local suppliers: Fowlers Poultry, King's Cliffe (free range eggs); Grasmere Farm, Market Deeping (all things porcine); Stilton Butchers, Stilton (fresh meat and poultry); Hamish Johnstone, Suffolk (cheese and deli produce).
How would you sum up the experience of eating in your restaurant?
A relaxed atmosphere, with friendly service and excellent value.
Choice from the menu?
At the moment, I would begin with grilled crottin of goat's cheese, proscuitto wrap, smoked pepper bruschetta, followed by twice-cooked belly of Grasmere pork, pan gravy, black pudding, bubble and squeak, finishing off with crème caramel, poached William pear and salt shortbread.
What's special for Christmas?
The hotel always feels extra special this time of year, with wonderful decorations and a fantastic selection of magical events, each offering a special festive menu. I particularly like: the chocolate and orange tart, crème fraiche and macadamia praline on the Festive Fayre lunch menu, and the excellent roast loin of pork, apple sauce, crackling and roast gravy on the Family Sunday lunch (with a visit from Santa – Christmas Day has to have something special apart from the traditional dishes). Some of my favourites are salmon and brandy bisque, spiced crab cake, dill crème fraiche, peppered medallions of fillet steak, wild mushroom cream, buttered baked fondant potato, roasted roots, rum baba, apple and cinnamon compote and clotted cream. This year our New Years Eve package is based on 'The Great Gatsby'. This is a real celebratory affair, starting on check-in with full afternoon tea, then once you have changed from 6.30pm a photographer awaits to take a photograph of you in all your finery with a champagne and canapés reception to follow. The menu for dinner is something very special; I would choose salmon and saffron poached scallop terrine, cucumber salad, mint and lime sorbet, followed by twice-roast belly of Grasmere pork, haggis, bashed neeps and whisky gravy, finishing off with cardamom roasted pineapple, honey panna cotta and pistachio biscotti! And dance the night away…
What will you be asking Father Christmas for this year?
A new carving knife!
Westgate PE1 1RB
01733 561364

www.peelhotels.co.uk
Leave a Reply