A Taste Of La Dolce Vita
A Taste Of La Dolce Vita 1 2
For the main course, there are over 11 pasta dishes to choose from, including a spicy Spaghetti Alle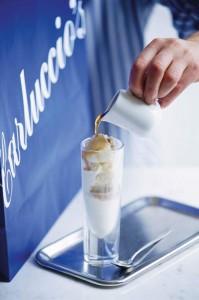 Vongole In Bianco (Neapolitan spaghetti with whole fresh clams, garlic, herbs and chilli) plus signature dishes such as Penne Giardiniera (Pugliese penne with courgette, chilli and deep fried spinach balls with parmesan and garlic). Other mains include Saltimbocca di Maiale (pork escalope wrapped in Parma ham), Branzino con Salsa e Patate (fillet of sea bass with sautéed potatoes) and Brasato di Manzo (beef stew slow cooked with Chianti, served with grilled polenta). Main courses hover around £13.00, however there is also a very reasonable two-course fixed-price menu for £9.95, or £13.45 for three-courses. Special dietary requirements are also catered for, with separate vegetarian, gluten- free and children's menus available.
One of the distinctive elements of the Carluccio's chain is the on-site food shop. The shelves are filled with authentic Italian products, many being acquired directly from artisan producers in Italy. This includes regional olive oils to pre-prepared pesto and sauces, squid ink pasta to dried porcini mushrooms. The delicatessen also offers freshly made food available for lunch on-the-go, such as ciabatta sandwiches, Piadina (Italian flat bread), and light salads.
The timing of the launch means the restaurant is open just in time for Valentine's Day. From 8 – 16 February, a special four-course Valentine's Day menu will be available for £25 per person, featuring heart shaped pumpkin and ricotta ravioli, lobster lasagne and more. A selection of romantic gifts for your 'amore' will also be available in the shop including edible milk chocolate roses –available to buy individually, by the half dozen or as a statement bouquet of twelve. Other gifts include a heart shaped raviolo cutter and a box of 'Gianduiotti' soft milk hazelnut chocolates.
Visit Carluccio's
52-53 Cumbergate,
Peterborough,
PE1 1YR
01733 890752

A Taste Of La Dolce Vita 1 2
Leave a Reply