Under fives swim free with Vivacity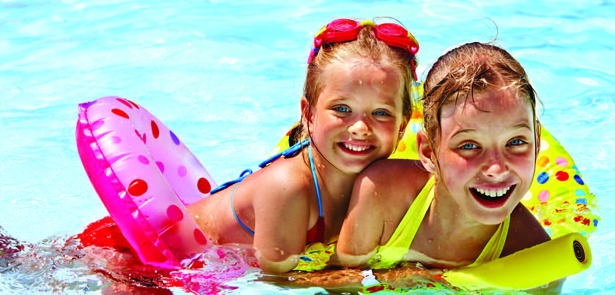 Swimming has a dramatic effect on childhood development, contributing to physical and mental wellbeing, boosting self-confidence and even improving learning skills. Vivacity recognises these benefits and offers FREE swimming to all children under five years old so they can experience the transformative power of water
Teaching your children to swim is so much more than clocking up the lengths. It provides an allround workout that aids muscle development. It builds confidence in and around water. And perhaps most remarkably it improves brainpower by encouraging the essential neural connections that can go on to make your child academically more accomplished. Oh, and it's a lot of fun too! Developing confidence in and around water opens up many other opportunities. From taking to the kayaks or rowing boats of Ferry Meadows in Nene Park, rowing on Peterborough's rowing lake at Thorpe Meadows, to simply enjoying some good old-fashioned swimming pool fun with zorbs and inflatables.
Then, of course, there are all those family holidays by the seaside to look forward to. By offering free swimming to all under fives, Vivacity wants to instil a love of water from an early age and help ensure their safety around water. 'It's all about acclimatising youngsters,' explains Swimming Coordinator Sarah Snodgrass. 'The sooner you can get them in the water the less worried they will be about it later on. And swimming develops all sorts of skills and a real level of independence.' Free swimming is available to under-fives, during open swimming sessions, across all of Vivacity's pools, including the Lido. Accompanying adults paying full price simply need to present their Vivacity card at reception. The cards are free to get from any Vivacity swimming pool and offer discounted admission to a host of other Vivacity venues and activities.
Vivacity Swim Academy
Parents who want help in teaching their children to swim in a safe, structured way can then sign up to the Vivacity Swim Academy. 'The lessons are lots of fun, with plenty of games and an emphasis on creating a happy environment in which to build confidence and skills in the water,' adds Sarah. There are ten stages of progression and children receive badges, stickers and certificates as they move through the programme. Youngsters can start their swimming journey from just three months old by joining in the Academy's Foundation Level Duckling fun sessions, where babies and toddlers can explore the fun of water with the security of their parent or guardian. The emphasis of these sessions is very much on building confidence in the water right from the start. 'Sessions last 25 minutes and have a social element to them,' says Sarah.
Benefits of early years swimming
● Healthier: Water offers a supportive environment – great for gentle, all-round exercise that strengthens baby's essential organs. ● Brainier: By stimulating all five senses swimming helps to develop baby's brain. Children that have swum in early years are up to 15 months ahead in problem solving and language skills by the time they start school. ● Better coordinated: Swimming develops coordination and motor skills. Studies show that children who learn to swim have better balance. ● More confident: An early introduction to water reduces fear of water later on in a child's development. ● Safer: Familiarity with water improves safety skills, such as holding onto the pool side, which helps reduce the risk of drowning.
Free swimming for under-fives is available at: ● Regional Fitness & Swimming Centre ● Jack Hunt Pool ● Vivacity Premier Fitness ● Peterborough Lido (27 May – 3 September) ● For more information about free swimming for the under-fives or the Vivacity Swim Academy please visit www.vivacity-peterborough.com/under5smomentmag
Leave a Reply