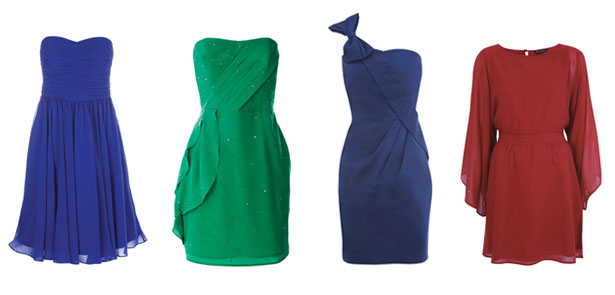 It's that time of year again. Parties, soirees and shindigs abound. The question on every girls' lips is – what am I going to wear? Here we make it easy for you with our top ten favourites of the season (and you don't have to spend a fortune either).

Blue is the colour of the season. Show off your fashion credentials with this strapless number.
Lorna dress, Coast, £145.

Choose a dress with sleeves if you're worried about catching a chill.
Red kaftan dress, Miss Selfridge, £45.

Sequins and chiffon in a baby-doll pink. It doesn't get more girly classic than this.
VIP sequin bust dress, Lipsy, £110.

We love the bow and pleat detail on this party frock, just keep your accessories simple.
One shoulder bow statue dress, Oasis, £45.

Call to the wild – wear this dress with black stilettos, a faux-fur black shaggy jacket and a pair of kitten ears if you dare.
Smudge animal print pencil dress, TopShop, £60.

Who says you can't get your print on during party season? Not us.
Disco pleated dress, Betty Jackson Two, £190.

This green strapless number can be dressed up or down. We love the sparkly detail too.
Studded bandeau dress, Oasis, £70.

Take yourself back to the twenties with this beaded frock.
Purple beaded party dress, Dorothy Perkins, £32.

Channel this season's metallic trend in this fab frock.
Gold shimmer batwing dress, Dorothy Perkins, £25.

Fringe and feathers with a dash of sparkle. What more do you need?
Tinsel fringe dress, TopShop, £60.
Leave a Reply