Style Diaries | Jill Adams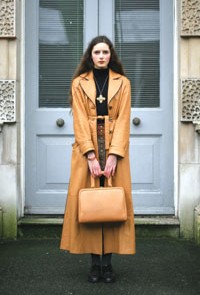 Photographer and blogger Jill Adams is famous for her street style photos. Here she gives us an insight into why imperfections should be celebrated, why every woman needs something long in their wardrobe this season, and what she wears when nobody else is looking.
Who is your style icon and why?
This is going to sound so obvious and unoriginal, but it's a toss up between Jackie Kennedy and Audrey Hepburn. I love simplicity and classic clean lines. They're both ladylike yet slightly androgynous. My version is less expensive, and slightly wacky, but in a sense everything I wear is an homage to these two women.
What one piece of clothing does every woman need in her wardrobe this season?
Something long. Luckily I have one very simple black sleeveless midi already, from years ago, and I'm wearing it with everything. A long, flowing skirt – preferably with pleats – something that channels the 70s – seemed to be the dominant trend this fashion week. When in doubt, go long.
Describe the best outfit you've ever worn.
I can't! But I can describe the best idea I've done to date: when we moved to London in the late 90s, I didn't like the shape of fashion. Instead, my mother in law in Herefordshire found me a dressmaker. I had her make me a series of Jackie style shifts – I chose the fabrics. I had her copy a pair of Jackie/Audrey sixties fitted trousers in a few colours, the kind with a seam sewn into the front, falling just above the ankle with a slit on the side, and a really good jacket… she also made me a version of a man's tailored pinstriped suit. I still wear everything, and wish I could find a local dressmaker to make me more. I like the dresses best with bare legs or sheer stockings, and classic heels. I guess that's my best outfit, but I've worn it so often there isn't any one occasion that stands out.
What look do you love but doubt you could pull off?
Oh that's simple: Paris New Look circa 1950. I always picture these models with tiny waists and occasionally buy a dress or a skirt with that romantic image in mind, and I always look ridiculous. It is wrong wrong wrong for my shape: I feel like a balloon on two popsicle stick legs.
What do you wear when nobody's looking?
My favourite hanging out at home outfit is an old t-shirt – usually one of my dad's white Haines – and thick soft cotton socks, with a pair of black underwear or a bikini bottom. But my husband and cat see me in it, so perhaps that doesn't count. Then again, you should see how my husband dresses!
What was your most memorable fashion faux pas?
Walking through Knightsbridge to something or other with my husband on a sunny day in a brown polka dot fifties style dress with wide skirt and spaghetti straps (see above: balloon torso, popsicle legs) and seeing myself in a shop window and realising I was stuck with that look all night. Still break out in a rash just thinking about it.
What is your most treasured piece of clothing or jewellery?
There are several, and each is precious to me in its own way, so I can't choose one. First, a gold pinkie ring, a gift from my Aunt Ali when I was a baby. It's a simple diamond in a heart shaped setting. The others are all gifts from my husband: a copper bull nose ring that I wear as a bangle. A perfect strand of pearls, a birthday gift when we lived in NY. A heavy silver chain watch, an extravagant gift when we first moved to London. And my engagement ring: nothing grand, a really sweet small blue sapphire with six tiny diamonds. What was uncanny was, he chose the setting not knowing it was almost identical to a birthstone ring that was a gift from my parents, but I had chosen the setting.
What's your favourite style blog, apart from your own of course?
Oh it's so difficult, because I love all my friends' blogs. A really excellent one is by a young 15-year-old girl named Rosalind of Clothes, Cameras and Coffee. It's a family affair: her dad does most of the photography (sometimes her mom, who is now a friend), and between her mum and her they trawl charity shops or wear clothes handed down by her grandmothers. She really gives a lot of time and thought to fashion, and she's kind of a genius. Her knowledge of fashion history scares me a little bit.
Where do you shop?
I don't. Seriously. I can't remember the last time I've shopped anywhere. I am so low maintenance it's pathetic. If I could shop? If I were, say, single again and could make my own financial decisions? I still don't know where I'd shop. I mostly just shop my own wardrobe. Does that count?
What is your most extravagant sartorial purchase?
Because I'm such a conservative shopper, I can't think of anything offhand that I've bought and regretted. Even during the punk era, I managed to find the simplest classic items. There was a really long, electric blue cotton cardigan and long skirt: a knitted suit basically, sometime in the late 80s, by Perry Ellis, that cost more than my rent in NY. I only wore it to one wedding in London, but I've held onto it long enough that I can happily see myself wearing it this spring, especially with a neon green knit jersey or tee. Colour blocking and midi skirt: two trends in one.
Describe your style in five words.
Audrey and Jackie's love child.
To see more and to follow her blog, visit www.polkadot.tv
Leave a Reply