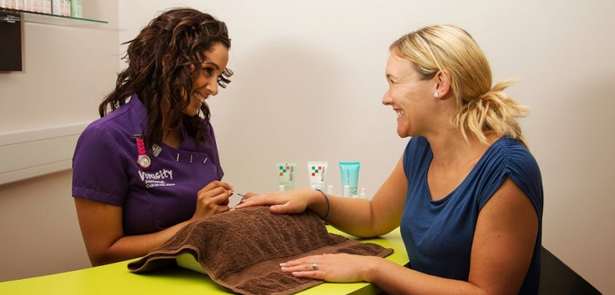 Where does beauty end and health begin? We talked to Vivacity Health and Wellbeing Manager Sarah Leadbetter about the new services on offer at the recently-opened Vivacity Premier Fitness in Hampton – treatments leave you feeling energized and looking great
Why set up Radiance at Vivacity Premier Fitness?
We set up Radiance because we're looking at beauty and wellbeing, so as well as making people feel good from the inside out, with more physical activity, we're helping people feel better by looking better. But there's really a bit more to it than that – it's all been carefully selected on the basis of health, as well as looking good. We've got a range of treatments, including Dermalogica, which is all-round skin health, and Jessica nails for nail health. It's providing a service to our clients but also educating them about the health of everything, to help them look better naturally.
As part of the Dermalogica treatment I see you offer 'face mapping' – what is that?
We offer free face mapping, a specialist Dermalogica treatment, which looks at each area of your face and then assesses its type according to whether it's dry, oily or a combination. Then each area is given its own treatment according to what it needs. It's completely individually tailored, and establishes a good, healthy skin regime that you can then continue yourself. But the session themselves also add other benefits, such as good skin exfoliation. All the products are completely natural – there's nothing horrible in them! – so that also contributes to overall skin health. All of the face-mapping and skin treatments are available to men and women, and are done exactly the same way. We've done nail care for men, too. Everybody needs it!
One of the massage treatments you provide is hot stone massage – what does that involve?
The stones are there mainly to provide the heat element. They're very smooth and when heated are laid on the body, lined along the spine initially, to relax you. Then the stones themselves are used to massage you. You have different shaped stones for different parts of the body, each shaped perfectly to suit that part. It brings the blood to the surface, so is good for poor circulation, but also the heat is good for relieving deep tension and relaxing muscles. As you know, if you have a stiff neck or tense muscles you're often advised to apply heat. It's that same principle. And you can get more even pressure with the stones, too, to get into the deeper tissue.
I notice you also offer 'organic spray tanning'…
I haven't seen this around very much – it's quite new. It's a much more natural product than others on the market at the moment, which is why we've chosen it. It has a really nice smell, which many people will know is a big problem with traditional spray tanning! It also gives the skin moisture as well as colour. Spray tans usually dehydrate the skin, which also means the tan comes out quite quickly. Because this provides hydration as well, it lasts longer – seven to ten days. So, it's great for a wedding, or when you're going on holiday.
Obviously you offer manicures, pedicures, waxing – all the things people would naturally expect. What do you have that they might not expect?
We're going to have 3D Lipo at Hampton, which is a first for Peterborough. This system offers skin tightening, and breaks down fat cells, so the body doesn't recognise them and gets rid of them. It's instant inch loss. Quite a unique machine! It's totally non-invasive. It works by ultrasound, shaking up the fat cells to such an extent that the body stops recognising them and just excretes them into the lymphatic system. Part of it also freezes fat cells, and over a two to three month period gradually breaks them down, so, again, the body doesn't recognize them. This can be good for very stubborn areas, such as the stomach, which don't necessarily respond to exercise as easily. We're offering courses, combining both methods, and we're seeing really good results. We have a lot of people who come into the gym to lose weight, but this gives people who are perhaps not yet into an exercise regime a bit of a kick start towards looking better, feeling better and getting into a healthier lifestyle.
To book a FREE consultation or treatment call 01733 864 742 or email
Vivacity Premier Fitness
Hadfield Road, A15 London Road, Hampton, Peterborough
Leave a Reply