Kate's Kloset: Fine Or Chunky, Knits Are Having A Moment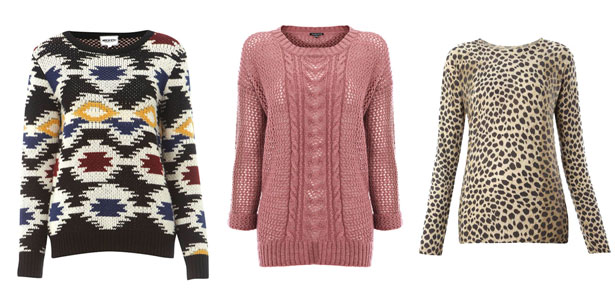 I've always loved a cosy woolly knit to keep me warm during the freezing British Winter (and most recently, the Summer too). As long as it doesn't pill or itch and looks good with a simple pair of jeans, I'm good to go
And it appears the fashion world has finally come around to my way of thinking – yes, me and The Killing's Sarah Lund are trendsetters, you hear? Everywhere you look there's a gorgeous jumper, sweater or pullover to be found. From Fair Isle and cable knits to cashmere and fine merino, we're spoilt for choice.
But, how do you wear them? Fashion is going though a funny phase at the moment. It's actually possible to make anything work (except bootleg trousers) as long as you mix your proportions well, clash your prints and make sure you're wearing lots of texture – i.e. a pastel pink cashmere jumper, worn in black leather jacket, and light grey cords could work wonders together.
Layering is also a big key to looking on trend – and also helps when you walk from the blistering streets into a party heated to tropical temperatures. Just adhere to the above style rules and you'll nail it. I promise.
Here are a few of my favourite knits this season:
For more fashion and beauty tip visit me online at www.i-am-not-a-celebrity.com
Leave a Reply