The Fane Clinic: caring from the ground up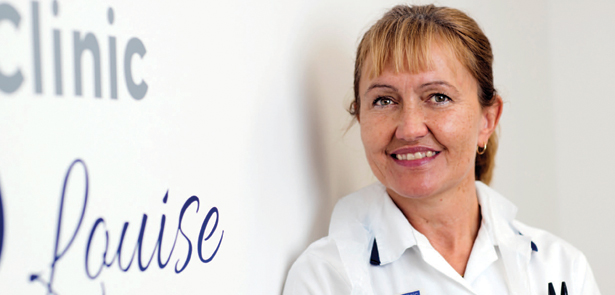 The Fane Clinic Ltd, co-founded by director Adrian Woolley, has offered Foot Care, the provision of Prescription Orthotics, and the treatment and management of injuries since 2008. In 2013, Adrian's wife Louise moved from district nursing to join the clinic as a Foot Health Care Practitioner, with Louise's daughter Stephanie also joining the Foot Care team in 2017. The Moment talks to Adrian about The Fane Clinic's Foot Care service and how it is now helping older and more vulnerable people in care homes and through home visits.
You mentioned in a recent issue that you provide home visits and also visit care homes. Many people may not realise you do that – is this a growing area?
Yes, it is. The care home service is now well established, but we're also expanding our Foot Care visiting service, where we treat people in their own homes. There really does seem to be a need for that, and people are sometimes not sure who to go to for it, as often it's not something the NHS is able to offer any more. It's expensive for the NHS to do it and they are already overstretched, but because we're smaller and more specialised we can provide that service at a lower cost. Also, some of the older or more vulnerable people need to be treated in a particular way.
What are the key skills that are required for that?
It's having the empathy, really. Obviously you have to have the right qualifications to do the job, but beyond that what I'm most interested in when I interview people is empathy. The patient has to trust you, to start with – not only to do a good job, but to trust you in their home environment, with all that brings with it. And your patient is your VIP; they always come first. That social contact can be massively important for some of those people, who often have difficulty getting out and about. But no matter who you are, it's very rare in life, these days, to get a real one-to-one with someone for 30-40 minutes, where there are no phone calls or no social media. People can chat if they want, or not if they prefer not to.
Your wife, Louise Woolley MCF HP MAFHP, leads in this area; what experience does she bring to it?
Louise is a Foot Health Care Practitioner, with a lot of experience in the caring industry. She was in district nursing for ten years before coming over to us. She's very good one-to-one with people, and has the empathy that you definitely need for patients, but in particular for the more vulnerable patients in care homes who she often deals with. That includes P J Care in Peterborough, which has four neurological units dealing with everything from dementia to brain injuries. Her knowledge from district nursing obviously comes into play there, too. As a District Nurse Assistant she used to help treat people through to end-of-life, and visit some of them daily. She has actually been doing home visits on a professional basis for 15 years, so that brings skills and particular kinds of experience which are very valuable. On a first visit you never know who is going to open the door, so she leads the way with the more vulnerable patients, certainly in the complex or more challenging cases.
What are those challenges and how do you deal with them?
In addition to their existing professional experience, our staff attend Dementia Friends courses, as some of the people we deal with on the foot care side of things do suffer with dementia. There are actually over 100 types of dementia out there, and 1 in 14 of us over the age of 65 will suffer from it at some point. People may appear OK but can have issues that need extra understanding, so you need to take that into account, particularly with the care home and home visit side of what we do. That can be anything from simply a bad memory to a complete personality change, losing motor skills or becoming violent. We have been including reception staff on First Aid courses and on the Dementia Friends course, too, just making everyone aware of those problems and how to deal with them confidently and sympathetically.
Family values are clearly important to you in the business, and that seems to extend to the support staff – the people who do all the jobs that people often forget need to be done…
It was part of my overall plan for 2017 to get everybody singing from the same hymn sheet, because for a business to really work well, all parts have to be pulling the same way. It was a very good year, business-wise, which is as much to do with our support staff as it is to do with the therapists. They're really the glue that holds it together. The receptionist is the first port of call for any patient, and particularly important when potential new patients call to make an inquiry. If they answer the phone and don't know what they're talking about, that potential customer becomes a customer no more!
But more than that, I think it's really important to have staff who are fully aware of what goes on in the business, so they can direct people properly and give the right advice on the phone. We have one receptionist during the day, Suzi Lewis, who is also our Practice Manager, and we also now have a dedicated evening receptionist, Chloe Rockliffe. Suzi worked in dentistry for a long time, so her people skills are excellent but she also has experience of working in a medical environment. Chloe is new to it but has been brilliant, and I'm sure that when Suzi retires Chloe will step into her shoes.
What I have been doing with both is getting them to have some time off their reception duties and sitting in the clinics with us, so they get a better understanding of what we do. I think it's important that they can advise and know exactly what we do, as they will often have patients on the phone who are not entirely sure themselves which of our three clinics they might need. But it has been really useful getting Suzi and Chloe into the clinical environment and giving them a better awareness of what goes on. There have actually been a couple of times when we've had older people who have had suspected heart attacks or strokes whilst they've been here, and thanks to her experience Suzi dealt with that brilliantly. You can't value that kind of experience too highly.
The Fane Clinic
The Old Farmhouse, Freston, Paston Ridings, Peterborough PE4 7XB.
01733 571555
www.thefaneclinic.co.uk
Leave a Reply