Eastern promise at Charters pan-Asian restaurant 
Eastern promise at Charters pan-Asian restaurant  1 2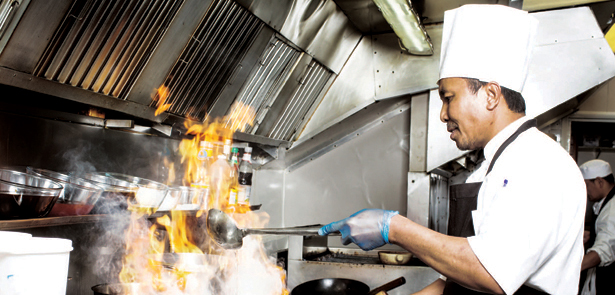 Last issue we visited Charters to discover the fascinating history behind the floating real ale barge and East, its upper-deck restaurant. The sumptuous food fuelled our appetites – so we're back for second helpings! Hop aboard as we explore the taste sensations of Peterborough's very own pan-Asian restaurant 
Head down to the river at Town Bridge and the towpath will take you far beyond the River Nene; step aboard Charters and into East restaurant – and prepare your taste buds for a gastronomic journey to the Orient! The crisp and contemporary flavour of East is unique. With its pristine white linen tablecloths, sparkling glassware and generously proportioned windows it's at once both formal and relaxed: formal enough to dress up and make an occasion of it, yet homely and relaxed thanks to its intimate and unique setting.
Along with the food (we'll open the menu shortly), it is perhaps East's river setting that makes this venue so unique. East's co-owner Patcharee Shaweewan explains: 'The view from the barge is very special, the most beautiful in Peterborough. And we get a lot of swans where the boat's moored. They're so pretty, especially in summer.'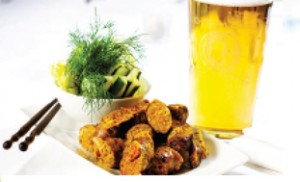 The barge is one of the largest to be found on any inland waterway. Its capacious dimensions certainly make it the biggest boat to have ever floated this far up the River Nene. Originally serving as a working barge, East offers today's visitors an unusual combination of modern comforts and the unmistakable ambience of dining in a floating restaurant. 'Dining in the boat is very different to dining in a restaurant on dry land,' says Patcharee. 'It's slightly slanted, so you definitely know you're on a boat. And it's a very comfortable dining experience, with air conditioning, a delightful setting and, of course, that view of the river.'
The food at East is borne out of Patcharee's background, passion and skills; she's a Thai expat, is clearly fanatical about her food, and has run restaurants in London before moving to Peterborough. Together with partner Paul Hook she also set up The Brewery Tap on Westgate where she continues to oversee its Thai food operation. From East's inception Patcharee has surrounded herself with staff that bring an authenticity to the dishes served up to its devoted customers. 'We opened in 2001 and I had to recruit chefs direct from Thailand. The head chef has been working with me since the very beginning.'
Pad Gra Praw is a dish made with finely chopped chicken or beef, stir-fried with chillies, garlic and holy basil. It's spicy – and tastes the same as if you were to order it in Thailand
The continuity that this brings has resulted in a consistently high level of both quality and service, ensuring the restaurant is always buzzing with satisfied diners. The four chefs at East cook up a range of pan-Asian dishes from Thailand and its neighbours: Indonesia, Malaysia, Singapore, Vietnam and Laos. There are also Japanese and Chinese favourites, including aromatic crispy duck with pancakes – an East institution that's earned it its place as a separate course on the menu.
Many of the dishes are exactly as you'd find them in their native countries. Patcharee's personal favourite is the Pad Gra Praw, a dish made with finely chopped chicken or beef, stir-fried with chillies, garlic and holy basil. 'It's spicy and tastes the same as if you were to order it in Thailand. Most restaurants in England would modify it so much that it no longer tastes like it's meant to. We make it the original Thai way!
'My other favourite is the Heavenly Beef. I haven't seen this anywhere else outside of Thailand. It's like beef jerky and is great with beer.' The strips of beef are marinated in… [cont]
Eastern promise at Charters pan-Asian restaurant  1 2
Leave a Reply