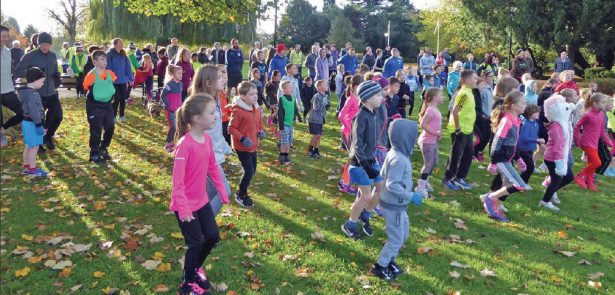 Peterborough's Central Park is one of the city's green lungs. It's a beautiful place to exercise, meet friends or enjoy nature, and with so many facilities including a tearoom on site, there's every reason to plan a visit
Central Park, bounded on three sides by Park Crescent, has been the main public park in Peterborough since 1908. Partially completed in 1877, the park was originally open by subscription only. Its 31 acres of landscaped grounds showcase the Victorian focus on leisure, health and green space, reflecting the great foresight of the time as the city expanded following the arrival of the railway. Today the park is undoubtedly the jewel in Peterborough's crown. Sensitively restored at the turn of the Millennium thanks to a grant from the Heritage Lottery Fund, the park hasn't lost any of its Victorian charm and is as popular as ever, winning the prestigious national Green Flag award for 12 years running. With lots to see and do, it's probably time you headed down!
Space to be free
Central Park has something for all ages and interests, and it's all set within a beautiful leafy, mature landscaped setting. So whether you're simply after a coffee and cake – or want to burn it off – there's an activity or facility designed with you in mind. For children there are soft and adventure play areas, with a sandpit for the little ones. The paddling pool is hugely welcome on warm summer days, bringing families together for lots of splashy fun! Stroll through the park to take in the sunken and sensory gardens, or admire the birds in the aviary. Exercise – whether gentle or heart-pumping – is the major attraction of Central Park. Enjoy a match on one of 12 hard and grass tennis courts, try some bowling, flex your muscles on the outdoor gym, or how about a game of croquet on the dedicated croquet lawn? There's plenty of opportunity for informal exercise too, thanks to the many walking and jogging paths that crisscross and circle the park.
Take part
Many of us like to exercise in company; it's a great way to socialise and makes it easier to keep fit – we're more likely to stick with those healthy New Year's Resolutions if we've got someone to share the experience with. Luckily Central Park has lots going on and new participants are always welcome. Nordic Walking, which uses poles to increase use of the upper body, is suitable for all levels of ability, from the super fit to those with specific medial problems. A Nordic park walk takes place every Tuesday from 1.30pm, starting from The Butter Cross. It doesn't require any special clothing and all equipment is provided free of charge. Thursdays and Sundays offer the chance to turn up for a series of fitness boot camp classes organised and run by Our Parks, an initiative that brings completely free group exercise classes to local parks. Led by experienced, fully qualified and insured instructors, the boot camp classes can be booked online and mix weight exercises with interval and strength training. Visit the Our Parks website for more information and to book.
A recent addition to Central Park's lineup of activities are the Junior Parkruns. Designed for children between the ages of four and 14, participants are invited to run, jog, walk – even skip – their way around the fully marshaled 2km route. Taking part is free (but please register) and the emphasis is on fun rather than competition. Parents are welcome to run with their children if they wish. Children are awarded a Half Marathon wristband after completing 11 parkruns, with Full Marathon and Ultra Marathon distances also available to collect. Junior Parkruns take place every Sunday at 9am and are incredibly popular with more than 100 children taking part, though there's always room for more. Returning this spring are the popular Dementia Walks, run in coordination with the Friends of Central Park and The Alzheimer's Society. Walks are held on the third Thursday of the month from March onwards. These leisurely strolls are intended for those living with dementia and their carers, so they can enjoy some fresh air and connect with others. Meet at The Butter Cross from 11am.
Future plans
The Friends of Central Park are working hard to offer even more choice to visitors to the park. The group is in discussion about tag rugby and social cricket sessions, and they are keen to put on a cross-community football tournament – something scheduled for this summer. The group has put in a bid for funding to put on a series of street dance classes. Surveys of students at the Thomas Deacon Academy and Peterborough Regional College revealed a strong preference for a more varied offer at the park, to include sports coaching and the arts. Street dance will offer young people an opportunity to express themselves in a truly creative way. Central Park also hosts several events throughout the year and 2018 looks like it will be an especially busy year. Discussions are underway to extend the Heritage Festival to the park during this special 900th year for Peterborough Cathedral. The focus in the park will be on the grave of Jimmy the Donkey, a legendary donkey born on the Somme during World War One who returned to the city after the war to help raise money for the RSPCA.
The Friends of the Park will be hosting a dog show and music event in aid of Barnado's in June, then in September it's the popular Family Fun Day featuring children's games, arts and crafts, music and dance and much more. Last August welcomed the inaugural Storytelling Festival to Central Park and plans are afoot to repeat its success this summer. So whether you're after some quiet reflective time, a lively event to keep the kids amused or a place to get fit, Central Park has it all to offer.
Come down and see for yourself
● Park Crescent, Peterborough PE1 4DZ. www.centralparkpeterborough.com
● Open seven days a week, from dawn to dusk
● Official Facebook page: www.facebook.com/peterboroughcentralpark
● Nordic Walking: www.vivacity-peterborough.com/sport/walking-for-health
● Our Parks classes: www.ourparks.org.uk/borough/central-park
● Junior Parkruns: www.parkrun.org.uk/centralpark-juniors
● Dementia Walks: Contact Pam Blades on 01733 689648/07783 012668 or email
Friends of Central Park: Stay up to date with what's on through their Facebook page. Search 'Friends of Central Park Peterborough'.   
Leave a Reply