A big help for little feet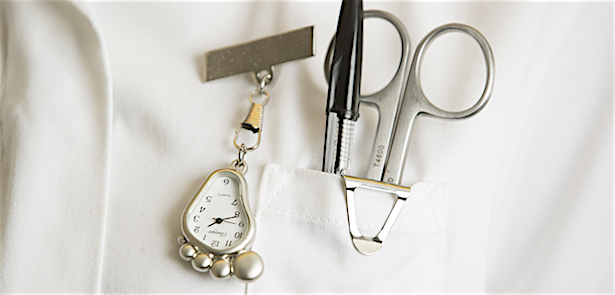 The Fane Clinic Ltd, co-founded by director Adrian Woolley, has offered Foot Care, the provision of Prescription Orthotics, and the treatment and management of injuries since 1993 – and it continues to grow and develop. The Moment talks to Adrian about his new partnership with Zebedee Shoes, aimed at making life a little better for children – and their parents
Footcare and foot problems are often associated with older adults, but do you see many children at the Fane Clinic?
I would say about 40% of our orthotic patients are children. The first thing we try to do is get them out of pain, as they're often in pain when they first come. We can usually guarantee to achieve that as it's often a postural issue. Secondly, if their feet as a foundation are in the right place, the rest of the body's joints will be in a better position therefore protecting the growing bodies joints and muscles from unnecessary strain. Thirdly, through successful application early on we aim to get them out of orthotics completely at some point, so the orthotics are effectively like a brace. But whilst we provide a very accurate 3D Laser scanned orthotic, if they're in a bad shoe they're not going to work as well as they should. I've been suggesting Zebedee Shoes, as a good place for our patients to get footwear compatiable with orthotics for a few years now, because I know they'll be in a good fitting and quality shoe. This means I know the orthotics we prescribe will be as effective as they can be. Having spoken to Liz the owner of Zebedee's we decided it would benefit our mutual customers by teaming up in a more formal way as we both want what is best for our customers.
What's different about Zebedee Shoes?
Not only do they provide good shoes, they're also real specialists who are very knowledgeable about orthotics. Liz, the owner, is a V.T.C.T. (Vocational Training Charitable Trust) qualified reflexologist and who has also passed through examinations with the Society of Shoe fitters, and all Zebedee staff are fully trained in orthotics and specialist fittings, including wide feet and slim feet. But also their ethos is very much in tune with ours. They've built up special relationships with their customers based on trust and individual customer service, and try to make a visit an enjoyable experience.
Can getting the right shoes and orthotics at a young age head off problems later?
Yes, and prevention is far better than cure. A lot of parents will have taken their children to a doctor saying they're clumsy or they're waking up in the night with lower-leg pain, and the doctor may dismiss that as growing pains, but often it's more than that. Liz sees lots of kids' feet and is trained in identifying certain problems, so she can refer those to me if they need further attention. I'm going to spend some days in her shop, too, so if any mums or dads are worried about their kids they can come in and not only look at shoes but perhaps get some advice from me. I'm also looking at going into schools with Liz to talk about some of the foot problems that can occur. At the end of the day, we just want what's best for the kids.
The Fane Clinic
The Old Farmhouse, Freston, Paston Ridings, Peterborough PE4 7XB
01733 571555
---
About Zebedee Shoes
Catering from birth up to an adult size 12
Fitting specialist orthotics, splints, inserts etc.
Helping with supportive shoes/boots for hyper-mobility, in-toeing etc.
Offering advice, should you think you need to have your child checked for any foot problems
Running appointments out of hours for special needs customers and busy mums
Running appointments during the busy 'back to school time' for mums who work or have more than one child to fit
Parking facilities at the rear of the shop
Zebedee Shoes – Footwear Fitting Specialists for Kids
67 Oundle Road, Peterborough, Cambs, PE2 9PE
01733 555909

Leave a Reply