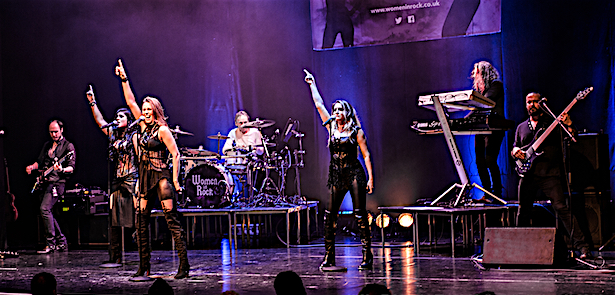 Women In Rock, the UK's premier and only professional touring show dedicated to the worlds greatest female rock artists come to The Cresset on 25 Jan...
Women In Rock is the only show of its kind in Europe, and features the very best-known songs from the world's greatest female rock legends, including Heart, Pat Benatar, Joan Jett, Cher, Stevie Nicks, Blondie, Evanescence, Bonnie Tyler, Suzi Quatro and many more. It is a fitting tribute to all women that simply rock! The show features a roster of four of the UK's finest female powerhouse vocalists who are backed by a dynamic live band.
Interest and excitement around the concept has been overwhelming and to date it has played a number of high profile bookings, including headlining The Bulldog Bash and The Hard Rock Cafe. In 2018, Women In Rock also completed a mini tour for the UK's market leaders in the theatre field, playing some of ATG's most established venues, as well as performing for exclusive corporate events for the likes of TGI Friday and P&O cruises.
Women In Rock's highest accolade, however, was to be chosen from the UK by Harley Davidson to perform at their 115 Euro Festival in Prague in July last year year in front of 150,000 people. The show was opened by The Rolling Stones, which added to the honour.
Let's rock!
Women in Rock
25 Jan, 7.30pm
The Cresset
Book online at www.cresset.co.uk or call 01733 265705
What audiences are saying:
"It's obvious the amount of time and effort that's gone into putting this show together. Visually and musically it is an experience not to be missed. The very best of female fronted bands delivered with a lot of style and class. The format works well, the band are über-professional. We walked away wanting more! Fantastic!" – Kevin Harry Brothers
"What can we say about tonight's show? What an awesome band they are. Oh for sure, the lead vocal ladies are simply stunning, but these girls absolutely smash it with their vocals, moves and rock roots. Encouraging the audience to get up and dance and boy did we! Consummate professionals, these girls will blow you away – you absolutely must go see them. The tribute scene has waited 40 years for real women in rock to salute the greats. Don't miss this eargasmic experience!" – Ammi Beyer
Leave a Reply