Live comedy back at the Cresset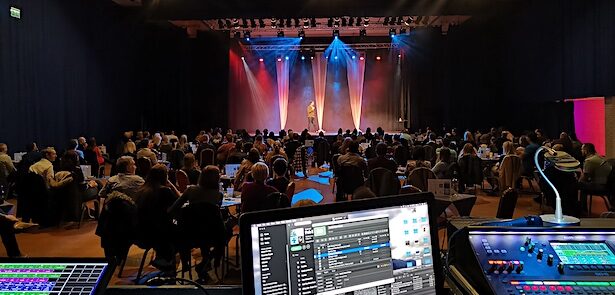 The Cresset's popular comedy Club returns this May
As restrictions lift across the city, The Cresset are making plans to resume live entertainment, beginning with the return of their popular Comedy Club for two nights on 28th and 29th May.
The Cresset's Comedy Club has been a popular choice for comedy fans across the city since it began back in 1998, and has played host to some of the UK's biggest comedians as they toured the circuit before becoming household names.
In October The Cresset staged a socially distanced version of the event; relocating to the main auditorium to allow plenty of space between tables, and with excellent safety measures in place. While they hoped to follow this up with more events in November and January, restrictions meant this was impossible, and so they're looking forward to a triumphant return in May.
Penny Hansen, Head of Cresset Commercial Activities said: "Our October Comedy Club was so much fun. It was sold out and the audience were fantastic, so we've been dying to get another one in the diary. For all the staff, the audience, and the comedians on stage it was an absolute joy to be at a live event, and so with the end of the pandemic hopefully in sight we expect the May events to be pretty special as people really want to celebrate, and have a good laugh!"
Tickets for the May Comedy Clubs on Friday 28 and Saturday 29 May are on sale now, with tables for up to six people available to comply with the 'Rule of 6' for indoor social interaction, social distancing and full table service. Line ups will be released nearer the time.
You can book online and read more about The Cresset's safety measures at www.cresset.co.uk
Leave a Reply