Peterborough Mask are back with a crash, bang, wallop!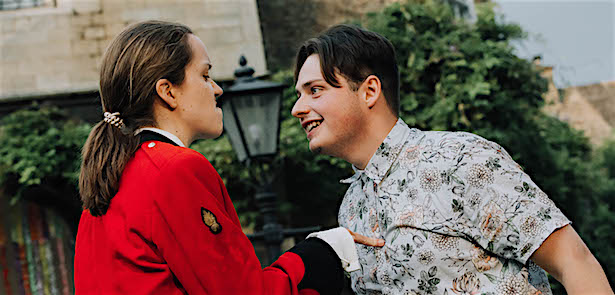 Join popular local theatre company for a night of uproarious fun with One Man, Two Guvnors at the Key Theatre (17-20 Nov)
Following sell-out performances of The Lady in the Van and A Midsummer Night's Dream, Peterborough Mask Theatre return to the Key Theatre main stage this Autumn to perform the riotous comedy One Man, Two Guvnors.
Immortalised by James Corden in the West End, One Man, Two Guvnors tells the hilarious story of Francis Henshall, a down-on-his-luck everyman determined to work two jobs to earn a quick bob (and a sandwich or two!). For his plan to work, neither guvnor can know about the other… cue a whirlwind farce of epic proportions that'll have the whole family howling with laughter.
Phil Lewis, who audiences may recognise from his performances as Alan Bennett in The Lady in the Van and Theseus in A Midsummer Night's Dream, makes his directorial debut with the company and has a great comedic vision for the show.
Phil says: "I was lucky enough to take part in a masterclass with Cal McCrystal, who was the comedy director for The National Theatre's production of the play, and I'll be bringing a lot of what I learned to the process. As an audience, we love to laugh at the guy who tries his absolute hardest to get it right but still fails. Comedy is all about being completely truthful, and when you've got that, it's magical."
One Man, Two Guvnors will feature an exceptional cast drawn from across the county and a live skiffle band led by local musician Rufus Corfield, perhaps better known to Peterborough audiences as one sixth of the group Opaque.
The show will be performed at The Key Theatre 17-20 November, nightly at 7.30pm with a 2.00pm Saturday matinee. Tickets are on sale now via the box office website and by phone.
Booking & Enquiries: 01733 207239
Leave a Reply