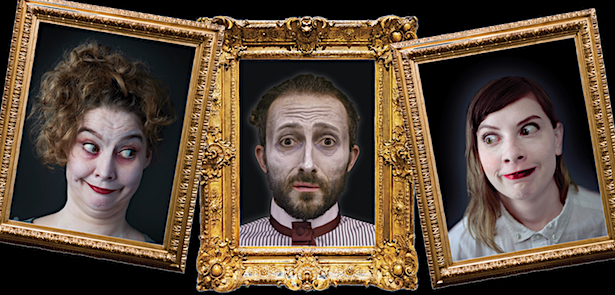 The Key Theatre, 1 Oct 7.30pm
A hilarious and thoroughly uplifting new play about relationships, The Affair has all the ingredients of a great comedy: clown, bouffon, vaudeville and slapstick – with a sprinkle of drama and a splash of tragedy.
Our Casanova, Gustavo, is getting ready to pop a very important question – but not before he has checked everything on his 'to do' list. After Daffadowndilly's arrival, what is supposed to be a romantic evening soon starts to spiral out of control following an unexpected knock on the door. Soon all turns to mayhem, and all three characters are losing grip on their sanity…
Writer/performer Amy Gibbons first paired up with the play's co-writer Samuel Gaulier to create Gibbons and Gaulier in 2015. Two babies and two plays later they are touring The Affair across the UK, with support from Arts Council England. The cast for this production brings a superb combination of classic theatrical styles, with influences from physical theatre master Jacque Lecoq to Philippe Gaulier's emphasis on the pleasure to play. There is also inspiration from the great Italian form Commedia Dell'arte.
For this special production Amy and Sam are being supported by award-winning director, teacher and writer, John Wright, dance choreographer Caroline Mummery – who works with The Royal Ballet School, Dance East and Norwich Theatre Royal – award-winning director and writer Cal McCrystal (Paddington, One Man, Two Guvnors), and the legendary Philippe Gaulier, who will be attending rehearsals to help with the development of the characters. James Pearson, Artistic Director of Ronnie Scott's, will be composing an original score for the show. Amy will be joined onstage by Claudio Del Toro, from La Barca dei Soli in Italy, and Canadian actor Shea Wojtus.
This is a laugh-a-minute, timeless comedy that all the family can enjoy – so don't miss it!
The Affair
The Key Theatre, 1 Oct 7.30pm
vivacity.org
Leave a Reply