Los Endos – Ultimate Genesis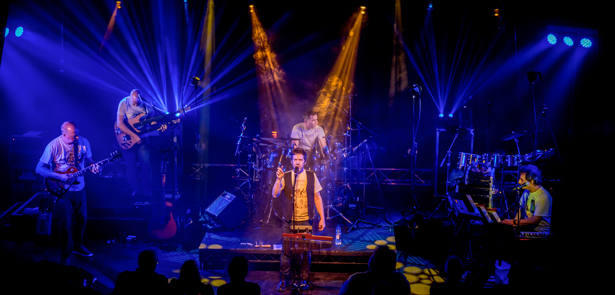 Sunday 7 October sees the first visit of Los Endos – Ultimate Genesis to The Cresset, Peterborough and the recreation of a legendary concert...
Los Endos capture the excitement of a live Genesis gig from the 70s, with a 2½ hour Ultimate Genesis show of scintillating musicianship and state-of-the-art lighting.
Featuring music from their early heyday, when Peter Gabriel sang and Steve Hackett played guitar, to when Phil Collins took centre stage, Los Endos have focussed on music from all the hit albums of the 70's – with a few surprises from other eras thrown in.
As avid fans themselves, the band's love and feel for the music create a show that is truly second to none, bringing back to life some of the greatest sounds of the era. Attention to detail is the key to recreating this richly complex music, and many hours have been spent in the studio and rehearsal room ensuring all the instrumental sounds are deadly accurate. As lead vocalist, Jack Lipinski has the ability to be either Peter Gabriel, with his deep soulful delivery, or Phil Collins, with his cheeky, 'Artful Dodger' persona.
Recently, the band have embarked on the challenge of reproducing Genesis tours on their 40th anniversary, and this year is no exception. The only gig that Genesis played in the UK in 1978 was Knebworth – but it was a classic concert. 1978's best selling album from 'And Then There Were Three…'. is well represented with songs such as 'The Lady Lies' and 'Burning Rope' But there are also plenty of old favourites – 'Cinema Show', 'Ripples', 'The Fountain of Salmacis' and many more.
It was a remarkable gig, one Los Endos aim to help everyone to remember – or experience for the first time.
Los Endos – Ultimate Genesis
7 Oct, 7.30pm
The Cresset
www.cresset.co.uk
Leave a Reply