Interview: Simon Egerton directs Beauty and the Beast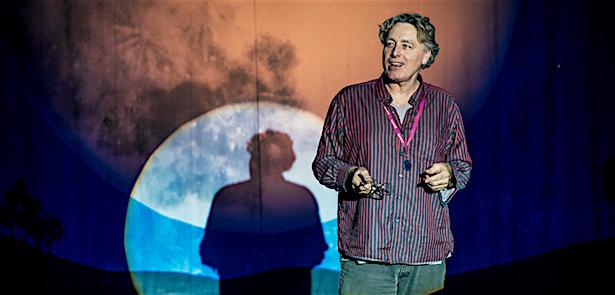 Vivacity's annual pantomime at the Key Theatre – the longest running pantomime in the city – has earned a dazzling reputation for its use of actor-musicians and for being a completely new, original work written exclusively for the Key. For the fifth year running, the show is being directed by Simon Egerton, who has also created a brand new script along with original and parody songs that will instantly have you singing along! The Moment talked to Simon about puppetry, live music and community yodelling...
Beauty and the Beast is a relatively new story to be made into panto, isn't it, like Peter Pan or The Wizard of Oz?
Beauty and the Beast was not one of the original ones – it wasn't part of the Jack and the Beanstalk/Cinderella canon – but it's become recognised now as a pantomime story. But it's unusual, too – for one thing, there's no fairy in it. There are other magical elements; we know the Beast is cursed, and we use that in the story, but there isn't that good fairy/bad fairy dynamic that you usually have. So Beauty and the Beast is slightly different, and really interesting because of that. But there's still the morality play aspect, the ancient play between Good and Evil, and the possibility of the audience having a say in the outcome, helping defeat the villain – all of those things. Also the set pieces and the comedic characters going back to commedia dell'arte. You have to have to have them, otherwise it wouldn't be panto!
Tell us about the show and how it became panto…
Well, it's the familiar story of Beauty and the Beast, so we've got Belle (Rebecca Levy) and we've got the Beast of course (Alex Tosh) who in our story he is a chevalier rather than a prince. The original is set in France, so we've gone back to that – in the town of Pierreborough. It's kind of on the Swiss border, which gives us wonderful licence for community yodelling…
Within that you then weave in the familiar comedic elements. You have to have a Dame, for example, so that's the housekeeper at the Beast's castle, Madame Obnobs. She is played by TJ Holmes, who is terrific. Her son is a very French chef – Chef Jean-Paul (Robert Hazle) – and Belle's father is Monsieur deDumdeDumdeDum (Robin Johnson), who owns the local music shop, and is a good friend of Barnie Doors (Gregor Duncan) and his dog Ringo. Barnie is the Simple Simon, Buttons-type character, so you've got the framework in terms of characters. Our baddie is the Wolf Queen (Francesca Fenech); Pierreborough is surrounded by wolves, making trading with the Fenland Union very difficult. Whether they will be leaving on WTO – Wolf Trading Organisation – terms, we'll have to wait and see! You have to give the Beast the opportunity for redemption because in the story he's not really a villain. He's also a victim, because of the curse, so for our panto we needed a real villain, and that is the Wolf Queen. So the curse needs to be broken and she needs to be defeated.
Also there are a couple of other new characters called Annatawdria (Sarah Workman) and Decadora (Holly Barry-Scott), who are Belle's slightly workshy cousins. They're a little bit ugly sister like, except they're not ugly!
So it's a mix of familiar elements and surprises?
Yes, with any new panto the characters and the story may have considerable twists on the tradition – especially if there's been a Disney version of it, which the whole family will likely be very familiar with. But also, you're adapting it and making it relevant to the local community so it's always going to be your own version of it, just like fairy stories have always been. They've all been shaped and adapted by different cultures and the stories we have are amalgamations anyway – multicultural versions. We're just carrying on in that tradition, bringing modern, hopefully fun elements to the existing tradition.
Panto is also rather radical, isn't it? Everyone gets very excited when someone in a film or play breaks the fourth wall, addressing the audience directly, but panto has been doing this for years!
Absolutely! You can just turn around at any stage and just chat to the audience. It's because it's that wonderful hybrid of variety and magical storytelling, and for me it has to have both. It has to have that element of magic; it can't just be a variety show. It needs to be a really strong theatrical experience, so kids coming for the first time get a magical experience and will invest in the characters, care about how they feel and how they deal with their feelings, and want the hero or heroine to succeed. There's usually love or affection or friendship involved, and how those become part of the narrative or a life are important.
Also you've got to factor the rest of the family into that. It's great to take kids to a show but there's a point we all have as parents where we think 'I'm quite glad they've grown out of that now…' – whether that's a TV show or whatever that was great for a particular age. The extraordinary thing about panto at its best, though, is that it is looking to entertain all generations. The whole idea of double entendre is that it has a wink at one age group whilst maintaining an innocent narrative at another level, and it's important it retains that innocent narrative otherwise it's not double entendre, it's just smut! How that's done is part of the game, and only certain characters can do it, but it's part of the fun for adults. We want our kids to enjoy their element of fun and we want to have a good time too.
Often you settle on a particular style of music for your original songs. Is that the case this year?
I haven't named one this year. I have done in previous years, using a particular genre of music as s starting point, but this time I just let the story grow. It's at times romantic, and there's a bit of a French flavour, but even that is not overt. It's the way the shows have evolved. They have almost become musicals in panto form, and the musical numbers have become more integrated and more lyrical. But within that you also need to have the panto elements – the silliness of music hall, for example, which is really where the Dame's songs come from. Our Dame sings a song about vegetables, for example. 'If you want some extra flavour try a knobbly one…' And we have actual singing vegetables in there, too!
One of the other things that has evolved over the last two or three years is the use of puppets, and we've actually got puppet characters this year; we have a frog and a snail as characters, and Ringo the dog is a puppet. I love the Muppets, and what the Muppets manage to combine is a toe-tapping lyricism mixed with sentiment, so if I can get half way to that I'll be very pleased! We have some great puppeteers, including Gregor, who has just come from starring in Honk! in the West End and on tour. It seems lots of actors these days are adding additional skills to their CVs!
You have certainly evolved – when you started it was as composer, now you're composer, writer and director…
Well, we've evolved as a team, I think. I was composer for a couple of years, then I was asked to direct, and was adapting the scripts. This is my fifth year as writer/director and this is the third one from scratch. And I think when you're writing it from scratch the whole thing inevitably becomes more integrated. You're not adding in songs, the whole thing evolves as one piece of storytelling. The continuity of having David Griffin-Stephens as the designer and lighting designer and Richard Handscombe doing the costumes – both of whom I have worked with for three years now – means the three of us talk together about what's possible, the settings, the themes… Part of panto is often that there's some sort of magical transformation, whether it's the coach in Cinderella or, as in this the transformation of the Beast back into the chevalier. And that's a design conversation. The fact that we work closely together really helps.
How important is the casting?
The casting is so important, in terms of it being the right combination of people, because rehearsals are always a creative process. Things get added and changed. But we also have a longer rehearsal time than most pantos, because the cast also need to learn the music. We've got five members of the cast coming back from last year, and every person in the cast plays at least one instrument – many are multi-instrumentalists. TJ will be a bass-playing Dame, with a big upright double bass, and there will be various saxes from bass to soprano, guitars, drums and a good smattering of ukeleles this year. For some reason yodelling and ukeleles went together in my mind!
I think the opportunity to see instruments being played is vital. We can hear the sounds, of course, and experiencing that first-hand is great for children. For many it may be the first time they've ever heard instruments being played live. But to be able to see it as well is something else. It highlights some less obvious gender divisions in terms of who is playing what – for example, Sarah is a bass guitarist and a drummer. It just says to the girls in the audience 'Yep, you can if you want to…'
Beauty & the Beast
Key Theatre, 5 Dec 2019 – 5 Jan 2020
Book online at vivacity.org/panto or call the Key Theatre box office on 01733 207239
Leave a Reply