Interview: Ricky Groves in Cinderella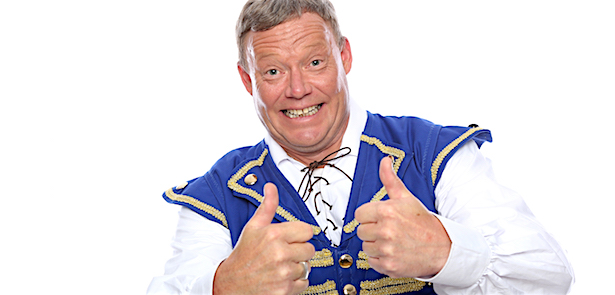 This year the Christmas show at The Cresset (7-30 Dec) is 'the most magical pantomime of them all'... Headlining the cast is Ricky Groves as the lovable Buttons. A panto veteran and audience favourite, Ricky is probably best known for his nine years on EastEnders as the hapless mechanic Garry Hobbs. He's also appeared on Strictly Come Dancing, making it to Week 10 alongside partner Erin Boag – but Cresset audiences will also recognise him from previous productions of Dick Whittington (2012) and Beauty and The Beast (2013). The Moment talked to Ricky about panto, the cast reunion and how Garry is a bit like a rock band...
It's been a while, but is it good to be back at the Cresset?
Yeah! It's actually very much like a reunion. That's basically what was had at the press launch, because it's the good old team from in 2012 and 2013 when I was here last! I id miss them, and it's funny to see how they've developed – especially local guy George Dee who is playing Dandini, because he was lad of about 17 when I was last here. He's actually been performing in Cresset shows since he was a junior dancer, but now all of a sudden he's this grown man! And Zach Vanderfelt who plays the Dame is also back this year, and good old Lawrence Stubbings who always plays the baddie is there as well – both of them are playing the Ugly SIsters. I practically know everyone! In a way, it was as if I hadn't been away. And the Cresset is great for me because I actually live in St Neots, so apart maybe from Cambridge Arts Theatre it's basically my local.
Does knowing the other cast members so well help when things go off script, as they tend to do in panto?
The secret is to have a good structure, then you can go a bit off piste. You've got to stick to the timings, of course, but you know that thing when someone just laughs, and because they're laughing you end up laughing? It's a bit like that, and there's a bit of magic about it. For many years panto was looked down upon, but it's genuinely one of the things that has kept theatre alive. With all due respect to the Derek Acorah's or whoever, it's one of the few times the theatres are packed and can really make a bit of money. And it's seeing a big resurgence. There's panto industry awards now, which only started a couple years ago. So, you've got your Evening Standard Awards, and your BAFTAs and your TV Soap Awards, and now someone's come along and decided it was time all these pantos up and down the country had one. It's an ever-changing, ever-evolving art form – and one that only really exists in this country.
Where are you currently at with the production?
Well, we haven't got a script yet, but it's fair to say there will be some jokes about the local area or the rival football team… That's one of the things that always goes on in panto. But it's when you take it off the page that it starts moving. That's when it starts becoming more alive, and especially when you add the audience to the mix and get three or four shows in where you've ironed out all the creases. And it's a wide audience for panto, too. You've got the tots – the five and six-year-olds – up to teenagers, and then the adults, because mum and dad are paying for the tickets, and you've got to entertain them at the same time. Something like a Teletubbies show hasn't really got much in it for the grown ups, but panto has something for everyone, which makes it kind of like a box of chocolates. Everyone's got their favourite thing!
Performers always seem to enjoy it immensely, but with so many shows it must be very hard work too?
The most I've ever done was 65 shows one year. But most of the hard work is the get-in and the get-out, which I don't do!
Tell us a bit about the role of Buttons…
The good thing about Buttons is that he's in love with Cinderella and she don't love him! So you can play off everyone feeling sorry for him.
Is there a bit of Garry in Buttons, do you think, and do people expect to see a hint of him in the show?
Garry in Eastenders is very much like Aguecheek in Twelfth Night – he's a bit of a fool who thinks the girls fancy him, but they really don't… And yeah, there's a lot of that in Buttons, too. And people very much want to see a bit of Garry. But that's perfectly fine. It's a bit like when a rock band that goes out on tour, and everyone wants the old stuff – the stuff they're best remembered for!
It's quite unusual for an actor to get to play a character over a very long period of time, as you did with Garry. Are there particular challenges to that?
What you have to do with anything long-term like that is basically make the character infinite – and by that I mean the character can do anything. It can move in any way, it can change, it can evolve. Different writers come in who have different views and want to see you do something new. That's the key to it, to be able to do that.
Did you ever look at a script and think 'Garry wouldn't do that…'?
That's not really in our remit. If you do that, you're facing an uphill struggle straight away. And you have to make a decision, early on, whether you're OK with doing what you're going to be asked to do, and once you've done that then it's no longer your choice to make. It's a tough one sometimes – you get a scripts and go: 'Oh no – I've got to dress up as a banana…' Which I did have to do for Mark Fowler's stag do. Everyone had to come dressed as a fruit or vegetable, and I was a banana. I remember showing it to Shaun Williamson and saying 'Look at this…' He said 'Mate – last week they had me in stockings and suspenders. Don't worry about it…' And it's true, that's what you've got to do. That's entertainment! It's like on Strictly. It's live TV and you've got 9 million watching at home… You can only decide to do your best and not let yourself down.
What do you most enjoy about panto?
When everything works perfectly, and all the jokes hit home and people are laughing. You feel you've done your job properly then. That's what keeps you doing it.
---
About the show…
Alongside Ricky in this spellbinding show will be Mitch Hewer In the role of Prince Charming, who regular panto-goers will recognise from previous pantos at The Cresset, including Aladdin in 2014, Snow White in 2017 and as the dashing title character in last year's production of Robin Hood. Mitch got his big break on Channel 4's Skins as fan favourite Maxxie and has also appeared as Mickey Ellisson in BBC Casualty. He's looking forward to returning to panto, and to Peterborough, having thoroughly enjoyed his previous experiences at The Cresset.
Joining them will be the hugely talented Lily Shires as the star of the show, Cinderella herself. Lily trained at Mountview Academy of Theatre Arts and went on to graduate from The London School of Musical Theatre. She's delighted to be stepping into the shoes of a princess and joining the cast of Cinderella this year!
In previous pantos, including last year's Robin Hood, Lawrence Stubbings has proven himself as a brilliant baddy with the evillest laugh ever, so we're pleased to announce that he will be starring as Bella, one of Cinderella's Ugly Sisters, in this year's show! Lawrence's most recent theatre includes the UK tour of Macbeth and JustJones' award-winning adaptation of Ibsen's An Enemy of The People.
Returning to The Cresset stage this Christmas in the role of Donna the Ugly Sister is Peterborough's favourite dame, Zach Vanderfelt! Zach trained at the Guildhall School of Music & Drama and has since worked extensively in theatre, from Opera House to studio, and most places in-between, including eight previous Cresset pantomimes!
Writers and Directors John Newman and Stuart Morrison have been the creative force behind Cresset pantomimes for over ten years now, and continue to deliver spectacular productions.
Cinderella is produced by Premier Pantomimes, who have been producing top quality pantomime productions at The Cresset since 2008 and can't wait to add their special family pantomime magic to this classic tale. It's shaping up to be another great show, full of all the fun and magic we've come to expect from a Cresset Pantomime!
Cinderella
The Cresset Theatre, 7th-30th Dec
Tickets are priced from just £9 with fantastic group offers available
Book through the box office on 01733 265705 or online at www.cresset.co.uk
Leave a Reply