City Gallery open exhibition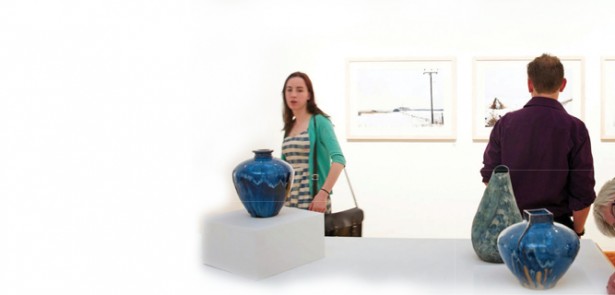 Every two years, City Gallery, Peterborough throws its doors open to all visual artists. This year, the Open Exhibition is accepting entries from a wider field than ever. Toby Venables talked to Vivacity's Arts Development Assistant Michaela D'Agati about how the exhibiting artists are selected, and how the Open Exhibition is growing 
What is special about the Open Exhibition? 
The lovely thing about it is just how open it is – any artist of 18 or over, any medium, and any type of work. You'd never see such variety of work come together in any other situation, and that makes it very exciting. (Vivacity also runs a Young, Gifted and Talented exhibition which is specifically for young artists, the age group below the Open.)
I understand you've thrown the net a bit wider this year…
In past years, artists had to come from within the PE postcode area, but we've taken that restriction away this year. It's now open to artists from across the UK, but inevitably entries mostly come from people who are local. We have removed this restriction to encourage more entries and to expand the opportunity to artists from further afield, allowing us to come across more artists with new and exciting works to be seen. Over the past few years we have been gradually building the profile of the Open Exhibition and the Gallery itself. We hope that our Open will become a recognised event in the UK art calendar, particularly for the Eastern Region.
How many artists get to be exhibited?
In terms of what we can display we have about 80-100 pieces of work, shown across all three gallery spaces. But this is very dependent on the type of work itself, because paintings, for example, are wallbased and obviously wall space is limited. But if it's sculpture, video, or audio-based work then that gives us more options for curation and display.
What are some of the more unusual pieces you had submitted?
We've had some unusual craft pieces, and artist's books – where a new story has been made out of an existing story in a book, by cutting out pages and adapting them. Also painting onto unusual or uncommon materials, such as lace. Often the most interesting works are those that cross over and combine two disciplines, like painting and craft, sculpture and textiles. There is not a specific restriction on the work itself, the one key part of the brief is that it has to be 'visual art'. We've previously had ceramics, installations, video art…We are especially keen to see more digital-based art and also don't actually see that much sculpture, so it would be nice to see more!
Who judges the entries?
Judges are normally industry professionals who have a high profile in their field, and this year they are particularly high-profile, which is exciting to see. There's Yasmin Canvin who's the director of Fermynwoods Contemporary Arts, a Northamptonshire based arts organisation. Sarah Brown, the Programme Curator at Leeds Art Gallery. Then we've have Dale Devereux Barker who is a regional artist. It is particularly good to have an artist in the mix because they will see it from the artist's perspective, which can be very different from that of a curator.
How do they make their selections?
It all happens in one day, so it's quite an intense day for them! The works are presented to them, they won't know who the artist is, whether male or female or what age they are, and they decide on the basis of the work itself. Works are then divided into three groups – 'Yes', 'Maybe' and 'No' – the judges then work back through the 'Maybe' groups to then agree on the selection. At that point they're beginning to think a bit more about the exhibition as a whole, and may consider whether the artist is particularly young, for example, so they're not just doing a straight comparison of an artist who has been practicing for 20 years against a complete newcomer. There's often something you can't quite put your finger on when someone is an emerging talent, a potential, and perhaps you want to give them that extra chance. Also, they're starting to see how all the pieces fit together as a show.
What are the prizes?
First prize is the Maxwell Memorial Prize for the most distinguished work, a prize of £1,000. Then we have Highly Commended, which is £250. This year we have a couple of new awards, too. There's the Best Drawing Award of £250. Drawing is the unsung hero, in a way; it's something nearly every artist does, and the foundation of most practices, but it can often be overshadowed by more dominant works like painting or sculpture, so it's nice to have drawing recognised with this new award. There is also a Newcomer Award this year, kindly sponsored by Clairefontaine. This prize is open to any artist who has never entered the Open Exhibition with us before and awards a prize of artists' paper and sketchbooks to a value of £100. Then there's the reappearance of The People's Choice Award of £250. Once the show is up and running we ask visitors to vote for their favourite art work – so come along, see the works and have your say!
And what can it mean for an artist to be selected?
The previous winner of the 2014 Open was artist Nisha Keshav, who won with a series of photographs of the Fens. Out of the Open Exhibition she then had the opportunity for a solo show at City Gallery. This show, titled Lines in the Landscape is now a touring exhibition, so that's an example of an opportunity that may never have happened without the Open Exhibition, and the potential directions showcasing your work in this competition can take you in. But even if you're not successful in getting your work into the exhibition, having your work seen by a panel of industry professionals can be very useful – these influential people are looking at your work – it's like networking, even if you don't get this one it's one more step in being noticed, remembered, and you never know where it might lead you. You can also request comments and feedback from them, which helps you understand where you are in your own practice, and is a very good tool for self-evaluation of your work and its presentation.
The Open Exhibition 2016
18 March-28 May, 10am-5pm City Gallery, Peterborough
Preview: 17 March 6pm
Leave a Reply