Help to end street homelessness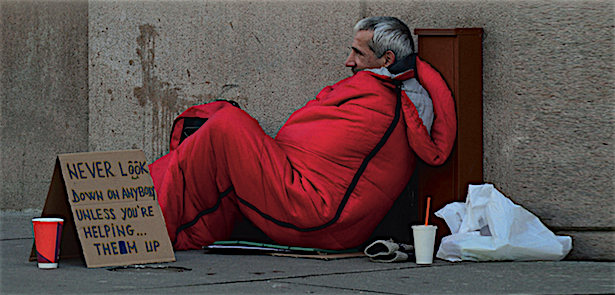 Seventeen local voluntary, faith, community and public service organisations have formed a new 'Safer off the Streets' partnership to work together to tackle street homelessness in Peterborough, and include the following initiatives:
A new contactless card donation point at the Argo Lounge in St Peter's Arcade, off Bridge Street, allowing people to make an instant £3 donation using their bank cards.
A Safer Off the Streets website – saferoffthestreets.co.uk – an information hub which allows people to find what support is available across the city and to make online donations quickly and easily.
Cash donation boxes will also be placed at Peterborough Town Hall and the Visitor Information Centre, among other spots across the city.
Dedicated Twitter, Facebook and Instagram @sospboro social media channels.
A new Safer off the Streets drop in hub located at The Garden House in Wheel Yard, will be open six days a week and offer such support as GP and health advice, housing guidance, volunteering activities and CV/job search.
Outreach officers will work with individuals offering personalised plans and a clear offer to support them off the streets, made easier with a co-ordinated schedule for night shelters, food donations, cooked meals, volunteers and transportation, as well as in-shelter support services.
A Rehabilitation package will be set up to help rough sleepers, aiming to take them from the first point of contact into night shelters, training, and ultimately housing and/or employment.
Peterborough Winter Night Shelter – This Winter season the night shelter will be running from 26 November until 18 March. Ten churches are working together to host our homeless guests and warm meals and beds, with loads of love and support to help people get off the streets will be offered.
Christine Graham, Chair of the Safer off the Streets Partnership and Co-ordinator of Peterborough Street Pastors Scheme said: "Rough sleeping is the most visible and unacceptable consequence of homelessness. A recent count showed that 35 homeless people were sleeping rough on Peterborough's streets. Although there are many agencies across the city doing much to tackle the issue of rough sleeping, we felt a more targeted approach was needed. That's why charities and organisations across the city have joined up to create a network of support to help people who are sleeping rough, but also to look at ways to prevent and support people so they don't end up on the streets in the first place."
Christine added: "We also felt that although the people of Peterborough are already empowered to help, they are unsure about the best way to do this. Donations, however big or small, make a real difference to homeless and vulnerable people in Peterborough. We've now made it easy to donate money online, at cash donation points and a contactless donation window. The website and social media will also keep people up-to-date on support available and to find out what items are in need."
Donations received will primarily go towards funding the day to day running costs the drop in hub which will provide advice, support services and health and wellbeing advice with any additional funds being used for personalised budgets for rough sleepers to encourage them to leave the streets for good.
For more information visit www.saferoffthestreets.co.uk.
---
Project partners
So far 17 organisations have joined the Safer off the Streets partnership:
Axiom Housing
Care Zone
Children of Adam
Citizens Advice
Cross Keys Homes
Hope into Action
Kingsgate Community Church
Love and Humanity Peterborough
Peterborough City Council
Peterborough Food Bank
Peterborough Soup Kitchen
Peterborough Street Pastors
Safer Peterborough Partnership
Salvation Army
The Light Project
Veterans for the Homeless UK
YMCA Trinity Group
Partners pledged their support to work together to tackle street homelessness by signing the Safer Off the Streets charter.
Leave a Reply