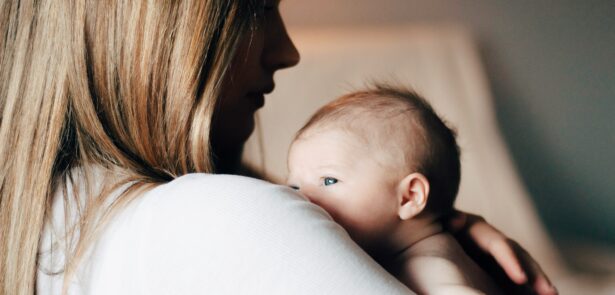 The Moment met up with Zoë, Polly and Sumaira, the co-chairs of the Peterborough and Hinchingbrooke Maternity Voices Partnership, to find out more about the voluntary organisation that works to improve maternity services in the region
When it comes to big life-changing events, few can surpass giving birth. It is one of the most important, emotional and world-altering things you will ever do. And most people only do it a couple of times in their lifetime, so there is great importance attached to ensuring it is a positive experience. You might not remember every detail, but the way giving birth made you feel will stay with you forever.
The Peterborough and Hinchingbrooke Maternity Voices Partnership was set up to offer a way for new parents to feed back on their experiences, and use it to work together with local maternity services to ensure those voices were being heard. That feedback is used to make a difference for the future. We spoke to the co-chairs – Zoë Kornfeld, Polly Hurst and Sumaira Iqbal – to discover more.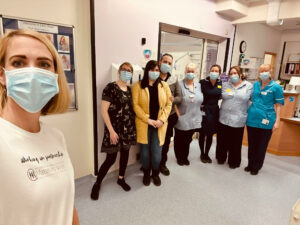 Could you explain what a Maternity Voices Partnership (MVP) is?
Zoë: Yes, so it's an independent multidisciplinary group. It's called an NHS working group, but we are not employed by the NHS. It's quite unique in that respect. We're funded by the local integrated care system in Cambridgeshire and Peterborough, but we work more hours than we are funded for because we're passionate about helping to shape local maternity services.
The MVP chairs are traditionally recent service users. I've been doing this for nearly four years, and then Polly and Sumaira joined in the last couple of months. All three of us are co-chairs and we're sharing the role equally between us, which is exciting. We have a treasurer who will hopefully, in the future, help us apply for some grants to do further projects. We work on behalf of local families, representing their experiences of maternity services.
We work closely with key members of the local maternity department at North West Anglia NHS Foundation Trust, which covers Peterborough, Hinchingbrooke and Stamford. We also have representatives from services that aim to create better births, including local birth workers, doulas, and those who run antenatal and postnatal classes. They have the benefit of speaking to mums and dads, who might want to share their experiences, in a safe space. Our MVP committee includes one of the local directors of Barnardo's Children's Centres and representatives from our local NCT too.
Our purpose is to champion the voices of women, birthing people and their families to bring their experiences to the centre of maternity planning. It's all about creating better maternity journeys.
How does our local MVP sit under the wider network of National Maternity Voices?
Zoë: Our partner under the local integrated care system is The Rosie Hospital, part of the Cambridge University Hospitals NHS Foundation Trust. We work collaboratively with them and then there's an East of England MVP Network too.
The role that the MVPs play across the UK has changed in the last year or so after a report (called the Ockenden review) highlighted the importance of talking to your service users and finding out what they want their service to look like. So our remit has widened, and our involvement has grown. We're invited to more meetings and the aim is for us to be consulted in more areas.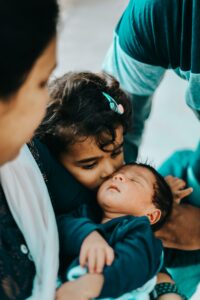 What drew you towards getting involved with the MVP? Do you have personal experience of local maternity services?
Polly: For me, I actually first contacted the MVP team when I was pregnant in 2021 with my daughter. Since the very beginning, my partner and I had planned to have a home birth with her. But it was at the time of what they called the 'ping-demic', which was when healthcare professionals were being told they'd been in contact with somebody that had COVID, so they needed to isolate. I got a call about two or three weeks before I was due, saying that home birth services were suspended and that the labour ward was closed. Women were being diverted further away. I just thought, 'Gosh, that's not something that I want to be doing'.
A friend of mine, who is a doula, pointed me in the direction of the MVP team. I wrote out a heartfelt message, saying I was desperate to have a home birth. They responded and said that they could get in contact with the head of midwifery, and it was really wonderful. But, suffice to say, I didn't get my dream home birth. I actually ended up having a freebirth BBA, which is 'born before arrival'. So, my partner delivered her on our living room floor before the paramedics arrived. It was wonderful for what it was, but it wasn't the ideal situation.
After that happened, it really drew me towards the birthing world, and I actually trained to be a doula. I wanted to know what else I could do to help and support service users. I went along to the MVP annual meeting and thought it was great. The minute I saw that they were advertising a position for another co-chair, I knew I wanted to be a part of this.
Sumaira: My experience was totally different. I have three boys. My first was an emergency C-section, and I felt very alone, with no family around me other than my husband. It was a difficult time and I felt like there should be someone around me who could support my mental health more. The second time, I had another emergency C-section. And again, I felt hormonal disbalance and mental disturbance. However, on my third C-section, I had a little bit more of a social circle and I tried to get out of the house and go to the baby groups. I started to educate myself and do different courses, and through this I came to hear about the MVP position. I realised I could help other ladies like me, who didn't know where to turn. And fortunately, I got the opportunity to have this role.
Zoë: I think Sumaira has touched on a really important part of our work, which is hearing from different communities. We work really hard on this, and Sumaira volunteers at a Refugee centre in Peterborough. We also have links with an organisation called the Raham project, for mothers and their partners of ethnic minority backgrounds. We also have a link to the Romani gypsy community. We would love to have someone on our committee from the Eastern European community too. I also don't think we're hearing much from young parents. It's those voices that are a whisper that we've really got to seek out and find, so we can try to represent all service users. The more voices we hear, the louder we can be.
I personally came to the role after my second birth. I've got three children and they were all incredibly 'late', especially my daughter: she was born 23 days past her estimated due date. I was trying for a home birth after a previous caesarean birth, and didn't receive the supportive care I needed. Joining the MVP came from my experience of trying to birth outside of the guidelines, and understanding that many women and birthing people out there don't know the power that they should have. They don't know their rights, they don't know their choices. I just hope that the work we do informs and empowers them.
Why do you feel the MVP is needed?
Polly: So many women don't know their birth rights. They don't know how to give the correct consent about things. It's so important to have a bridge between service users and healthcare professionals. To be that voice to say that what you're feeling is completely understandable and we hear you loud and clear. And we will make sure that your voice is being heard by the right people as well. Having somebody in the middle to air your feelings to, to feel heard and feel understood is so important. What we do as the MVP is devote that time to sit and listen and make sure that they feel heard, basically.
Zoë: I think I would add to that: the MVP is a critical friend. We hold a mirror up to maternity services. It's almost like we're a consultant coming in and saying, 'Actually, maybe things could be done differently; we're hearing from your 'customers' and this is what they're saying. 'So, it is a bridge between, and it's important for us to build a trusting relationship with the maternity services. We have loads of lovely feedback as well. If you have a really good experience it impacts your life forever in a positive way. We learn from the good stuff as much as the not-so-good stuff.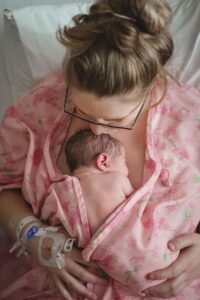 Do you find distinct themes or issues emerging from the feedback?
Zoë: The two key projects being worked on within the last year were the Birth Afterthoughts service and the Infant Feeding service. We went away and put together a survey that went out on Facebook – it got hundreds of responses. We analysed the results and presented it back. And then, going forwards, we work together with maternity services to make improvements.
We asked for a name change from Birth Afterthoughts to Birth Reflections. Sometimes parents need help to answer questions about their pregnancy or experience of giving birth.
Service users requested to not necessarily come back into the hospital for this process, because it can be triggering to do so if you've had a bad experience, so they preferred to be able to do it on video phone instead. There's a really brilliant midwife called Emily Whitney Fahey who we link with, and she's helping to reshape that service. Some people say they have blanks in their birth experience. They don't remember everything, and have unanswered questions. Sometimes it's a case of just answering some of those questions.
You seem to be almost brokering a 'language' between the professional healthcare teams and the service users. Is that right?
Zoë: It so often comes down to basic communication. We hear so much feedback telling us that if things had simply been explained clearly, things could've been so much better. We hope to highlight to staff the importance of seeing the birthing experience from the parent's perspective as well.
Why do you believe it's important for women to feel like their voices are being heard?
Sumaira: What we offer is a very good opportunity for the ladies, especially for those from ethnic minorities. They can feel alone, and really need some support. We want to give them confidence. Whenever you need us, you just shout out and we will be there to guide you to the right person. You know, every person is different. Some women are shy, some ladies have problems with language. We will be their voice, we will guide them, and we will be there to support them.
Polly: We can make them feel empowered because that's what it comes down to. It's about feeling empowered in your birth choices and your birth rights.
How do you think the pandemic affected people's feelings about their birth experience?
Zoë: It was so unpredictable, wasn't it? We didn't know what was happening. And the rules were changing all the time. Actually, with my youngest, I paid for a private scan – because my husband wasn't allowed to the 12-week scan and I didn't want to potentially receive bad news on my own. However, I actually think the pandemic opened up further communication between the MVP and the Trust through more online meetings.
I feel people are still not seeing their midwives antenatally as much as they were pre-pandemic. My third, my son, was made in lockdown and born in lockdown, and it was just really difficult without that 'village' you need around you. Families were meeting babies through windows – it's really tough. We've been asked by the Mental Health midwives to get involved with the perinatal mental health work stream, so we'll be working on that soon too, which is so important.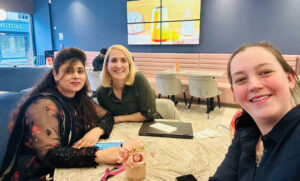 What would you see as success for the MVP in the next 12 months or so?
Polly: I think I'd like to see continued improved communication with the hospital. Just being able to feed back to the relevant people, the people who really need to hear it.
Sumaira: I would like to play my role, accessing more ladies in the community to tell them about the MVP. For that, I am visiting different mum and baby groups so that I can raise awareness.
Zoë: We're working to hear from more people and reach more people. I personally would like to see co-production with the Trust really come into full effect, helping to feed into patient leaflets and information.
If people want to get involved with the MVP, what's the best thing for them to do?
Zoë: We're aiming to grow the number of service users we work with in the next few months. That could be anyone who attends lots of baby groups, perhaps, or who is involved in birth work or caring for new families. We'd love a GP to come along, or perhaps a women's health physiotherapist. We'd love to represent LGBTQ+ communities, neurodiverse women and birthing people. Any interested people are welcome to join in and get involved. We're going to start doing monthly online listening events that are just generally open to anybody who wants to come along. We have an ongoing survey that can be accessed on our Facebook page to give feedback as well.
Help shape local maternity services for the future

Leave a Reply