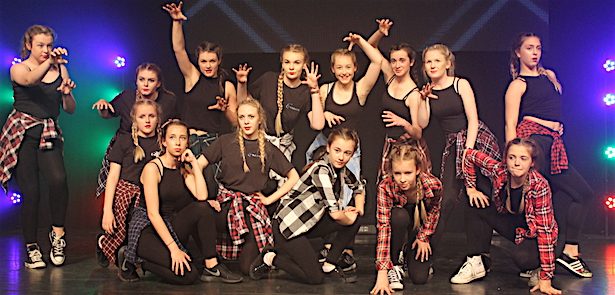 Performing is rewarding, exhilarating and, above all, fun! Wildcats Theatre School students are encouraged to develop their skills and confidence in a friendly and inclusive environment.
This year marks the tenth anniversary of Wildcats, which in just a decade has grown to become one of the most-respected theatre schools in the region. Its expansion into Peterborough is great news for local youngsters looking to tread the boards, brush up on their singing or dancing skills, or simply make friends and enjoy another outlet for their energy and imagination.
At the heart of Wildcats Theatre School are the weekly classes, suitable for four to 16-year-olds. The classes, divided by age group, offer a truly enjoyable way to learn about performing and creative arts, with all children welcome no matter what their previous experience.
Theatre school is the perfect way to build confidence, and the earlier they start the better, as Wildcats founder Caz Dolby explains: 'Starting young allows children to build their confidence much quicker, so that by the time they're six or seven they are jumping at the front of the group, wanting to be the lead part! But, of course, the classes are a great way to improve confidence and self-esteem at any age, while children work towards developing their technical skills in musical theatre and drama.'
Students hone their skills through the LAMDA (The London Academy of Music and Dramatic Arts) syllabus for musical theatre, with subjects also including acting, verse and prose, and devising drama.
Acting up
One of the most exciting parts of being a student at Wildcats is the chance to participate in one of two shows a year, as Caz explains: 'The Wildcats Live shows are the culmination of the autumn and summer terms, enabling students to put into practice all they've learnt. There's a real sense of excitement as the date of the performances approach. Towards the end of November it's the 'Here Comes Christmas' show, which is put on at the Stamford Arts Centre, then in June it's our summer performance, which runs at The Key Theatre in Peterborough.'
Joining the Wildcats family opens the door – or, rather, raises the curtain – to other opportunities as well. In June, for example, students were invited to take part in a national competition run by Music Theatre International, the agency responsible for licensing many of the most popular musicals. Then in July a number of Wildcat students were selected to perform at Youth Jam, the main youth event of the Peterborough 900 celebrations.
There's also the chance to audition for other Wildcats groups, such as the talented West End Wildcats. This year the West End Wildcats are performing Oliver!, and judging by the rehearsals it's shaping up to be a truly memorable performance. You can catch it at The Key Theatre from
18-20 October. 'Please Sir, can I have some more?' Only if you make it to Saturday's matinee!
Learning the ropes
Wildcats prides itself on its approach to teaching, which gently encourages children to progress at their own pace so they feel comfortable and happy at all times. Classes offer a broad introduction to musical theatre theory and practice, with essential skills such as projection, audibility, clarity, use of performance space, and emotion and engagement with the theme all worked on throughout each term. Teamwork and public speaking skills are also developed.
If you're worried your child may be too shy for theatre school, don't be: the LAMDA-trained staff spend time in each session working on group dynamics, a process that ensures everyone feels relaxed with each other. And while perfecting those drama skills is the aim of the game, there's always an emphasis on fun and enjoyment too, so everyone feels' interested and enthused.
If dance is more their thing, you can sign them up for Acrocats – a mixture of dance, acrobatics, tricks and lifts. Students in these classes work on routines that combine all the above in a safe and fun way. Or try them at Streetcats, a dance class fusing street styles such as Commercial, Hip Hop, popping and locking, with a fun and energetic twist. These classes work towards a street dance syllabus with graded exams and competitions organised through UDO (United Dance Organisation) Street Dance.
The new venues in Peterborough bring the Wildcats Theatre School, plus a host of school holiday workshops and events to a city we already know is brimming with talent. Perhaps there's a child in your life who would love to grow in confidence, while having a lot of fun doing so!
---
Oliver!
Thurs 18 – Sat 20 Oct, 7pm (Sat matinee 2.30pm)
The Key Theatre, Peterborough
Tickets: £16 (£14 concessions)
To book: 01733 207239, www.bit.ly/Oliver-2018
Based on the Dickens novel, audiences will be engaged throughout this incredible show with its pathos and drama, while delighting everyone with its outstanding musical numbers. Food, Glorious Food, I'd Do Anything, Where is Love?, Consider Yourself and Reviewing the Situation are musical theatre classics within this amazing production. Performed by talented rising stars from the Wildcats Theatre School, with an ability to perform at an exceptional standard. You will not be disappointed! 

---
Wildcats classes in Peterborough
Wednesdays
Thomas Deacon Academy Dance Studio
5-6pm Mini Wildcats (ages 4-7)
6-7.15pm Junior Wildcats (ages 8-13)
Saturdays
Queen Katherine Academy Dance and Drama Studios
30-10.30am Mini Wildcats
45am-12pm Junior Wildcats (ages 8-11)
45am-12pm Senior Wildcats (ages 12-16)
Leave a Reply