Down To A Tea – Life At Margaret's Tea Room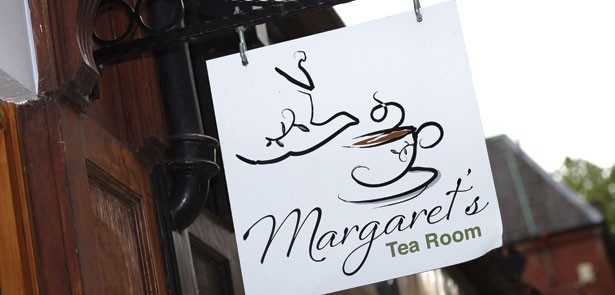 Margaret's Tea Room has been charming Peterborough customers with a range of beautiful cakes, pastries and exotic teas for almost a year. Tamsin Cocks chats to owners Michael and Keith West, and discovers the secret to a perfect cup of tea...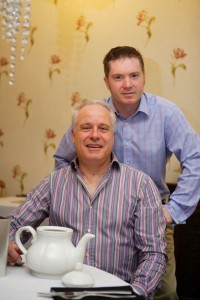 "Tell me how you would make a cup of tea", Michael challenges.
I suspect that I'm walking into a bit of a trap given that Michael is something of a tea expert, but taking the bait, I describe what most of us would consider a fairly straightforward process: boil the kettle, pour water over a tea bag, add sugar and top up with milk.
Sure enough, Michael gleefully announces I've "done everything wrong I possibly can". Oh dear.
"First of all", he explains, "a kettle reaches a hundred degrees which means the water burns the tea leaves and ruins the flavour. All of the kettles we use in Margaret's Tea Room are specially made to cut out at 90 degrees.
"Secondly, you need to use fresh water. If you just turn on the kettle and heat up water that has already been boiled (a faux pas I commit on a regular basis) then it has no oxygen and it will leave a tangy taste. And thirdly you use a tea bag, which is just wrong!"
Unsurprisingly, I am not the only person making these 'mistakes'.
We always have people saying they've never tasted tea like ours before. One man came in after he had bought some of our tea and complained that it didn't taste the same when he made it at home. I told him it was because he wasn't making it properly, so I took him into the back and showed him the process. Ever since then he said he's had the perfect cup of tea every time!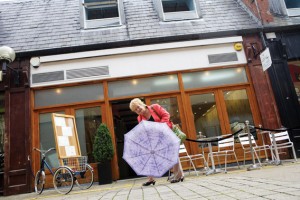 Aside from the process of creating a simple cup of tea, there is a fascinating artistry to selecting tea blends that requires specialist knowledge on everything from harvesting tea plants to identifying complimentary flavours. In fact, it seems like a very similar discipline to wine making (although Michael insists that tea blending is a much more complex affair!).
"You've got to know your teas to match what works together", Michael explains enthusiastically, "but it's also important to get the percentages right. For example, Margaret's Blend is our own combination of two African teas, which creates a really strong flavour."
Michael clearly understands the art of creating the perfect cuppa thanks to extensive training and qualifications on the subject, not to mention a whole career in the catering industry, but it is actually his husband Keith who leads the way on concocting the blends.
Tea blending requires a delicate palette. Keith has an excellent palette whereas mine isn't so good. It's one of those things where you've either got it or you haven't.
Luckily, Margaret's Tea Room customers need not worry about the complexities and can simply enjoy the fruits of Michael and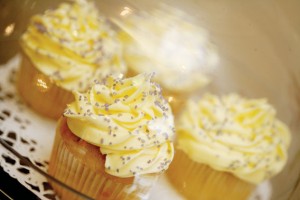 Keith's labour. The tea shop offers a total of 30 varieties of loose leaf tea that range from the best seller "Margaret's Special Blend" (a mixture of African and Sri Lankan leaves that gives a strong but well balanced flavour) to the popular Earl Grey with cornflower (a light, fragrant tea with visual appeal).
There are also rather novel options such as "China Gunpowder Tea", which gains its name from its appearance, as the tea leaves are pan-fired to de-enzyme them and then rolled into small pellet shapes. Customers can also order the "Royal Blend", which is based on the tea preferred by King Edward VII! Each week Margaret's Tea Room picks one tea to showcase with a special offer to encourage people to experiment.
Margaret's Tea Room also offers a range of edible treats including a breakfast menu, lunch options and a tempting range of cakes, pastries and scones. Most of the cooking is done by the head chef, although Michael remains in charge of the baking side. Each of the recipes have been created from scratch with a painstaking process to get the mixtures and quantities perfect. Michael confides that he uses oils instead of butter to make his goodies, and the other secret to the fantastic flavours is that all food is freshly made on site, with absolutely nothing pre-prepared.
We don't even have microwaves in the kitchen!
Michael emphasises.
"Fluffy Cups" particularly stand out as much for their dazzling presentation, (think fairytale coloured cup cakes with ornate icing and glittery sprinkles) as for their fabulous name.
"It was quite funny, I was experimenting with some cooking and this thing just kept rising and I kept pushing it down. Then Keith said 'that's a fluffy cup', and the name just stuck!"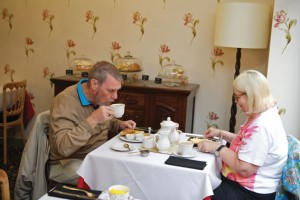 Speaking to Michael and Keith is an entertaining experience. Michael can gab at a hundred miles an hour, with strong (and often amusing) opinions, while Keith's soft American twang radiates warmth. They have channelled their natural affability into creating a friendly, welcoming atmosphere in the tea shop, which Michael is extremely proud of.
We have a focus on relaxation here, it is not somewhere you come to grab a quick bite and leave. People come in here and relax, and all their cares in the world just go.
Everyone is welcome, (even dogs are catered for with a bowl of water outside!) providing they enter with the right attitude that is. Michael is fiercely protective of the urban oasis he has nurtured over the past year, and will not tolerate people who disrupt his tranquil environment.
"I've spent a year working hard to create this place and I don't want my atmosphere and my ambience to be upset. This is like my living room and people should respect it."
In fact, it was Michael's personal craving for somewhere with a good atmosphere that provided the catalyst for Margaret's Tea Room.
Me and some friends were all sat around one day complaining there was nowhere to go in Peterborough to have a chat with something decent to drink and eat, where you feel welcome and there is good service. Fast forward two years and Margaret's Tea Room has filled this niche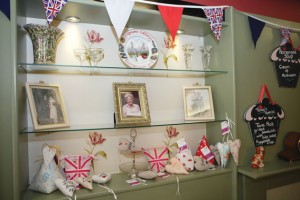 According to Michael, his customers are also determined to protect their haven: "We don't get rough and ready types, I think they are a bit intimidated by the chandeliers! We've had a few that wander in, but they don't stay long, my customers see to that! And if a mobile goes off you should see the looks people get!"
I'm conjuring up images of ferocious little old ladies waving their walking sticks threateningly. However, again, it seems my perception of tea is completely wrong as Michael estimates that only 40% of his customers belong to the older generation, while the rest are a complete mix right through to teenage girls. One thing all customers have in common, according to Michael, is an appreciation for the finer things in life.
In fact, tea seems to be having a bit of a comeback moment across the country, which may well have spread from the capital where afternoon tea is now one of the most fashionable things to be seen doing. Michael agrees there has been a recent surge in tea popularity and is considering starting up tea master classes to share the secrets of tea blending with his customers (watch this space).
However, Michael is determined not to pile too much on his plate too soon, as he sagely points out the business principle he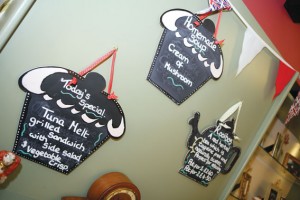 lives by is that you have to walk before you can run. "Over the past year we've taken baby steps and that's why it's working." At a time when the number of independent shops in Peterborough has dwindled, Michael is proud that the business is still going strong. In fact they will be celebrating their first birthday in September, for which Michael and Keith are planning a special celebration for all of their customers.
That's not to say there haven't been any problems along the way. Like many small businesses in this climate, Margaret's Tea Room has had financial troubles which almost forced them to close at one point. But as Michael says, he's "never been one to take the easy road" and together, Michael and Keith successfully fought their way out of near bankruptcy.
Michael also attests to the support of his staff, who he mentions several times are "absolutely brilliant". Many have been at Margaret's Tea Room since it opened and Michael proudly describes how during the darkest financial period several members offered to work for next to nothing to keep the business afloat.
Another issue Michael and Keith have faced from time to time is the reaction to their relationship. They have been married for six years, and being a gay couple running a tea shop has caused a few waves in Peterborough.
"We've had a few people come in and pull a face when they've seen us. I just turn around and say 'Yes, I am gay'. One woman even told us it was disgusting when my husband gave me a kiss. But I don't care. My attitude is if you don't like it you don't have to come in. It does get on top of you sometimes but I'm a strong believer in myself and I'm proud of myself."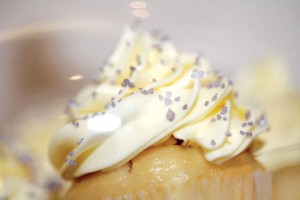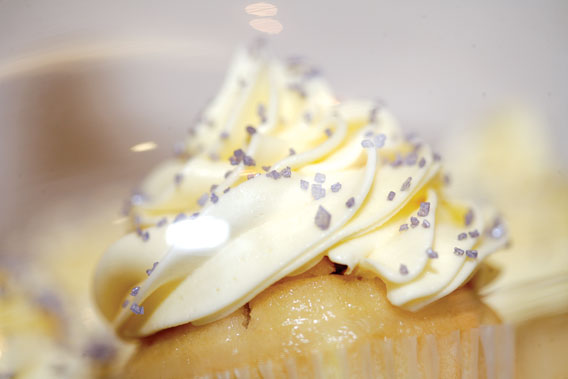 In fact Michael muses that if anything, being gay has had the opposite effect: "I think it's a bit exciting for some people. To be honest people seem to think because I'm gay I'm more capable of doing certain things!"
Perhaps this positive stereotyping isn't too far from the truth, as there are certainly elements in Margaret's Tea Room that you would hope for in a tea room run by a gay couple. From the fabulously audacious chandelier, to the delightfully named "fluffy cups", to smaller details like the individual Royal Doulton cup and saucers on each table artfully filled with geraniums! The rest of the tea sets are elegant Churchill Buckingham designs (although Michael admits the coffee cups are from John Lewis!) Even the crisp, white tablecloths are changed after each customer, adding that extra thoughtful touch.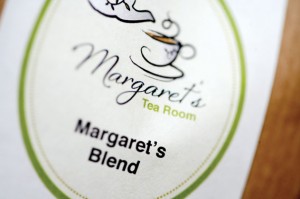 One last secret to reveal about Margaret's Tea Room is that the shop was named after Michael's mother. This was partly as Michael and Keith felt it perfectly conveyed their particular brand of "glamorous homeliness" as they like to describe themselves. But it was also partly a tribute to Michael's mother.
"She has had a good life, but things have been difficult at times and nothing spectacular has ever happened for her. I knew that it would be great for her to know the shop was named after her and she was absolutely ecstatic when she found out, she couldn't believe it!"
Men that respect their mothers, supply you with cake and can make the perfect cuppa? It's official; all the good ones are married or gay. Or both!
Visit Margaret's Tea Room yourself:
Address: Margaret's Tea Room, 5 Wentworth Street, Peterborough, PE1 1DH
01733 346 381
Opening Hours: Monday – Saturday 8.00am – 4.30pm
Leave a Reply