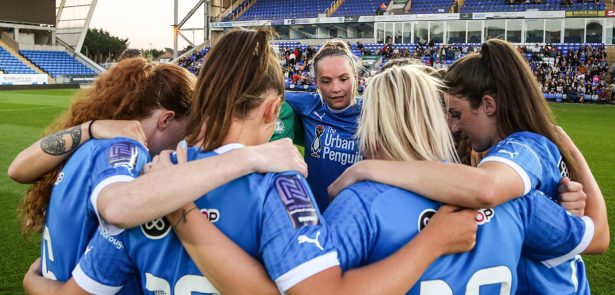 Laura Fanthorpe speaks to the Peterborough United Women's team to find out what drives them and what the future holds - both for them and for young girls wanting to get into the sport.
As a child, if anyone kicked a ball to me I would simply shut my eyes and stand stock still. The same applies today. I am not, by any definition of the word, a 'natural' sportswoman. So, I remain
in absolute awe of anyone who dedicates themselves to a team sport.
Football has long been one of the UK's most popular pastimes. Beloved by a great cross-section of the community. For many people, it is a way of life that inspires passion, patriotism and camaraderie.
However, recent data from England Football shows that only 63% of schools in England offer equal football coaching to both boys and girls. This figure drops even lower for secondary school PE lessons, with just 44% offering equal access to football.
So why am I writing about this now? 2022 is becoming known as a defining year for women's football. This summer, the England women's football team momentously defeated Germany 2-1 in the Euro 2022 Final. It marks the first time since 1966 that any England senior football team had won a major international championship.
After waiting to claim a trophy for over half a century, in the end it was the women's national team – also known as the Lionesses – who were the ones crowned European champions. With the title, they secured their place in history.
Across the country, the massive achievement sparked many scenes of celebration. However, to women within the sport, the victory signified something much larger.
After their win, the England players wrote an open letter to the Conservative Party leadership election candidates, in which they claimed their legacy was to inspire a nation. They saw their victory "as only the beginning". The letter asked leaders "to make it a priority to invest into girls' football in schools, so that every girl has the choice."
Women in sport
Not only are girls given fewer opportunities to access football, but there's also a range of other barriers for them to overcome too. When it comes to sport, evidence from Sport England shows that women are less active than men, and this starts from a young age. 39% of women aged 16 and over do not get the full health benefits of sport and physical activity.
According to a survey by Women in Sport, more than 1 million girls who thought of themselves as sporty at primary school lose interest in physical activity as teenagers. Some of the many reasons for this include a fear of being judged and a lack of confidence.
However, the tide seems to be turning. Women's football is rapidly becoming one of the fastest growing and most popular sports in the UK. For girls across the UK, it's changing lives.
Last year, the Women's Sport Trust and Two Circles released a report that predicted revenue generated by women's sport in the UK was set to grow to £1bn a year by 2030. Plus, latest figures reveal that TV audiences for women's sport have doubled so far in 2022. The research, conducted by Futures Sport and Entertainment for Women's Sport Trust, showed 36.1 million people watched women's sport on TV between January-July 2022, up from 17.5 million in the equivalent period
the previous year.
The Lionesses' win focused attention on women's football. But the sport was growing in esteem anyway, with the hard work and inspiring abilities of players across the country finally being recognised and rewarded.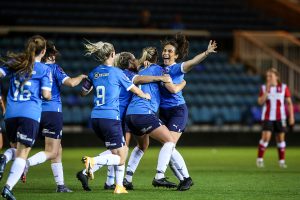 Turning the spotlight on Peterborough
Which brings us onto the Peterborough United Women, who are putting on some dazzling displays themselves. The team secured promotion to the FA Women's National League last summer, and even moved to the FA Cup First Round proper for the first time in the club's history.
The journey on the pitch has been remarkable, and off the pitch plans are being put in place to create and further the long-term vision of the women's programme.
Bobby Copping, Women's General Manager, explains: "It has been my mission to develop Peterborough United Women into a professional set-up. We are well on our way towards this. We have seen a tenfold revenue increase, a shift in culture, women's kit now available in the club shop, GPS tracking equipment for the players, a pre-season training camp, a record-breaking crowd of 2,328 and our most recent success was announcing that we have moved our home match days to a stadium rather than the club's training ground. These are just a handful of successes over the past year and really demonstrates the direction we want to move the set-up."
He continues: "Creating a clear pathway for girls in the community to become professional footballers was another of my main goals. In August of this year we were granted a 3-year licence for a girls Emerging Talent Centre (ETC). I'm delighted we will now have U10, U12, U14, U16 age groups directly feeding into our development squad and our first team. Our ETC will bring brand-new opportunities for young girls in the city and surrounding areas which were never available before. It is important we keep building on this professional culture if we are to achieve our goal of being in the Women's Championship within five years."
Meet the Peterborough United Players
Jess Evans joined Posh in the summer. A versatile performer, she can play anywhere across the backline, but has spent the early stages of her career with the club with some notable performances as a midfielder. Megan Lawlor joined Posh from local club Netherton United Ladies at the start of the 2018/19 season. She isn't afraid to have a strike at goal, scoring over 30 goals for the team to date.
Firstly, I'm keen to find out how you became interested in football. Where did it all start?
Megan: I got into football when I was four years old, and it was mainly from following Peterborough United. I used to go to the games as a season ticket holder and I thought: 'Yeah, I really want to get into this'. So I joined a boy's team, and it all stemmed from there really.
Jess: So for me, I didn't really start playing until I was about 11. At primary school they didn't offer football for girls, just for boys. But when I went to secondary school they were allowing girls to train with the boys, although you couldn't play in matches. I started there and then eventually I loved
it so much that my dad just looked for any girls' team, and luckily there was one in Netherton. So I moved there when I was about 12 or 13.
What do you love about football? What drives you to play?
Megan: I think it's a social thing. It's nice to be around other people who have similar interests to you. But also it's that 'escape' as well. Especially now that I'm a bit older, I don't think about anything else while I'm playing football. I just genuinely love it.
Jess: It's the same for me. When I was younger, my dad was very much into football, so I just followed it along with him. But, like Meg said, now I'm older it is definitely a stress relief for me. I love coming to training because it provides you with an escape from work and other stresses. It is a place to come and have fun, and everyone wants to be here. It's good.
How did you make the transition into playing for Peterborough United?
Megan: I played for Peterborough United when they first got set up as a girls' club, but under the supporters' foundation. I went up through the age groups and then managed to get myself to a centre of excellence at Milton Keynes, so I left for a bit then. After that I had A-Levels to do, so I came back and played locally again.
Jess: For me, this is my first season, so I've only done a couple of months here. I was at Cambridge City before and had always kept my eye on Peterborough United. I'd check the scores just to see how they were doing. I approached Dan (First Team Manager) at the end of the season and asked if he was looking for any more players, and he was, so I moved over in the summer.
What strengths do you feel the team has?
Megan: I feel, especially this season, that we have a united bond. We all work for each other. There's no cliques or anything like that, which you can get at some clubs. We all just genuinely love to play together, and that's so important. It contributes massively to why we all enjoy it.
Jess: I think, for me, the biggest thing I've noticed – different from other teams – is there's a real willingness to learn. There have been some changes in how we play and our formations and so on, and everyone's just got stuck in and trusted what the managers have said and trained really hard. And it's working. That, for me, is something I've not really experienced before in a women's team.
What are your aspirations for the 2022/23 season?
Megan: The ultimate aim is promotion. But I mean, for us, I'd probably see us as a top three in the table. I think that's definitely achievable with the team we've got. And to be honest, with the way we're playing at the moment, I don't think promotion is out of the question at all.
Jess: I'm the same. I would have said top three at the start of the season but our form at the moment is phenomenal, and like Meg said, promotion is something we could achieve.
Has the England Women's recent win affected what you do?
Jess: It's just put a focus on all the hard work that's been going on. It's made everybody look at the game and realise actually how much is going on for women. It has helped, but it hasn't been the only thing.
Megan: When we played at the stadium recently we did a few trips to local clubs, and I went to one club and they had three girls' teams for each age group. And to have that, compared to when we started playing football – when there were hardly any girls' teams around – it was just a massive achievement. And an eye-opener to see how the women's game is growing. And that was even before the Euros.
What are the barriers to women in football? Are there reasons why girls at a young age perhaps aren't getting into football?
Megan: I feel like it wasn't supported as much as it should be. The FA has put a lot more funding into it now. This season, for example, the FA Cup money is a lot more than it ever was before. And I feel like obviously you have these archaic reasons why it was explained women shouldn't be playing football, like they should 'be in the kitchen' and all of that. Nowadays we are in a society where a lot of things are much more acceptable.
Why do you think girls should consider learning to play football?
Jess: I think any competitive team-based sport is helpful for children to get involved in. I'm biased because I absolutely love football, but for anyone – male or female – it's just a great sport to get involved in. It teaches you so much from such a young age.
What achievement are you most proud of?
Megan: I think probably, recently, when we were playing in front of over 2,000 people. It's a massive achievement for us as a club, but also a massive milestone for my career, for sure.
Jess: We were a goal down, and we dug deep and got not just a win, but won 4-1.
Megan: We put on a performance.
Jess: We rose to the occasion. I think that's a massive achievement.
What do you feel about your fans, have they been supportive?
Megan: I think our fanbase has grown massively over the last year or so. There's a few individuals that we know personally, in particular our main sponsor, The Urban Penguin (Andrew Mallett). He's been massively supportive of us as a team, contributing towards a variety of different things, so a massive shout-out to him really for all of the hard work and support he's shown us. I feel like we're really growing a fanbase now, and for all of those supporters at the stadium, I feel like they were really impressed with what they saw.
Jess: Yes, I would really just love for people to keep on coming to see us throughout the season. We want to do well for ourselves but also for our fans. A lot of them are young girls and we really want them to see that they can achieve anything. We want to keep on putting on a show for them.
Find out more at www.theposh.com
Photos: Peterborough United
Leave a Reply