Paul Errington: 'I never had the passion to learn anything else with this level of intensity…'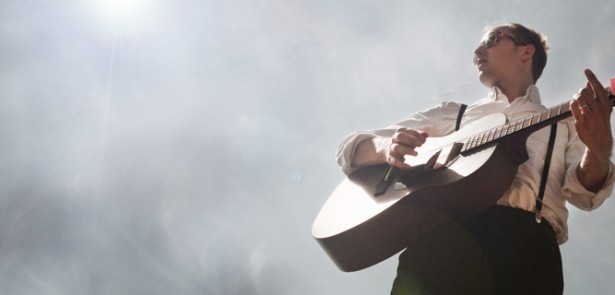 A hugely talented musician and music lover since childhood, Paul Errington didn't really find his own creative voice until his first child was born in 2008. Since that catalyst, he's gone from strength to strength, gaining praise from Fink and Gabrielle Aplin – and even musical movers and shakers in Hollywood! The Moment magazine online spoke to Paul ahead of the release of his latest single, Broken Hinges, on 22 August
How would people describe your music?
It's drawn comparisons with Neil Finn, Paul Rodgers and Dusty Springfield – or the love child of Paul Rodgers and Dusty Springfield!
How's it been making the transition from non-professional to professional musician?
Slightly terrifying, yet deeply fulfilling after years of building all of this inside my head, within my bubble. I've received recognition from artists such as Fink and Gabrielle Aplin, which still sounds surreal to me even now because they are the top artists in my genre.
What's been the thing that's driven you most to pursue a music career?
I've always been an artist. My school mates would tell you I was the one doodling cartoons! But I wanted to create the sort of deep emotional connection audiences feel when they stand in front of a world-class artist. I have worked at this craft since my childhood, but I only really locked on to the goal aged 19. I guess I just never had the passion to learn anything else with this level of intensity. I'm learning faster working with amazing musicians such as Tim Idol and my producer Grant Henderson, who are super-sensitive and musically sympathetic to my songs.
Who are your favourite artists?
Well, the current ones are: Feist, Asaf Avidan, Damien Rice, Chilly Gonzalez, Great Good Fine OK, Phosphorescent, Gabrielle Aplin, Paolo Nutini, Fink, David Gray. The 'deeper' ones are Joni Mitchell, Burt Bacharach, John Lennon, Free, The Carpenters, 10cc, Bread, Dusty, Bryan Adams… That pretty much covers it!
What's the game-plan after Broken Hinges is released?
Broken Hinges seems to be receiving a lot of media attention and airplay. It will be the lead track on the follow-up EP /mini-album Warp The Threads, which I've been refining for seven months now. I'm working with Wil Van der Sterren in a local rehearsal hall. We're enjoying the process a lot and letting the arrangements grow and blossom naturally. There's studio time booked in autumn to record this. Following this single release, we are booking in shows and festivals locally and nationally mid-September. Cambridge, Leicester and Norwich venues are on the hot list.
How do you see things panning out over the next five years?
I hope that the songs pay for us to play them live and fund the next EP, that's all! A European tour would be the dream…
Who, professionally, couldn't you live without?
My A Team! That's Grant Henderson, Tim (Idol) Jeffs, and now I've got closer to them, my amazingly calm and experienced upright bassist Wil van der Sterren and ledgendary local drummer and percussionist Carlos Parlato (El Tano). Also Malovee Studios Peterborough, who made the music video for Broken Hinges: Oliver Gammell, director and Stuart Fuller, editing. And not forgetting a certain artist manager, whom I cannot mention yet.
How do you relax when you're not working?
Sofa wrestling with my son and daughter. Drawing cartoons and crafting with the kids, or having a glass of wine with my wife, Mariam, and enjoying a big family meal with everyone round ours.
Paul's new single, Broken Hinges, will be released on 22 August, and is available to pre-order on iTunes.
Tune in to local radio to hear more Paul: RadioStar Peterborough on 22 August and Peterborough FM on Thursday, 3 Sept, 9–10 pm live session with Warp The Threads EP. (Paul, plus Wil Van der Sterren on upright bass and Abbie Jessop on violin.)
Leave a Reply