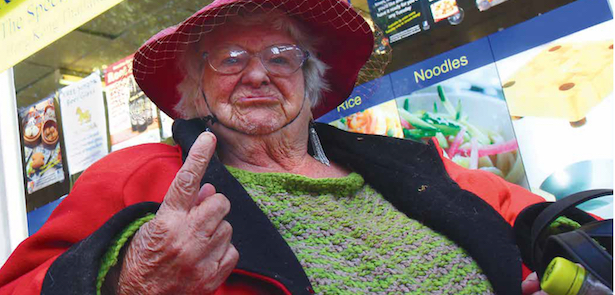 An amateur photographer has spent eight years walking the streets of Britain snapping candid pictures of colourful characters and now published a book featuring hundreds of his favourite images
Paramedic Chris Porsz has walked hundreds of miles around 25 cities since 2010, taking quirky pictures of everyday life, from pensioners and party-goers to sellers and singers and buskers to bikers.
The 65-year-old, who has dedicated hundreds of hours to his project, has now published a book, Streets of Britain, featuring more than 350 pictures from cities, such as Belfast and Birmingham, Cambridge and Cardiff and London and Lincoln.
The photos offer a unique snapshot of life in Britain today, with pictures of people singing, screaming and scooting, dancing, driving and dressing up and running, relaxing and racing.
"I have walked many miles over the years, unsure exactly what I am looking for but I just know when I see it and then 'snap!," said Chris, from Peterborough, Cambridgeshire.
"It's usually something surreal, bizarre, someone a bit eccentric who stands out from the madding crowd or everyday people caught up in some humorous interaction. I like bringing a smile to people's faces."
Chris caught the photography bug after buying a camera when his first child Simon was born in 1978.
He began walking the streets of his home town of Peterborough for inspiration and quickly developed a passion for street photography. He later decided to hone his craft by visiting other cities.
"Over the years I've tried to visit as many cities as possible. I'll spend hours walking around, taking hundreds of photos and often deleting lots to," he said.
"Sometimes I set my stage and waited for someone to walk past, such as with a billboard or a statue. Other times I managed to snap unusual interactions that most people would just blindly walk past.
"Some cities were full of characters, such as Brighton, and it was easy to get lots of good pictures, but others I had to keep returning to until I got what I needed. I've tried to capture a snapshot of a day in each of the cities."
Chris said sometimes it would be frustrating if someone walked in front of the camera at the wrong time or he missed the moment, but other pictures would then make up for it.
He added: "My near misses would fill another book, but any moments of dejection and self-doubt are soon forgotten when I see a man in Newcastle wearing a pink suit and a horse's head, or a pensioner walking around Nottingham with an owl on his arm, as you do.
"I cannot resist snapping the drunken hens and their inevitable 'here I am, tadar!' pose. Every town too, has its fire and brimstone brigade so I just wait patiently for a 'sinner' to come along to make a lucky juxtaposition."
Chris said his work as a paradmedic at Peterborough City Hospital helped with his street photography as he was able to "reassure complete strangers" and "react instinctively to the unexpected."
"My favourite cities were Edinburgh, Glasgow and Brighton, which were teaming with interesting characters and opportunities," he said.
"Although in Glasgow I found that I was hugged by some guys and challenged by others when I tried to take a photo. I've discovered that people don't seem to mind having their picture taken by a mobile phone but can be suspicious of big cameras."
Sometimes Chris would talk to the subjects of his photos and discover an even more exciting story. The front cover of his book is one of his favourites.
"The lady was about 90 and lived in Peterborough and was describing how as a young girl on Bonfire Night she set off a rocket and it went through the window of a policeman's house and burnt it down.
"Although it looks like she is giving the finger, she is actually putting her finger up to demonstrate the rocket going in the air."
Chris published his successful book, Reunions, two years ago, reuniting people he had photographed on the streets 40 years earlier. Last year he published Streets of Europe.
Streets of Britain costs £27 (including postage) and is available from www.chrisporsz.com
Leave a Reply