Norman Cross Art Gallery | Derek Lopez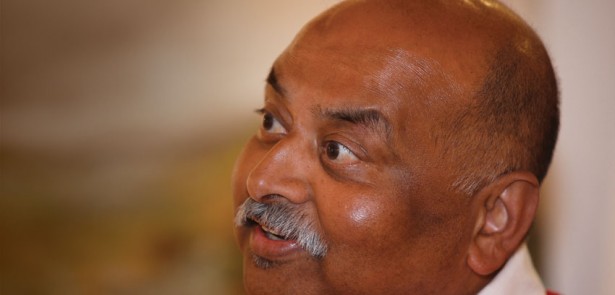 RICHARD GUNN meets Derek Lopez, current owner of Norman House and Norman Cross Art Gallery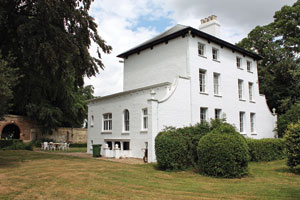 One place where the Norman Cross episode of Time Team was watched keenly was the Lopez home, which just happens to be the old depot's Agent's House, where its commandant lived. This stately four-storey whitewashed building, now known as Norman House, is one of the few structures to remain from the original prison. And although altered over the years – it now has a brick outer shell, rather than the wooden framework it was built with, although the inside remains delightfully clad in timber – it can still be recognised on original maps of the prison, along with the adjacent stable block that now serves as the art gallery and the impressive archway that was the commander's personal entrance to the camp.
Not that Derek Lopez and wife Mary knew anything much about the site when they moved there in 1993, establishing a wedding car business – Chariots of Hire – to indulge Derek's love of classic cars, as well as the art gallery in 2001. In fact, Derek believed that the eagle memorial actually related to one of the World War Two American airbases in the area rather than a location from a much earlier conflict. He has now become one of the most enthusiastic proponents of the area's past, present and future, both as an individual and through the Friends of Norman Cross society.
Born in Bangalore in what he describes as "that vintage year of 1954," the arts have surrounded Derek right from the start. His grandfather opened a cinema in Bangalore called The Rex – "which is still there" – and his father ran a cinema. Meanwhile, his mother was a professional singer with big bands and was unintentionally slightly responsible for the career of somebody who later became rather famous. "She was offered a contract with, I believe, Decca, to cut a record. Then she fell pregnant with my brother and felt it would be too much to come to the UK. So she recommended a young singer, Harry Webb, who came over instead." Harry Webb would later change his name to Cliff Richard…
The family moved to the UK in the mid-1960s, settling first in London, and then Peterborough, where there were family connections. "I remember it well – it was the last time that England won the World Cup. There was World Cup Willy mania," recalls Derek, referring to the national team's official mascot.
Derek did return to London briefly, to work in the kitchens of the Savoy Hotel in London, after he left school. "I ran away, effectively. But the streets definitely weren't paved with gold. I lasted two or three months, with no money and living in squalor. But I did at least attend the then-Archbishop of Canterbury, Michael Ramsey…"
Back in Peterborough, Derek went to work on the production line at Perkins – where so many past generations of Peterborians have been employed. "Peterborough was Perkins back then," he says. "There were 12,000 people on the shop floor. It was a whole community. I can still remember the old man, Frank Perkins, and his son walking down the production line. It was like Royalty!"
Through the 10 years of his time at Perkins, Derek worked his way from the shop floor into the 'projects and progress' department. He also married his wife, Mary, in 1974 after they'd met at a local pub during a folk night a few years previously. However, he opted for redundancy in the late-1970s; a time of more straitened circumstances for Perkins and the country as a whole, with mass unemployment. "I saw somebody who had worked there for 48 years lose his job. He was sobbing, and I decided there and then that nobody would ever do that to me."
After a brief spell working for Soda Stream – "from diesel engines to fizzy pop" – he went to work as a lighting engineer with Osman-GEC. It seems the gift of his gab earned him the role rather than experience. "I didn't even know what a lighting engineer was! The minimum requirement was a degree or technical qualification; I had two O-Levels. However, I got it by making myself known to everybody in the company, talking to them about what was needed. And they gave me six months to prove myself."
Six months turned into 10 years, before Derek was poached by a Scandinavian rival, where he worked for another 15. He eventually went into partnership with an Italian company, and remains a lighting engineer to this day, albeit in a consultancy role.
Norman Cross came into his life in 1993; the former Agent's House was more or less derelict at the time. Derek and Mary bought it and restored it largely by themselves, albeit with the serious stuff going to the professionals. "When anybody asks me in the gallery if I paint, I reply yes; kitchens, bedrooms, bathrooms…"
History unfolds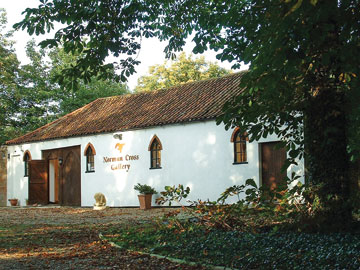 It took around 18 months to make the structure, which was still timber-lined inside, beneath the brick, habitable. That included clearing standing water from the cellar, which is now the kitchen and dining room area. Gradually the story behind the house's past, and that of the neighbouring area, revealed itself, and the pair found themselves becoming fascinated by what had once existed on the land they now owned. This led to Derek getting involved with the eagle appeal and, ultimately, becoming the chairman of the Friends of Norman Cross. "I feel like a custodian; part of my duty is not to let the memory of what happened here – and of those who died here – disappear."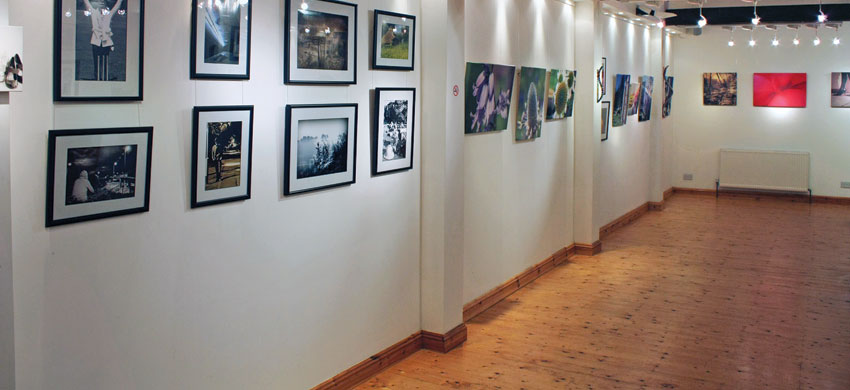 After the house was complete – "although no old building is ever complete" – Derek and Mary turned their attention to the neighbouring disused stable block, and decided to convert it into a small art gallery. "I've always been interested in art, although it was a more secret thing, growing up," says Derek. "If I had spare time, I would go to a gallery. I remember once going to see a Cezanne exhibition, and what I saw was a man's entire life in his art. And when you can see things in art, that makes it all the more significant. That's what inspired the gallery."
It held its first exhibition in September 2001, and the building, with its original characterful exposed wooden beams inside, also holds conferences and events. Although artists and photographers from all over the country have been hosted, the couple's focus is on art from this region.
"Peterborough is now a multicultural, sophisticated place," asserts Derek. "And I believe that the city needs to offer something cultural in return to its residents and visitors. I'm just a small part of that. We like to keep a local theme, as we have some very talented artists in this city."
However, Derek doesn't dabble himself, unless it's kitchens, bedrooms and bathrooms of course. "People often say to me, 'Why don't you paint?' And I say because I can't do it as well as those whose work hangs in the gallery."
As if all this wasn't enough to keep Derek and Mary busy, they also run wedding car hire company Chariots of Hire, which was established in the early-1980s. However, Derek admits that the company is as much about his love of classic cars as it is a business. The current fleet consists of a 1961 Rolls-Royce Silver Cloud II and a 1949 Bentley Mk VI. A Mk X Jaguar has also been part of the line-up in the past. "I had the Dinky toy of the two of them when I was a kid; my dad bought me the Rolls in the same colour as the one I have now. And I remember, as a very small boy, sitting in the Maharaja's Rolls-Royce back in Bangalore. I've always loved the old Rolls; there's something so special about them."
So, has Derek ever felt the desire to leave the city that has given him so much success from humble beginnings? "No, it's a great place. What really makes Peterborough for me is that, when I first came here, the Fen people are a moody and dark people, but when they adopt you, the light, colours and passion really come through. You need to prove yourself to them, and that's quite an achievement. It has a great heritage.
"I always see the great potential of this city, and so do others as well. It has enormous promise."
The Norman Cross Gallery


Norman House,
Norman Cross,
Peterborough,
Cambridgeshire,
PE7 3TB.
Telephone: 01733 245189
www.normancrossgallery.com
Open Friday 11am to 3pm and Saturday 11am to 4pm. Other times by appointment only.
Chariots of Hire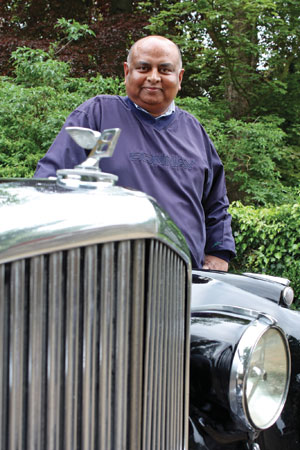 Telephone: 01733 245663
www.chariotsofhire.net
Friends of Norman Cross
www.friendsofnormancross.org.uk
Email:
Leave a Reply