Holy Mackerel! A fishy tale…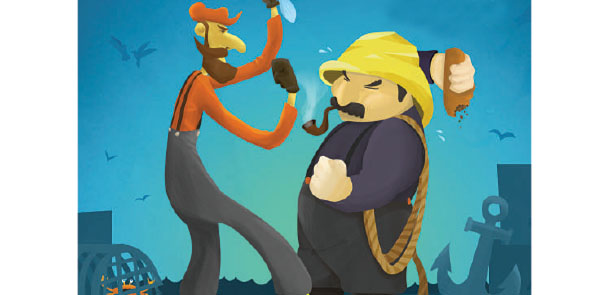 Eastern Angles theatre company are back at The Key Theatre this January with Holy Mackerel, another wacky, off-the-wall Christmas production which, this year, takes its unlikely inspiration from the Newlyn fish riots  
Artistic Director Ivan Cutting explains; 'It may sound like an unusual theme for a comedy Christmas show but we have a long tradition of taking historical events and looking at them from a surreal, sideways angle – the result is something akin to the popular 'Horrible Histories' books – an anarchic and hopefully very funny version of events with added music and jokes. This year we are working in collaboration with Shanty Theatre company who will give the production a unique Cornish twist. It reminds me of one of those fantastic old Ealing Comedies or Richard Bean's One Man, Two Guvnors – a bit slapstick and full of farce…and a lot of fun!'
The nationally renowned Eastern Angles theatre company have built quite a reputation for themselves wowing Edinburgh Fringe audiences with their critically-acclaimed shows and touring high-quality theatre to communities all over East Anglia. Over the past six years they have been creating work specifically for Peterborough audiences.
This programme of work will continue at the Serpentine Green Shopping Centre where Eastern Angles have created a regular pop-up theatre space in the Undercroft of the retail complex. This year's zany new play entitled Holy Mackerel! can be seen at The Key Theatre in Peterborough from January 26th – 30th. Audiences will be transported to the sleepy Cornish port of Newlyn, where there's something troubling afoot (but the chiropodist can't help!) In Victorian times East Anglian seafarers descended on the town taking work away from local fishermen. The result, a fish riot! In this production, only one man can save the day – and that man is hapless hero Norman who proceeds to blunder through calamity after disaster.
Expect songs, jokes, lots of costume changes and a smattering of audience participation in this unique and very funny take on fishing history. Eastern Angles describe their productions as a 'wacky alternative to the traditional Christmas panto' where the sell-out shows include quick-fire banter, catchy tunes and hysterical comedy performances from their team of actor musicians.
Holy Mackerel! The Key Theatre, Peterborough,  January 26th – 30th
To book tickets ring 01733 207239 or visit www.vivacity-peterborough
Leave a Reply