Luisa Calvo – Peterborough's Wicked Celebrity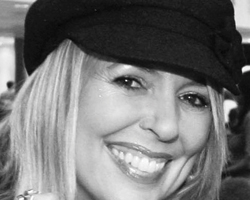 Many of us would envy Luisa Calvo's glamorous career. With a Cambridge art school background, she is now one of the UK's leading caricature artists having routinely worked with leading companies such as Warner Bros, famous productions including Jonathan Creek and high profile celebrities such as Richard Branson.
But it wasn't always like this. Luisa in her previous life led quite a Bohemian existence with her equally talented Spanish husband Paco (now a mosaic artist) travelling across Europe and eventually settling in a little rustic house in Coin, a tiny whitewashed village in the mountains of Southern Spain where she worked as a caricaturist.
It wasn't long however before Luisa was making regular TV appearances and being invited to entertain at famous venues and celebrity events….the list goes on and on. She also produced the magnificent mural for the National Television Awards 2000 at the Royal Albert Hall.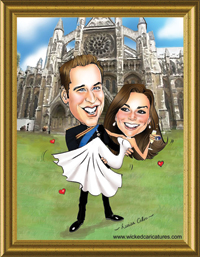 Why is Luisa always in such demand both locally and nationally? One cannot help but be seduced by her charming and entertaining personality. Drawing caricatures at events for her is not a static affair. She delights her guests table hopping and interacting, producing an incredible 12-15 caricatures per hour in her own unique style – flattering the ladies and being a bit crueller to men. Having observed her at work on a number of occasions, I was stunned at the incredible likeness of the subjects which rapidly and skilfully emerged on pieces of paper one after the other. Although Luisa started her career as a serious portrait artist, her current artistic expertise lays testament to the fact that art can be fun, open and inclusive and can sit very comfortably with commercial success.
Residing in Peterborough, Luisa wants to offer her caricature services locally as well as nationally. She is also really excited about her recently acquired colour Tablet PC which produces digital caricatures projected onto a plasma screen, printed out and emailed to clients…what fun!!
Specialising in weddings, she offers this unique entertainment at any type of special event or function: conferences, parties, dinners. It really does make an event unique.
Contact Luisa Calvo
07720373804

www.wickedcaricatures.com
Leave a Reply